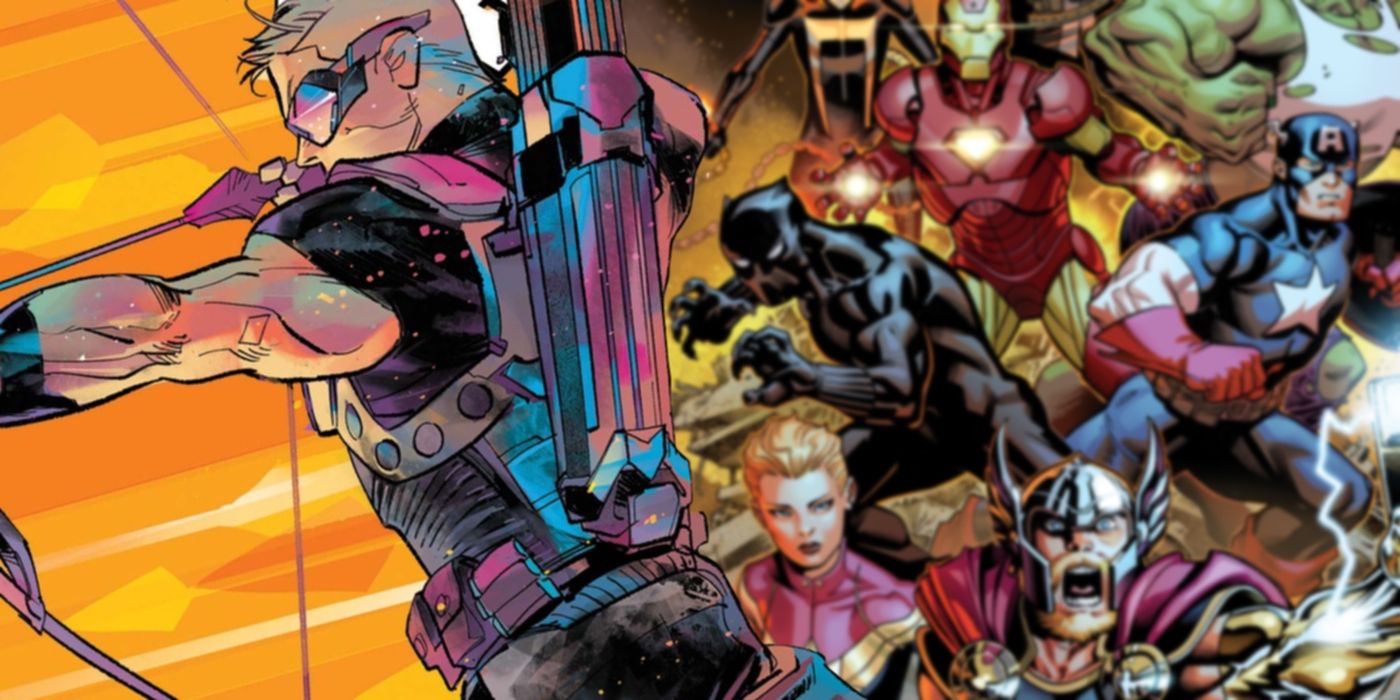 Does Hawkeye truly belong on the Avengers? He's going to have to prove that himself when he faces judgement in a tie-in to A.X.E.: Judgement Day.
With Marvel's Judgement Day fast approaching, the Avengers' resident sharpshooter Hawkeye is about to be put under a microscope. As Clint Barton's role on the team is examined, he's going to have to justify his membership on the team of Earth's Mightiest Heroes.
Hawkeye's skills with a bow and arrow can't and shouldn't be undersold. Barton may have had some unconventional training after joining a travelling circus in his youth, but he picked up some pretty impressive skills while living the carnival life. Barton developed some of the keenest archery skills in the Marvel Universe, paving the way for him to become Hawkeye and eventually earn a spot on the superhero team, the Avengers. Despite Hawkeye's constant rivalry with Captain America, he was always an important member of the team. While Hawkeye has had to put up with a bit of disrespect for being the "bow and arrow" guy, he's shown himself to be quite the resilient hero. This is good, because it looks like things are about to get serious for the ace archer.
Related: Death To The Mutants Makes Marvel's Judgment Day Even Darker
Now, Marvel has revealed a number of titles that will tie into its upcoming A.X.E.: Judgement Day event, a crossover that will pit the X-Men and Eternals against one another. The Avengers will be caught in the middle of it and judgement is coming on high for many heroes in the Marvel Universe. A solicitation for Avengers #60 by Mark Russel and Greg Land shows that judgement is coming for Hawkeye and that the hero is being called to "justify his existence". If Clint Barton wants to survive the experience, he's going to have to prove that he "brings at least as much joy and usefulness to the world as a randomly chosen mailbox".
Harsh words, but to be fair, a number of heroes are about to be put through the ringer during Judgement Day. Spider-Man is going to have to account for his past with Gwen Stacy and the X-Men are going to have to stand in judgement of their beliefs. Hawkeye is far from the only hero who's going to have to prove his worth to an as-of-yet unknown authority, and hopefully he'll have nothing to worry about.
It'd be easy to say that Hawkeye offers nothing other than a sharpshooting skillset, but that'd be severely downplaying his best accomplishments on the team. With his bow and arrow, he's been able to take on  legions of villains at once and fight powerful cosmic villains such as the Collector. Hawkeye's also shown true leadership, founding one of the earliest offshoots of the Avengers with its West Coast branch. He may not have Super-Soldier serum, Gamma-ray enhancement or a mystical hammer, but Clint Barton doesn't need them to prove he belongs with his fellow Avengers. Hopefully, Hawkeye's past with the Avengers will speak for itself when he faces judgement.
Next: Deadpool Proved Hawkeye's Iconic Death Was Completely Pointless
Source: Marvel
Amber Heard May Be Cut From Aquaman 2 After Being Released From Contract
About The Author
Share this news on your Fb,Twitter and Whatsapp