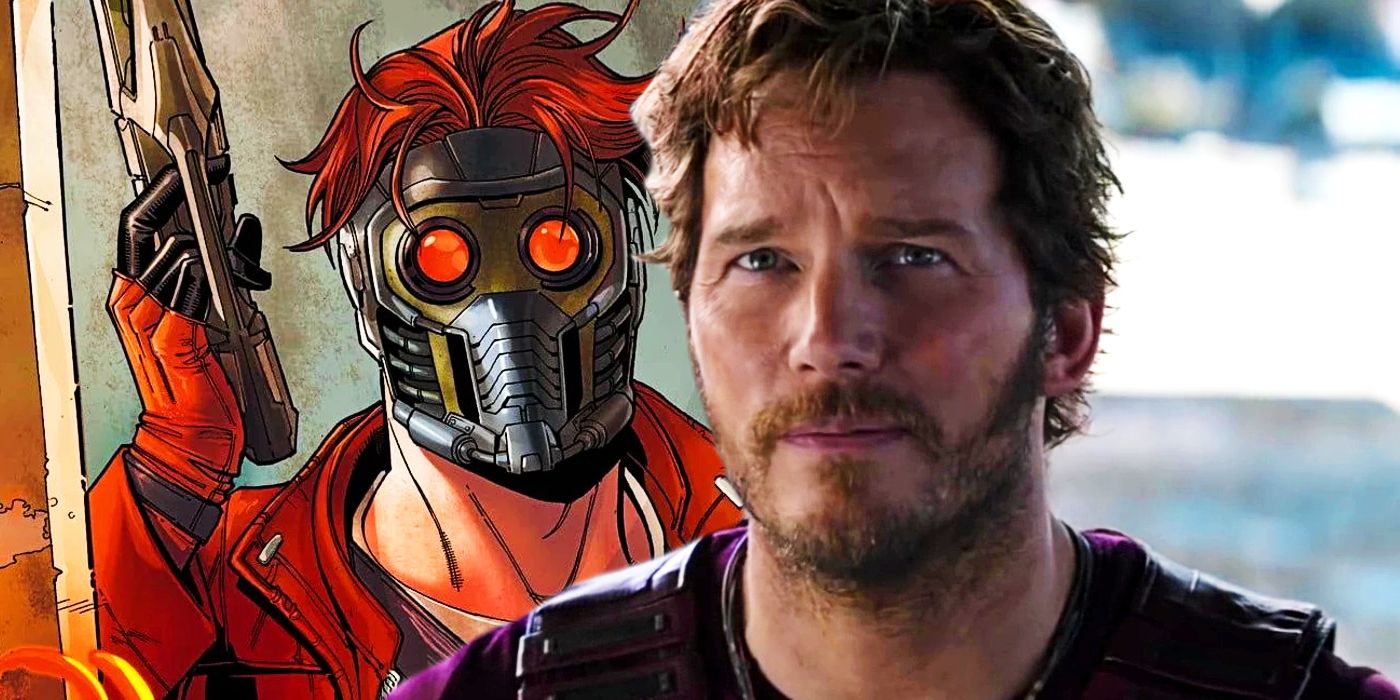 Set photos for Guardians 3 reveal a brand new costume for Chris Pratt's Star-Lord, and that could hint at big changes for his character.
Set photos reveal that Chris Pratt's Star-Lord will have a new costume in Guardians of the Galaxy Vol. 3, and this hints at a big change for his character. At the moment, it's currently unknown what exactly Star-Lord and the other Guardians of the Galaxy will be dealing with in their MCU future, especially since they're also going to appear in Thor: Love and Thunder. That being said, the new costume that Star-Lord is wearing does appear to be setting up big changes for his character when the origin of said costume is taken into account.
While Star-Lord and the other Guardians of the Galaxy are largely comedic characters, for most of his history in the comics, Star-Lord was a largely serious character who acted far wiser and more mature than Pratt's version. However, following the success of the original Guardians of the Galaxy film, Star-Lord's character in the comics was reworked to match the MCU version in terms of looks and personality, even giving him a stronger connection to Yondu and the Ravagers to match the live-action version. This was the status quo of the comics for years until the 2020 run by Al Ewing started to bring him closer to his original characterization, although it's unknown if that will end up sticking.
Related: Why So Many People Dislike Chris Pratt & Want Star-Lord Recast
Star-Lord was originally meant to be a serious character, and the new costume that Pratt's version is wearing could see that be reflected in the MCU. This is because the new costume Star-Lord will be wearing in Guardians of the Galaxy Vol. 3 resembles Star-Lord's classic costume from the comics that was worn when he was a largely serious character. This could mean that something is going to happen that will make Star-Lord stop being – or at least attempt to stop being – the goofy character he's been since his debut, leading him to act more maturely.
Star-Lord having that sort of change in character makes sense when the things he's been through are taken into account. After his unintentional part in Thanos' victory in Avengers: Infinity War, the hero likely feels partly responsible for the Blip, so taking on a more serious persona could be in response to that; any change in Star-Lord's attitude could also be coping a mechanism for the version of Gamora he fell in love with being dead and replaced with a past self that wants nothing to do with him. Star-Lord and the Guardians are also likely to go through a lot in Thor: Love and Thunder, so whatever they experience in the conflict with Gorr could also push Star-Lord to want to take things more seriously. This idea is also supported by the comics, as Star-Lord formed the modern version of the Guardians of the Galaxy because he felt the galaxy needed a team to protect it following Annihilation: Conquest. Nebula wearing a similar outfit also works with this theory, as it implies that the Guardians now have a uniform, possibly to make them look like a more serious and legitimate team.
The next Guardians of the Galaxy film won't be released until May 2023, so it's still very much unclear how this new outfit factors in to the film. However, given Star-Lord's new costume resembles his classic look from the comics, it seems most likely that Guardians of the Galaxy Vol. 3 will reflect his comic self somehow. The exact details of how and why are unknown, but based on everything Star-Lord's been through and is likely to go through, there would be more than enough rationale behind him going through some major character changes in the film – even if he comes out the other side the same snarky hero audiences have come to know him as.
More: Marvel Can't Recast Pratt's Star-Lord, Despite Changing Actors Before
Doctor Strange in the Multiverse of Madness (2022)Release date: May 06, 2022
Thor: Love and Thunder (2022)Release date: Jul 08, 2022
Black Panther: Wakanda Forever/Black Panther 2 (2022)Release date: Nov 11, 2022
Ant-Man and the Wasp: Quantumania (2023)Release date: Feb 17, 2023
Guardians of the Galaxy Vol. 3 (2023)Release date: May 05, 2023
The Marvels/Captain Marvel 2 (2023)Release date: Jul 28, 2023
Justice League Had The Perfect Green Arrow Setup For Snyder's Sequels
Share this news on your Fb,Twitter and Whatsapp