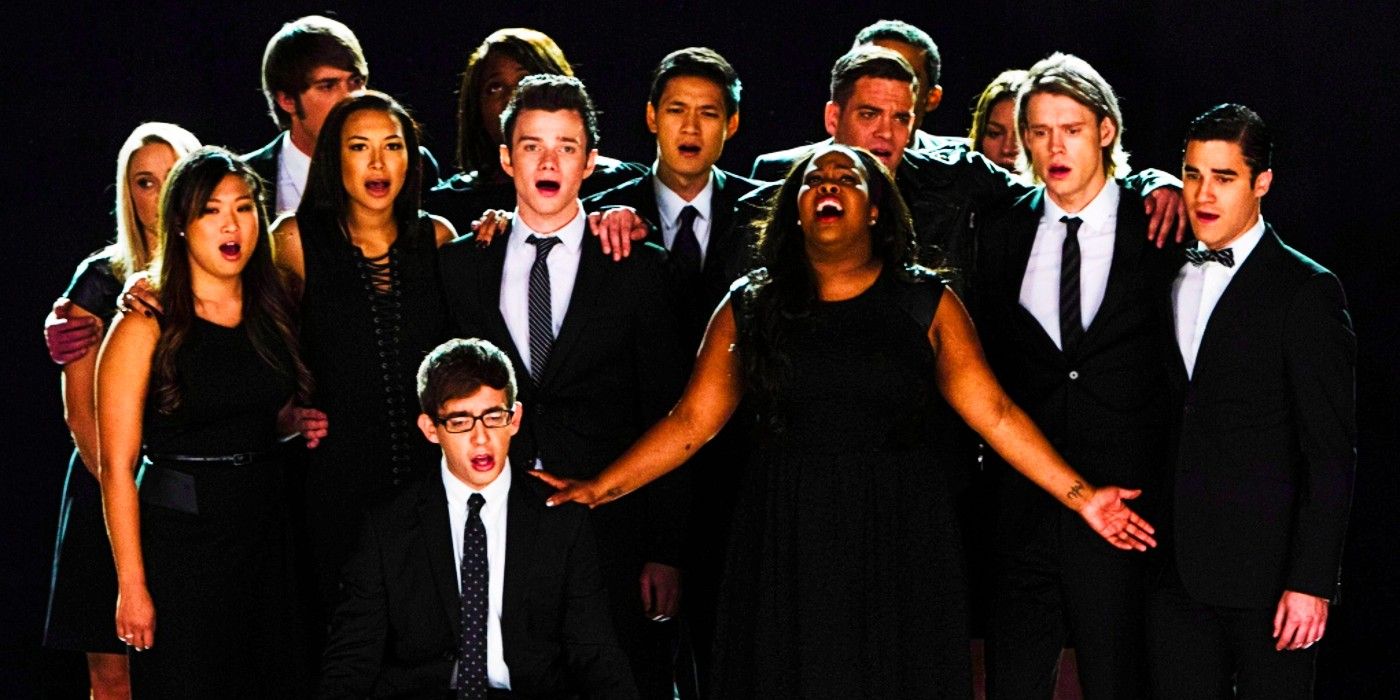 Glee is reportedly returning to streaming platforms this June after licensing agreements prompted the hit show's removal from Netflix six months ago.
Glee is returning to streaming services this June following the series' removal from Netflix. Six months ago, Netflix removed the musical comedy-drama from its streaming platform, which prompted fans of the series, known as Gleeks, to take to social media to share their sadness and beg for the show to stay online. The reasons for Netflix's removal of Glee likely have to do with licensing agreements.
Glee ran for a total of six seasons from 2009 to 2015, consisting of 121 episodes and over 729 musical performances. Centered on the New Directions glee club at William McKinley High School, the series touched on numerous social issues the club's members faced, including sexuality, teen relationships, race, and family. During its run, Glee would go on to be nominated for and win many accolades, including 19 Emmy Awards, four Golden Globes, and 57 other awards. The series has also spawned a devoted fan base, some of whom regularly take to YouTube to recreate musical numbers from the show. Now, it seems these same fans will once again be able to stream their favorite series.
Related: The Big Leap Can Finally Deliver The Perfect Glee Replacement
TVLine reports that Glee is returning to streaming platforms on June 1 via Disney+ and Hulu. This move most likely comes as a direct result of Disney's acquisition of Fox, which means shows like Glee are now the property of the Walt Disney Company. The announcement was made Friday, exactly one day after the 13th anniversary of the pilot that aired on Fox in 2009. The June 1 date holds another significance as it marks the launch of LGBTQIA+ Pride Month celebrations, which is fitting for a show that has dealt with many issues on sexuality and gender.
Rumors of a Glee reboot have been circulating for years, especially in the last year or two. Back in the Fall of 2021, Michael Thorn, the president of entertainment for Fox, addressed speculation of a reboot. Thorn told publications that the creative minds at Fox, "always welcome celebrating [their] iconic shows" and that they are "always open to reinventing our best IP." Still, it does not appear a Glee reboot is currently in active development since Thorn has not heard about any new pitches for the show. However, series creator Ryan Murphy has laid out a full TV synopsis for a reboot in recent interviews, which basically covers re-making the pilot with new actors.
While a Glee reboot isn't in the works, fans of the series will surely be happy to learn the show is coming back to streaming services. Due to Disney's recent acquisition of Fox, it makes sense that Glee would move from Netflix to Disney+ and Hulu. Although Glee fans have had to wait over six months to once again watch their favorite show, they can look forward to streaming it once again when it comes back on June 1.
Next: Best LGBTQ+ TV Shows On Amazon Prime Right Now
Source: TVLine
Poppy Playtime Chapter 3 Needs A Monster As Good As Huggy Wuggy
About The Author
Share this news on your Fb,Twitter and Whatsapp