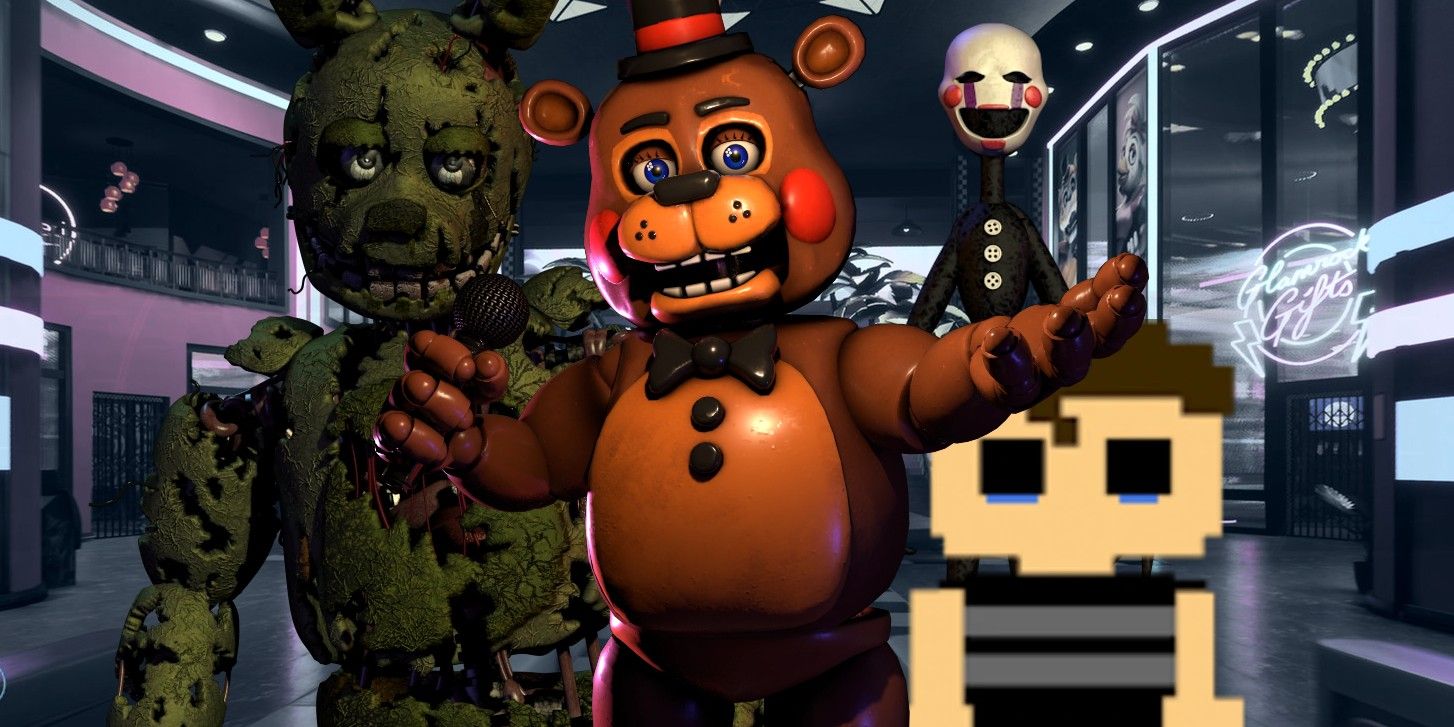 Five Nights at Freddy's fans are sharing their hopes for the next FNAF game, discussing whether or not the series should stick to its horror roots.
Following the release of FNAF: Security Breach, fans of the series are debating where the franchise could go next in terms of tone and horror. FNAF: Security Breach takes a AAA direction, allowing players to freely explore the game's pizzeria without being constrained to specific rooms and areas as seen in prior games in the franchise, leaving the door wide open for what could come next.
Steel Wool Studios, developer of FNAF: Security Breach, has aimed high with its latest release, branching out and evolving the FNAF game formula and taking a new approach to the titles' typical game design. Earlier games in the series offer more of a resource management horror experience, with players needing to conserve power as they try to survive until 6 am against animatronic attacks and jumpscares, while Security Breach focuses more on traditional survival horror. The games have taken different approaches since then, perhaps most notably with the RPG FNAF World, one of FNAF's lowest-rated games.
Related: Is Poppy Playtime The New Five Nights At Freddy's?
On Reddit, fans are already sharing their hopes for the next FNAF game, thanks to a discussion sparked by TrajicComedy, who asked whether players would like to see family-friendly titles like Security Breach in the future, or darker and more mature games. A popular response from MrSeptember2006 asks why not both, citing that both FNAF's Toy and Withered animatronics can "both work at same time if done right." In a similar vein, Redditor Vega_Lyra7 praised Sister Location's handling of both younger content and darker tones, writing: "I like how Sister Location handled it- lots of mature things but also a slight lighthearted and humorous tone." User DreadAngel1711 raised the original story of the games as being a core reason for the franchise to stick to its darker roots, writing: "FNaF is one of those things that censoring it would just damage things – sure it'd be really dark but the whole series is built on one guy being a serial […] killer."
Despite being a firm hit with many, FNAF: Security Breach's lack of horror and censorship, particularly of Vanny's weapon, has drawn some criticism from players. When the first Five Nights at Freddy's released in 2014, players became aware of some surprisingly deep lore, which tells a complex tale of a man who kidnaps and murders young patrons of Freddy Fazbear's Pizza. Despite its dark beginnings, the game and its subsequent sequels became a hit with younger players, spawning a wide range of merchandise available for audiences of all ages. As such, the FNAF games often hover between dark themes and lighthearted family-friendly horror, meaning the next games could take almost any direction.
The future of FNAF isn't yet clear, and may not be for some time, as Steel Wool Studios is currently working on improving Security Breach. A post-launch update fixed a number of the game's bugs and performance issues, but the developer has confirmed that more improvements are on the way. There's also the possibility of FNAF: Security Breach multiplayer, as well as the currently-in-talks DLC, which could come well before a new addition to the series is announced.
Next: FNAF: Security Breach DLC Planned, Could Star Dreadbear
Source: TrajicComedy/Reddit, MrSeptember2006/Reddit, Vega_Lyra7/Reddit, DreadAngel1711/Reddit
90 Day Fiancé: Cassia Accuses Nicole Of Using Jason's Death For Money
About The Author
Share this news on your Fb,Twitter and Whatsapp