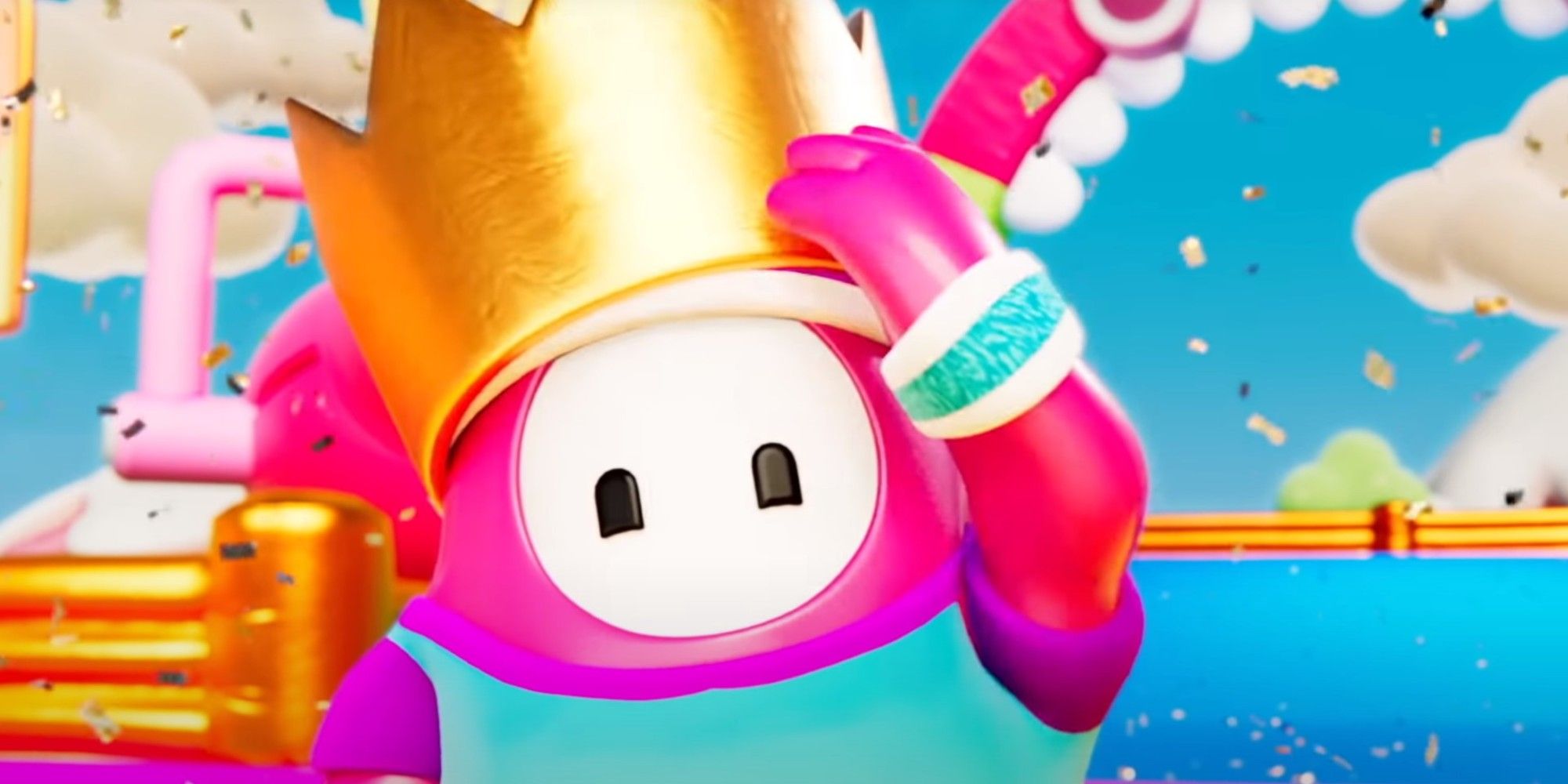 Party platformer Fall Guys is currently working on a new level creator mode that will allow fans to create detailed courses for others to play.
The beloved battle royale platformer Fall Guys is getting a course creator that is exciting fans and content creators alike. Near the end of the summer of 2020, Fall Guys was released on PlayStation and Steam, and its easy-to-pick-up controls and adorable art design brought it considerable acclaim. People of all ages worldwide were able to enjoy the game, and it quickly became one of the most downloaded and watched games of 2020.
Since the game's launch, Fall Guys has been adding new crossover skins and courses for players to compete in. Fans can dress up their playable beans in a wide  variety of unlockable/purchasable customizable costumes. Many different games and franchises like Among Us have unlockable skins in Fall Guys. When the game goes free-to-play on June 21st, a wider audience will have the chance to experience these costumes for themselves. However, another new feature has fans and content creators excited to jump back into Fall Guys for a different reason.
Related: Fall Guys Goes Free-To-Play, Switch & Xbox Release Date Revealed
A new level creator mode is coming soon to Fall Guys, and some content creators are anxious to test players' skills with it. As reported by IGN, Fall Guys hosted a video reveal to announce the new content coming June 21st. The game is set to arrive on Xbox and Nintendo consoles and the Epic Games Store. Besides the news that the game would be free-to-play and include cross-platform gameplay, the developer ended the video with a particularly exciting revelation: a Fall Guys custom course creator mode. The preview for the upcoming mode has excited content creators like Rubber Ross, as it looks to give Fall Guys players the tools to create fun and complex courses. Rubber Ross expressed his excitement on Twitter, as he looks forward to creating absurdly difficult Fall Guys courses similar to his infamous Mario Maker levels.
Unfortunately, the Fall Guys level creator mode does not currently have a release date. The ability to create customized courses from scratch opens the door for Fall Guys fans to express their creativity while also frustrating other players. Games like Media Molecule's Dreams and Nintendo's Super Mario Marker 2 have provided incredibly detailed and extensive creator tools for players to develop some genuinely imaginative gaming experiences. However, those games do not support cross-platform play like Fall Guys. This means these future custom creations could potentially see a massive number of players try them out.
On June 21st, Fall Guys will be available on Xbox and Switch while also going free-to-play, which means the game should be seeing a dramatic increase in players. When the game was first released, it was played by countless content creators and was one of the year's most-watched games on streaming platforms. While cross-play on new platforms is sure to increase interest, the upcoming Fall Guys custom course creator may very well help bring the game back to the popularity levels it saw when it first launched.
Next: Fortnite Leak Indicates Upcoming Fall Guys Crossover
Fall Guys is available on PlayStation 4, PS5, and Steam. It will be available on Xbox One, Xbox Series X|S, Nintendo Switch, and the Epic Games Store on June 21st.
Sources: IGN, Fall Guys/Youtube, Rubber Ross/Twitter
Why She-Hulk's CGI Looks So Bad
About The Author
Share this news on your Fb,Twitter and Whatsapp