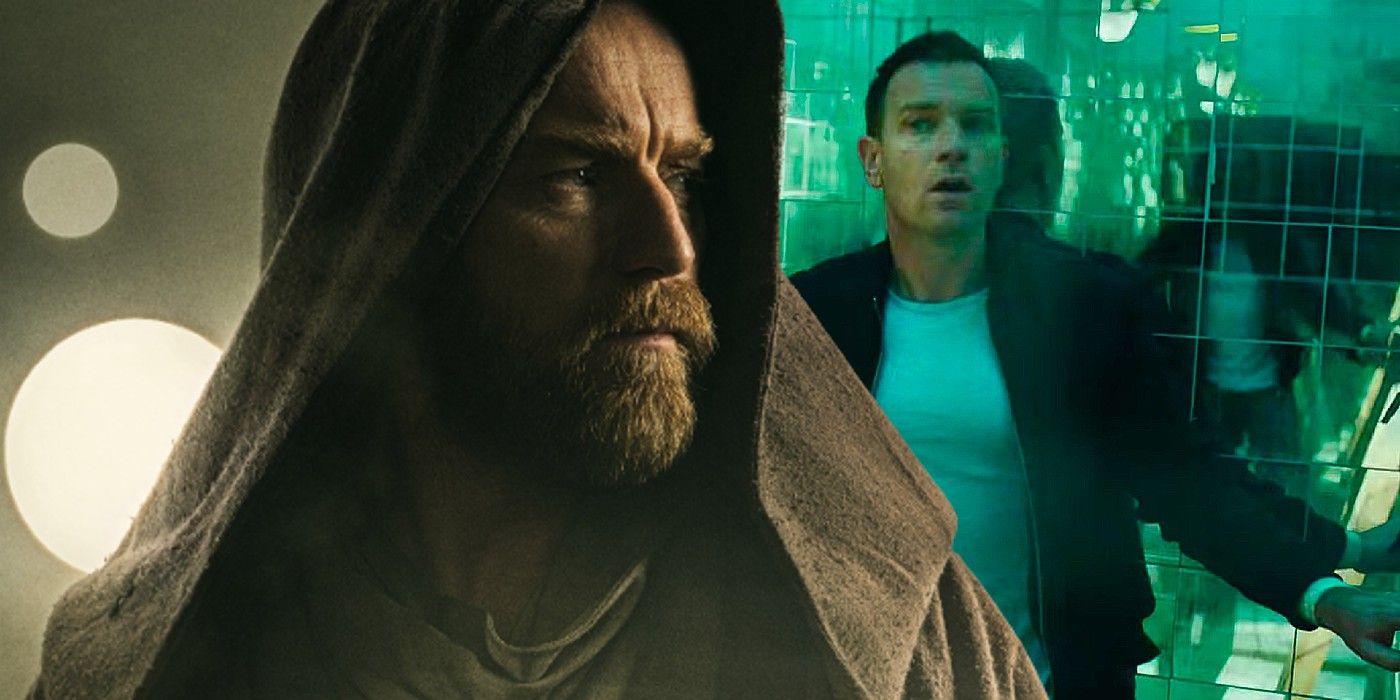 Ewan McGregor talks about how reprising the role of Mark Renton in 2017's T2 helped him to return as his iconic Jedi Master in Obi-Wan Kenobi.
Obi-Wan Kenobi star Ewan McGregor explains how his experience on Trainspotting 2 informed his decision to return as Star Wars' iconic Jedi Master. In 1996, McGregor starred as Mark Renton in Danny Boyle's cult classic Trainspotting. Based on Irvine Welsh's 1993 novel of the same name, the film explores the Edinburgh native's struggle with addiction and horrendously bad decisions enabled by his friends: Sick Boy (Jonny Lee Miller), Begbie (Robert Carlyle), Spud (Ewen Bremner) and Tommy (Kevin McKidd).
Trainspotting propelled McGregor's career forward and, three years later, the then 28-year-old actor inherited the role of Obi-Wan Kenobi from Alec Guinness. Following The Phantom Menace, he went on to play Obi-Wan in Attack of the Clones and Revenge of the Sith. Over a decade after extinguishing his lightsaber, McGregor returned alongside Boyle and company for T2: Trainspotting (2017). The sequel sees its main character return home nine years after the events of the first film, giving Mark and his middle-aged friends closure audiences never knew they needed. Now, McGregor is set to give Star Wars prequel fans the closure they've always wanted in Disney+'s Obi-Wan Kenobi.
Related: Does Trainspotting Really Need Another Sequel?
In a recent interview with Total Film (via CBR), McGregor compared his hesitancy to return as the iconic Jedi Master to how he felt approaching Trainspotting 2. As was the case with revisiting a cult classic, McGregor didn't want a reprisal to tarnish the reputation of something he loved so much. Read the full quote below:
"I didn't want a sequel to Trainspotting to tarnish the reputation of Trainspotting because I loved it so much. And then slowly, I just started thinking, 'I do want to do it. Why wouldn't you?' And the same thing happened with Obi-Wan. I believe that if you've explored a character in your work, somewhere they live in that compartment of your brain. They're still in there, and it's not very difficult to get them out again, I found."
While the odyssey of Mark Renton resonated with a generation, the legacy of one Obi-Wan Kenobi spans multiple. In the same interview, McGregor went on to talk about how much he enjoyed being able to "bridge the gap" between his portrayal and that of Alec Guinness. The upcoming series follows Obi-Wan during his time in exile as "Ben" on Tatooine as he watches over a young Luke Skywalker (Grant Feely) during the reign of the Galactic Empire. The Jedi Master will have to contend with Darth Vader's (Hayden Christen) band of Inquisitors led by the Grand Inquisitor (Rupert Friend) and Reva (Moses Ingram) as they hunt Jedi who managed to survive Order 66. In addition to McGregor and Christensen's Anakin, the limited series also stars Joel Edgerton's Own Lars and Bonnie Piesse's Beru.
The now-51-year-old McGregor has admitted he had trouble relearning his "hello there"-esque Obi-Wan voice and had to watch more Alec Guinness and revisit the entire Skywalker Saga before filming. In the end, McGregor says he "got as much, or more, out of playing him this time than I did in the first three movies put together." Similar to the unexpectedness of Trainspotting 2, many never thought they'd see McGregor and Christensen together again onscreen in Obi-Wan Kenobi. That said, those who grew up with the prequels are delighted to see McGregor reprise another iconic role for the next generation. However, that's not to say there isn't a gargantuan amount of pressure on the series to deliver some closure when it premieres on Disney+ on May 25th.
More: Obi-Wan & Vader's Duel In Kenobi Will Change Star Wars Canon In 4 Ways
Source: Total Film (via CBR)
Rogue Squadron (2023)Release date: Dec 22, 2023
90 Day Fiancé: Everything To Know About Hazel & Tarik's Custody Battle
About The Author
Share this news on your Fb,Twitter and Whatsapp