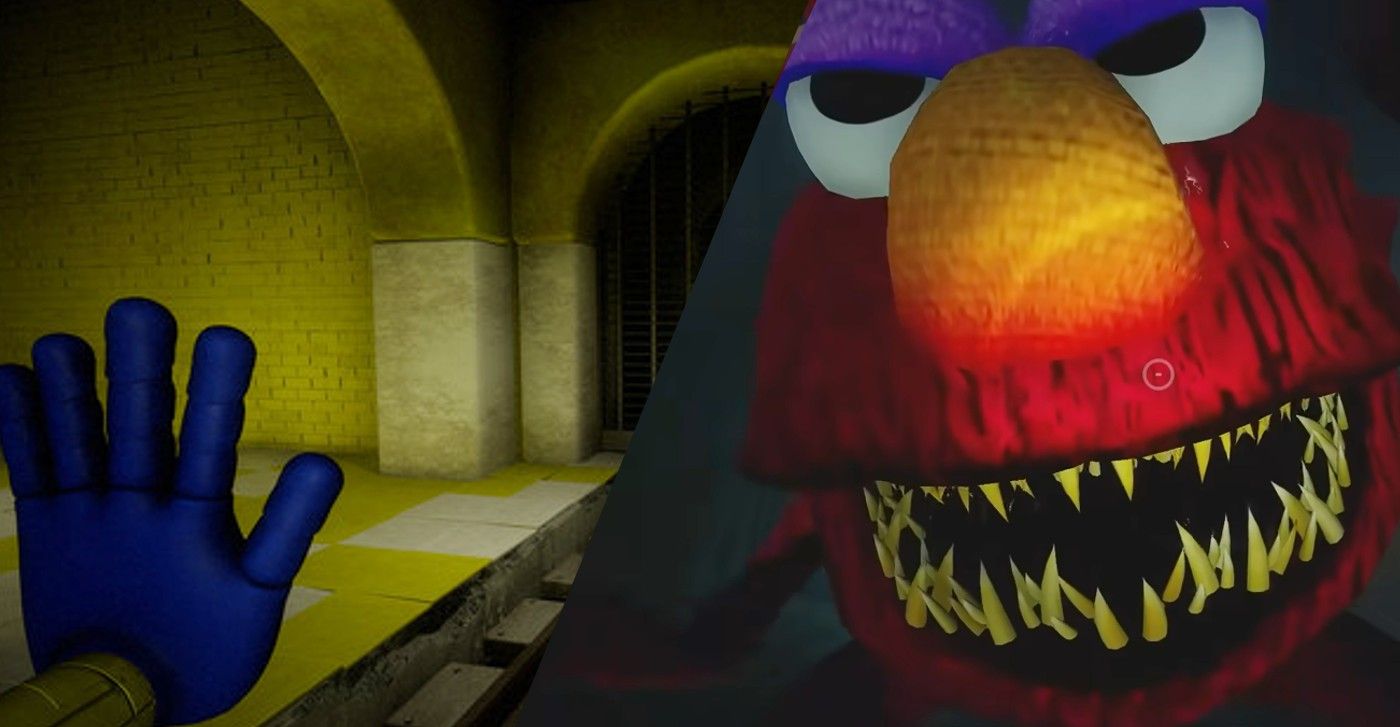 A YouTuber has pushed Poppy Playtime Chapter 2 to its limits with mods, introducing a new scary toy character in the form of Sesame Street's Elmo.
Sesame Street's Elmo has been modded into Poppy Playtime Chapter 2 to become perhaps the scariest Playtime Co. toy seen in the game so far. Following the release of Poppy Playtime Chapter 2 earlier this month, the original Poppy Playtime became free on Steam, likely to bolster interest in the game while also celebrating the second chapter's release.
Poppy Playtime Chapter 2 picks up where the first chapter left off, exploring the shady workings of toy manufacturer Playtime Co., who players discover were experimenting with putting human consciousness into their toys, resulting in vengeful, murderous creatures like Huggy Wuggy and Mommy Long Legs. These characters juxtapose child-friendly imagery with a menacing story in a similar way to Five Nights at Freddy's or Bendy and the Ink Machine. As with any popular game, it wasn't long before modders took to Poppy Playtime Chapter 2, swapping out Playtime Co.'s murderous creations with entirely different characters from other family-friendly IPs. On the other side of the coin, Poppy Playtime characters have been modded into games like GTA 5 thanks to the horror series' growing fanbase.
Related: Police Are Issuing Warnings About Poppy Playtime's Huggy Wuggy
A host of Poppy Playtime Chapter 2 mods were showcased as part of ToastedShoes' latest "Ruined By Mods" video, replacing Playtime Co. toys with the likes of Isabelle from Animal Crossing and Elastigirl from The Incredibles. Sesame Street's usually-friendly red muppet Elmo perhaps steals the show as one of the most menacing characters, taking the place of a Huggy Wuggy toy and emerging from one of the holes in the "Whack A Wuggy" minigame. Elmo bears the infamous blue toy's razor-sharp, shark-like teeth as he attacks the player, making ToastedShoes exclaim: "I don't like Tickle Me Elmo!"
ToastedShoes had previously covered the first Poppy Playtime as part of his long-running "Ruined By Mods" series, with previous videos from the creator also adding chaotic mods to games like Elden Ring. The premise of the series is fairly self-explanatory, with ToastedShoes taking the latest games and filling them with mods that can end up completely changing the mood or tone of the original franchise, before doing a complete walkthrough of the game with all the bizarre user creations included. This has resulted in somewhat surreal and hilarious moments where characters such as Resident Evil's Ethan Winters have been forced to fight off Despicable Me's little yellow Minions using only a banana gun.
Players were already reporting that Poppy Playtime Chapter 2 had terrifying moments that were giving them trouble sleeping, but it's safe to say the mods from Poppy Playtime Chapter 2 have added a whole new level of nightmare fuel. Given ToastedShoes' reaction, it's likely that he and many other players will not be looking at Elmo in the same way any time soon.
Next: Poppy Playtime Chapter 2 Ending Is "Traumatizing" Players
Source: ToastedShoes/YouTube
The Last of Us' Saddest Moment Honored In Heartfelt Cosplay
About The Author
Share this news on your Fb,Twitter and Whatsapp