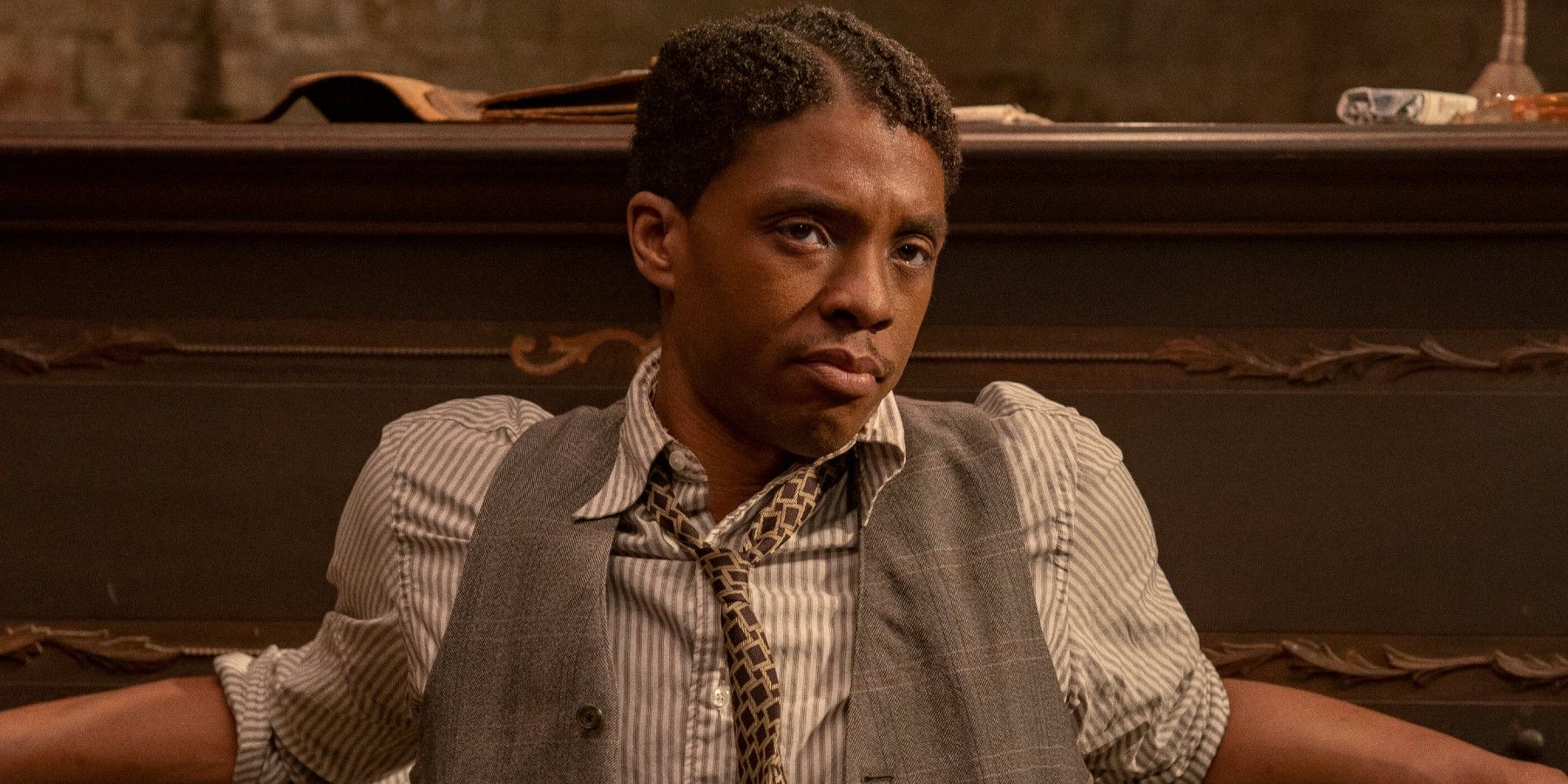 Denzel Washington praises Chadwick Boseman's final performance in Ma Rainey's Black Bottom for which Boseman was nominated for an Academy Award.
Denzel Washington has praised Chadwick Boseman's final performance in Ma Rainey's Black Bottom, revealing that the actor never mentioned his struggle with cancer. Washington, who is currently promoting his latest film, the Joel Coen-directed The Tragedy of Macbeth, rose to prominence in the mid-198s in roles such as Glory and Cry Freedom. Washington would go on to cement himself as a household name through roles including Philadelphia and Training Day, for which he won his second Academy Award. The 67-year-old, who recently hinted he may retire from acting soon, also has a string of producing credits, including The Equalizer, in which he starred, and Ma Rainey's Black Bottom, which featured the late Boseman.
Boseman, best known for his role as T'Challa in Marvel's Black Panther and the MCU, died in August 2020 after a four-year battle with colon cancer. The news came as a shock to fans, castmates, and the movie industry as Boseman had not revealed his diagnosis to anyone except those closest to him. The 43-year-old's death was met with surprise and an outpouring of grief. Recently, Black Panther: Wakanda Forever producer Nate Moore has reiterated Marvel boss Kevin Feige's stance that the role of T'Challa would not be recast due to the connection between Boseman and the Wakandan king.
Related: How Black Panther 2 Is Trying To Honor Chadwick Boseman's Legacy
Speaking with Variety, Washington revealed that Boseman, in his final screen role, "just did his job" amongst his struggles with the cancer that would ultimately take his life. Washington praised the late actor as a "man amongst men" who "never said a peep" about his illness. The two-time Academy Award winner added that though Boseman "seemed weak or tired sometimes", the cast and crew had "no idea". Read the full quote below:
"A man among men. He suffered quietly. He made the movie, and nobody knew. I didn't know. He never said a peep about it. He just did his job. I wondered if something was wrong because he seemed weak or tired sometimes. We had no idea, and it was nobody's business. Good for him, keeping it to himself."
Ma Rainey's Black Bottom, which starred Viola Davis in the eponymous role alongside Boseman, was released on Netflix in 2020. An adaptation of August Wilson's 1982 play of the same name, the film received glowing reviews. Washington, who served as a producer on the film, wasn't the only one to single out Boseman's final performance for praise, as the actor received a posthumous Academy Award nomination for his role as Ma Rainey's trumpeter Levee Green. While many expected Boseman to receive the award, fellow nominee Anthony Hopkins took the prize home.
Washington's admiration for not only Boseman's performance but also for Boseman's stoicism and professionalism during his illness aligns with many others' tributes to the late actor. While Washington served as a producer on Ma Rainey's Black Bottom, his and Boseman's relationship went further back. Washington, alongside other actors, had helped sponsor Boseman's trip to a summer acting program at Oxford University during Boseman's college days. Washington, who didn't know exactly who he was sponsoring at the time, recently joked that when Boseman revealed that he was one of the actors Washington had helped sponsor, he had gone to the Black Panther premiere to ask Boseman for his money back. As well as being denied future roles due to his untimely death, perhaps the biggest shadow is cast over the future of Black Panther. With the cast and crew of Black Panther: Wakanda Forever promising that the sequel will honor Boseman, the tributes to Boseman will rightly continue.
Next: Denzel Washington's Perfect Final Movie Would Be A Black Panther Sequel
Source: Variety
Denzel Washington Responds To Ellen Pompeo's Grey's Anatomy Argument Story
Share this news on your Fb,Twitter and Whatsapp