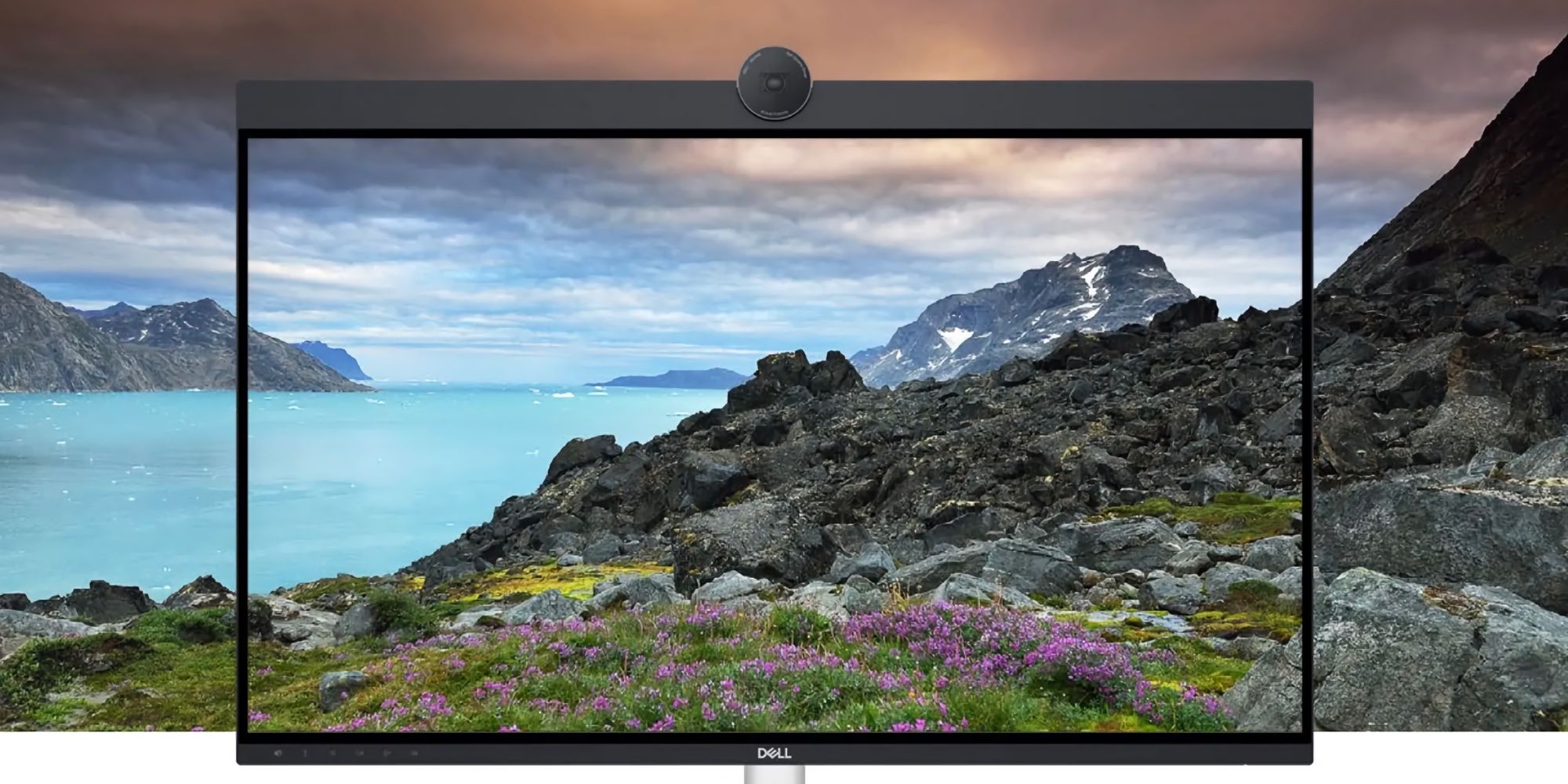 Dell's new display is designed for the work-from-home era, making use of an adjustable high-resolution 4K camera with built-in mic and speakers.
Dell has announced a new 32-inch 4K monitor that also features a built-in super high-resolution 4K video-conferencing camera. Webcams have been around since the 1990s, but for much of their existence, they were optional add-ons, geared toward online chats. Over time, of course, manufacturers have incorporated cameras into the bodies of laptops and displays, but because of the trend toward the thinnest possible screens, the sensors are often relatively low-grade. They are, of course, passable for catch-ups and occasional online meetings, but as the COVID-19 work-from-home era has shown, there's a real appetite for alternative solutions.
Recognizing user webcam frustrations, many device-makers have turned their attention to improving the technology. Microsoft is demanding manufacturers include sensors with a minimum resolution of 1080p, running at 30fps. Apple has also improved the quality of several of its iPad, iMac, and MacBook cameras, coupling them with Center Stage, which allows users more freedom to move around during a call without disappearing from shot. Elsewhere, startup Opal has developed the $300 C1 webcam that promises DSLR-like footage, minus all the additional setup.
Related: Samsung Reveals The World's First 4k 240hz Monitor Ahead of CES 2022
Dell's new UltraSharp 32 4K Video Conferencing Monitor (aka U3223QZ) has an embedded webcam that promises dramatically better image quality than standard built-in cameras. The display incorporates Sony's 4K HDR STARVIS CMOS sensor – the same technology found in its $200 standalone UltraSharp webcam. The camera module is also adjustable, offering 65, 78, and 90-degree ranges of view, and a 60Hz refresh rate.
Built-in Speakers And Mics
Though the 4K camera and 4K display are the main selling points of this UltraSharp monitor, it is being pitched for video conversations and so Dell has also considered the audio components. The monitor features twin microphones for audio pickup and a set of onboard 14W speakers. While the setup might not be compelling for, say, an immersive gaming session, it is likely more than adequate for a long-winded Zoom meeting that really should have been an email. Additionally, the screen has inputs for USB-C, USB-A, and HDMI, ensuring plenty of connectivity options.
For those who absolutely need the best webcam (and a solid display), the new UltraSharp 32 4K Video Conferencing Monitor could make sense. But, as already noted, Apple and others are making strides with both internal and external webcams, and more and more manufacturers are rolling out support for connecting mirrorless cameras. Either way, it's clear poor webcams are quickly becoming a thing of the past. Dell has yet to announce a price for its video conferencing monitor, though it has said it will begin shipping March 29.
Next: LG's New UltraFine Monitor Is A Proper Rival To Apple's Pro Display XOR
Source: Dell
Human Cannibalism May Be Inevitable, Scientists Warn
About The Author
Share this news on your Fb,Twitter and Whatsapp