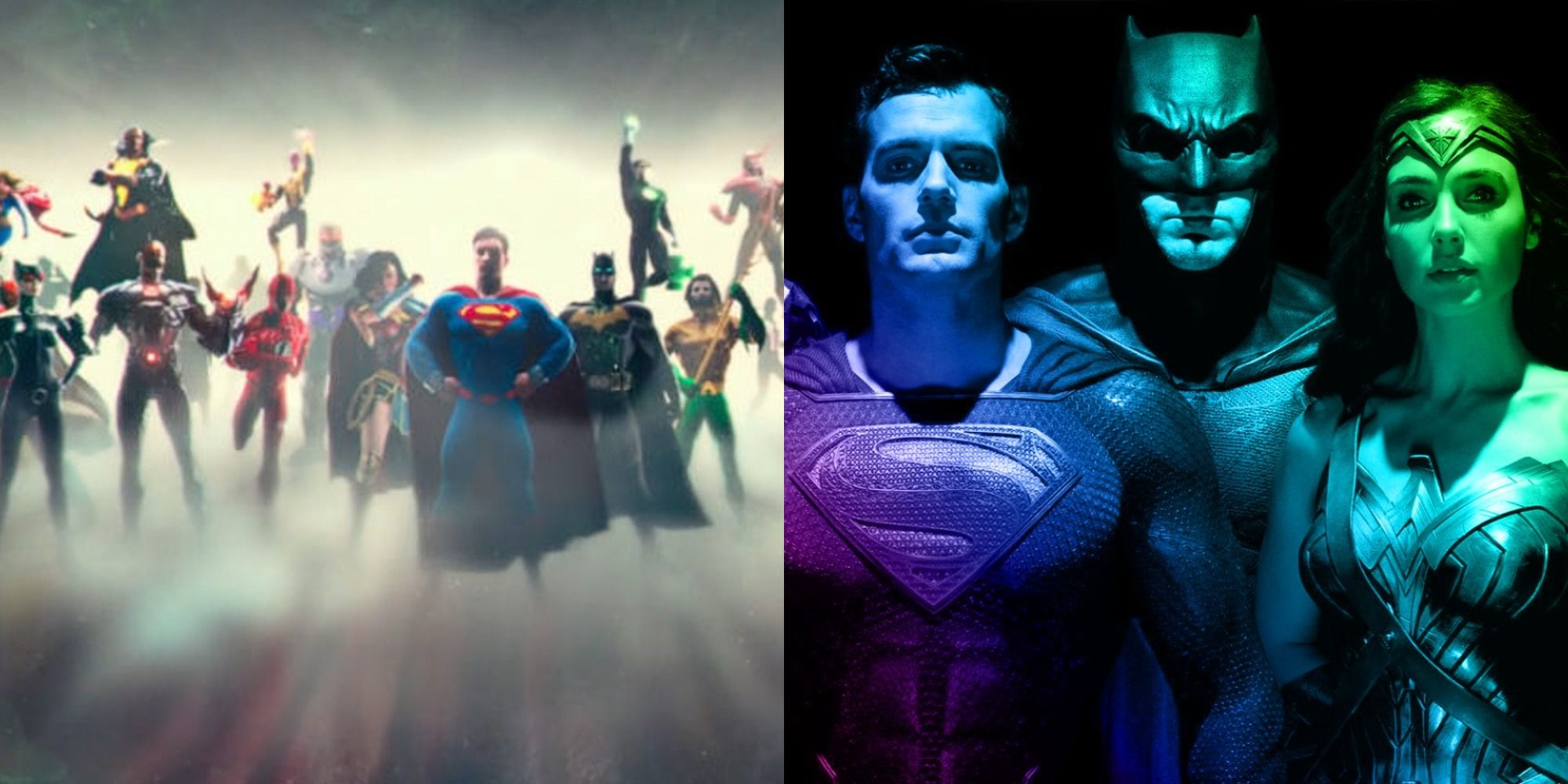 2022 appears to be a defining year for the DCEU. Redditors have a few theories on the fates of Batman, Superman, Wonder Woman, The Flash, and Aquaman.
The DCEU is about to have its biggest year ever with the release of the Peacemaker series (January 13), Black Adam (July 29), The Flash (November 4), and, finally, Aquaman and the Lost Kingdom (December 16).
RELATED: 10 Quotes That Prove Batman Is The Best Justice League Member In The DCEU
With all of this new content being released, fans have ample informational ammo to peruse and, naturally, come up with theories. With that being said, nothing is set in stone, and there are plenty of opportunities for the DCEU to course-correct in 2022. Whether or not the course correction falls in line with Redditors' speculation is a matter to be solved by time.
A Big Alteration To The Timeline
There's a major rumor floating that The Flash will effectively "correct" the SnyderVerse (which many fans have come around to after the release of Zack Snyder's Justice League).
SaifSKH1 elaborates on the supposed plan: "…by the end of the movie they will have created basically a new Justice League with Supergirl replacing Cavill's Superman and Batgirl replacing Batfleck and Keaton's Batman acting sort of as Batgirl's mentor." While this does seem extremely likely down the line, it's probably not happening in 2022. Cavill has openly admitted to having no issue with continuing on as Superman and Affleck is back in for The Flash after his departure from the DCEU. If the plan goes through and the two are out, it will be a shame, because Cavill's Superman is the best Justice League member in the DCEU.
Keaton Will Be The Samuel L. Jackson Of The DCEU
Michael Keaton returning to the character of Batman is very exciting news for cinephiles who are and were big fans of the two Tim Burton films. However, there's some speculation that his role will expand beyond his reprisal appearance in The Flash (which is logical, considering Keaton's career is at the height now that it was in the late 80s).
RELATED: 10 Upcoming Non-DCEU Projects Featuring DC Stars
FunandTech thinks it's going to go this way, and that it's a bad idea, "…I know we love Keaton's movies but, man, making him a permanent choice sucks. Like the Nick Fury figure thing they are going (for) IDK."
Robin Will Be Introduced, But He Won't Last Long
As long as Robin doesn't deliver one of the cringiest one-liners in the DCEU, fans will probably be happy. Batman's number two probably has a place in the DCEU outside of his bloodied suit in Batman v Superman: Dawn of Justice, but it's hard to place just when his introduction will happen.
DCEUrocks222 thinks it'll be sooner rather than later and their "money is on Batman and Robin working together 4-5 years, and Dick dying when he was 18-21." That would check with Pattinson's version or Affleck's version, so it's possible either inside or outside of the DCEU.
Pierce Brosnan Will Have A Big Role In Black Adam
Even outside of his 007 tenure, Pierce Brosnan is an asset to every movie he's in (e.g. Mrs. Doubtfire). He has a charming and welcoming presence that's deserving of substantial screentime.
Asilestr hopes his Dr. Fate gets comparable treatment in Black Adam. In the Redditor's words, "It would be a crime not giving DC's equivalent of Doctor Strange a chance to face off against some magical/cosmic threat…." DC movies are in a period of adjustment now, so really nothing is entirely off the table. And Brosnan can play hero or villain with equal capability, but there's DCEU history informing the audience that villains tend to be a one-off. It seems fair to expect Brosnan's Dr. to have a short-duration fate in the franchise. Even still, his presence makes Black Adam a superhero movie to look forward to in 2022.
DC Super-Pets Has A Future
As of now, DC League of Super-Pets (May 20) is not part of the DCEU. However, there's no reason not to expect it to be tangentially connected (should the film prove to be a box office hit).
RELATED: 8 Things Fans Want To See In The DCEU Peacemaker TV Series (According To Reddit)
At least that's a slight possibility if Plastic_Success_1776's theory ends up being correct: "I think League of Super-Pets is going to be a sleeper hit. It is family-friendly and includes pretty well-known stars like The Rock, Kevin Hart, Keanu Reeves, and John Krasinski." Super-Pets has one of the best casts in a superhero film to date (animated or otherwise). Should the Redditor's prediction of success come to fruition, who knows whether it will be retconned into the DCEU.
Batman Beyond
It's hard for fans to determine just how long Keaton will be in the DCEU because his inclusion is so unexpected and intriguing. He'll be in The Flash, but even then it's to a mysterious extent.
SuperKeith88 thinks it'll go beyond just that film: "Keaton will still be the Batman of his universe and a 'Batman Beyond' series on HBO Max will take place in the Keatonverse." Then, the Redditor posited that Affleck's Batman will still exist in the Snyderverse, but he won't actually be seen by audiences. It's a likely outcome, considering that particular caped crusader's time fighting the smartest DCEU villains is coming to an official close.
The Batman Cinematic Universe
There's a general theory that the DCEU will be broken into multiple universes. That way, filmmakers with different takes on the character (particularly Batman) will be able to bring their visions to the screen simultaneously.
LiquisWasp thinks not only will that be the case, but it will also engulf most of the DCEU's focus. In their words, "This is gonna be the BCU. Batman Cinematic Universe. DCEU should have their own 'more comic-y' Batman like we had going with Batfleck before WB nuked the movies."
NEXT: The 10 Funniest Quotes In The DCEU
The MCU's Oldest Fantastic Four Fancasting Is Still Marvel's Best Choice
About The Author
Share this news on your Fb,Twitter and Whatsapp