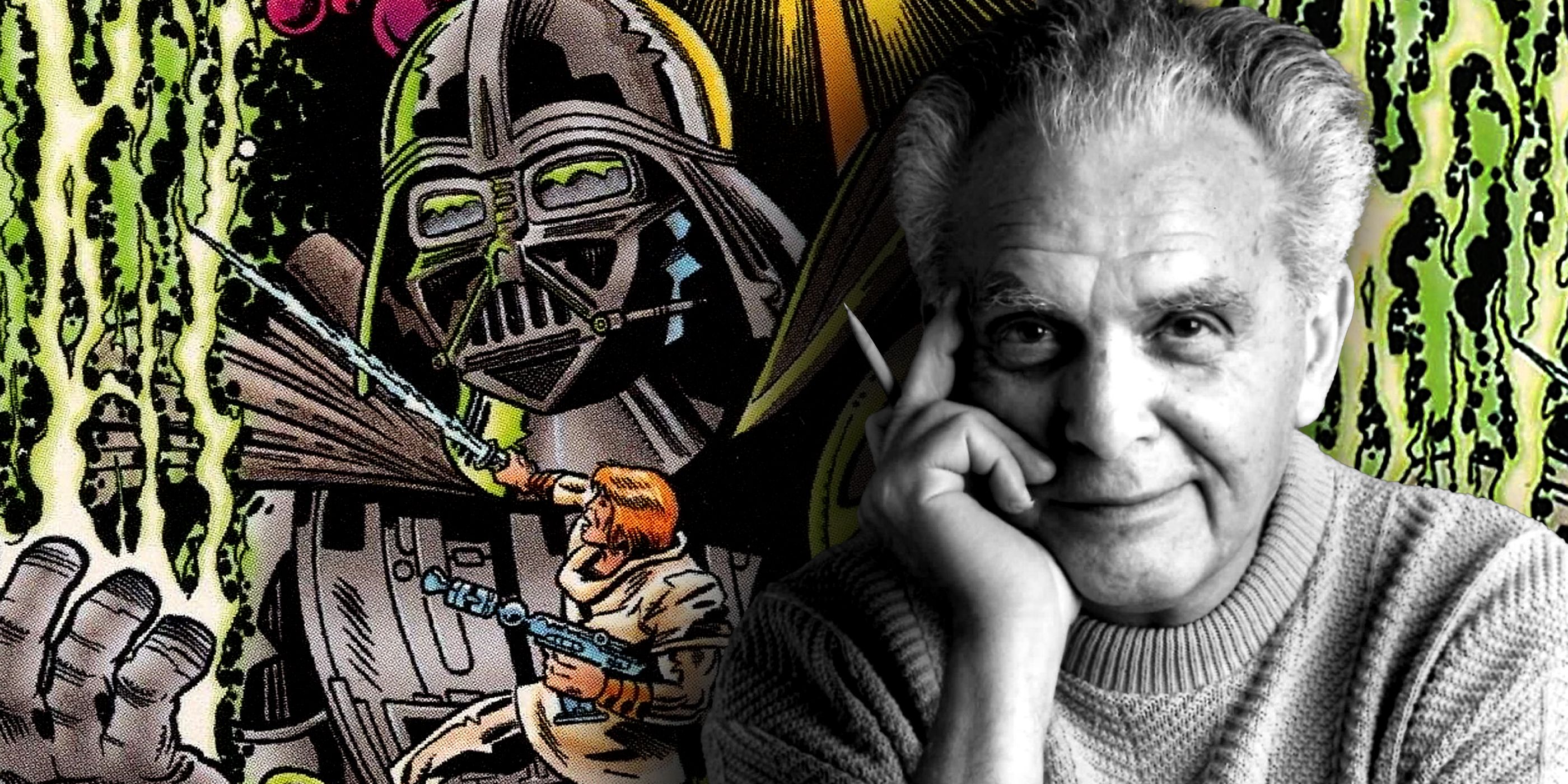 Jack Kirby might have inspired Star Wars with his work on New Gods, so seeing him depict Luke Skywalker and Darth Vader is a rare treat.
Many influential comic artists have contributed to the Star Wars universe, from Howard Chaykin to Bill Sienkiewicz and even the legendary Jack Kirby. Having co-created most of the early Marvel universe as well as DC's New Gods (which features some of DC's most powerful characters), Kirby is seen by many as the father of modern comic books, with some people believing Kirby's New Gods comics were one of the inspirations for Star Wars. As George Lucas was a comic book fan, it's very believable that New Gods might have been a part of the collective pool of inspiration that Star Wars grew out of.
The story of Jack Kirby's New Gods is about an "Astro-Force" wielding son who discovers his father is the epitome of evil, a mysterious mystical energy called "The Source", and even a powerful Darkseid (pronounced "dark side"). Like Star Wars, New Gods blends ideas present in ancient mythology with a science fiction setting. While there are similarities, Jack Kirby expert and biographer Tom Scioli talked with Paste Magazine about the complicated nature of the Kirby-Star Wars connection, saying Kirby's story "The Pact" from New Gods #7 is "the Star Warsiest thing Kirby's done… It's a very epic, very sci-fi, very mythic and very cinematic comic at a time when no one else was doing cinematic comics. It's SO similar to Star Wars, but I've read Lucas's early script drafts and it seems like he really did arrive at that story honestly. It's something I've pondered for a long time and can argue both sides."
Related: Jack Kirby Created Thor Comics Years Before Stan Lee Did
Kirby would make his most direct contribution to Star Wars in 1994. Commissioned by trading card giant Topps for Series Two of its Star Wars Galaxy Trading Cards, Jack Kirby drew Darth Vader and Luke Skywalker for the series' New Visions collection, where the best artists of the day who had never drawn for Star Wars would contribute artwork for the set. Kirby was featured in Series Two along with Michael Allred (who had his own Kirby-inspired Silver Sufer series), Amanda Conner, Dave Gibbons and many more. Complete with his signature Kirby Krackle, Kirby depicts Darth Vader wielding the Force with a visual flair that shows power radiating from his outstretched hand. In Vader's other hand stands Luke with a fiery lightsaber and a very Kirby-esque blaster. The scale between the two figures brilliantly suggests the foreboding menace Vader has in the franchise, and Luke's uphill battle to overcome it.
Whether Star Wars was actually inspired by New Gods or not, Jack Kirby believed it was. In an interview with Royal Flush, Frank Zappa's son, Ahmet Zappa, recalled a discussion between Kirby and his father after the release of Empire Strikes Back.  Zappa said, "I remember Jack confided in Frank that he felt like the stories he created helped shape the Star Wars saga, that he saw direct parallels between his characters and the movie's story arcs…He told my dad stuff like, 'Darth Vader was Doctor Doom and the Force is the Source' and that George Lucas ripped him off." Whether Kirby harbored any lingering resentment over Star Wars, or whether it was a passing annoyance to him isn't known, but if he did harbor ill feelings for the series, he was able to come to peace with it enough to contribute something to the franchise's legacy.
It's incredible to see Kirby's unique cosmic style applied to the galaxy far, far away. The trading card, inked by Mike Thibodeaux, would actually be one of the last pieces of art that Kirby would produce before his death on February 6, 1994 at the age of 76, bringing his career full circle with a piece depicting a universe he helped inspire. Kirby's mark is still felt in almost everything produced by Disney today. From the MCU to Star Wars, the seeds of Jack Kirby's imagination have taken root, and he continues to inspire creators to this very day.
Next: Did Star Wars' Darth Vader Inspire A Marvel Supervillain?
Sources: Paste Magazine, Royal Flush
Flash Proved Green Lanterns Are Using Their Rings All Wrong
About The Author
Share this news on your Fb,Twitter and Whatsapp