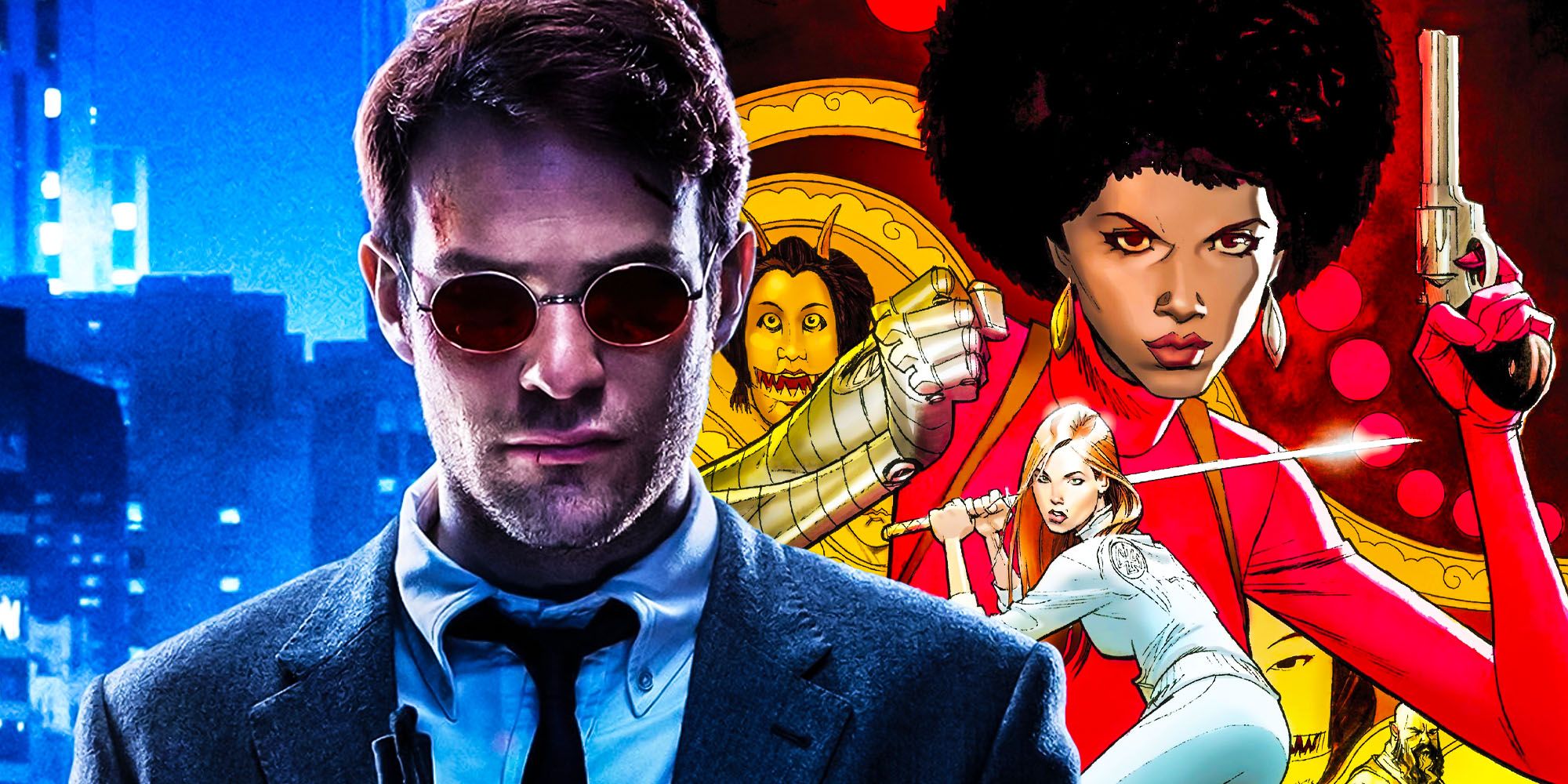 With Daredevil and Kingpin entering the Marvel Cinematic Universe, a Daughters of the Dragon female team series can finally become a possibility.
With Charlie Cox's Daredevil and Vincent D'Onofrio's Kingpin joining the Marvel Cinematic Universe in 2021, there's an optimistic outlook for the first female superteam in a Daughters of the Dragon series. Since Misty Knight and Colleen Wing's appeared in Netflix's Luke Cage, Iron Fist, and The Defenders, there were high hopes for their spinoff. Upon Marvel canceling the five established Netflix shows in 2019 to launch Disney+, fans and critics were left wondering if any of these shows and characters would survive Marvel's own snap.
Luke Cage season 1 introduced Detective Mercedes "Misty" Knight, played by Simone Missick, while Iron Fist debuted Chikara Dojo-owner Colleen Wing, played by Jessica Henwick. It wasn't until the ground-level superhero team series, The Defenders, that the characters linked up, and the second seasons of their respective series showed a hint at their eventual partnership. Their partnership stemmed from longstanding comic book history, with the duo first appearing in Chris Claremont's 1977 issue of Deadly Hands of Kung Fu #32 as the Daughters of the Dragon.
Related: How Each Netflix Marvel Character Could Come Back To The MCUAs a new horizon unfolds in the MCU with Matt Murdock and Wilson Fisk appearing in Spider-Man: No Way Home and Hawkeye, respectively, so too are hopes reignited for a Knight and Wing series. In the Hawkeye series, Kingpin's story deviated from his Netflix Daredevil origin as he seemed stronger and more powerful. Matt Murdock's Spider-Man cameo revealed little about his character other than that he still practiced law. As the Disney+ series continue building battles at a smaller level, a Daughters of the Dragon series can easily address the mounting street-level problems in the MCU's New York City by using the first true female superteam. As crime increases in the vacuum of destruction in the city, more superheroes are needed to clean up the mess. Detective Misty Knight's MCU story can branch off her police work, while Colleen Wing can be found training youth in martial arts as a means for them to have the skills to protect themselves. Furthermore, as the multiverse continues cracking open in WandaVision, Spider-Man: No Way Home, and the upcoming Doctor Strange in the Multiverse of Madness, anyone can find themselves on Earth 616.
Changes to their stories can also be made to adhere more closely to their comic book origins. In the comics, Knight's bionic arm is a gift from Tony Stark, while the Netflix show pivots this to Danny Rand. As Stark tech winds up all over the MCU, it's not a far stretch of the imagination for his technology to end up on her arm. Additionally, Knight and Wing first team up by launching the crimefighting business Knightwing Restorations, Ltd., eventually adopting the moniker Daughters of the Dragon after their enemy, the Serpent, tries to insult them. Throughout comic history, Wing often associates with other established MCU characters such as Shang-Chi, Spider-Man, and the main character of the upcoming Disney+ series, She-Hulk.
Daredevil's Matt Murdock cameo in Spider-Man: No Way Home and Kingpin's role in Hawkeye are more than moments for the audience to revel over. These moments are glimmers of hope for pulling beloved characters established in the Netflix series into the MCU. Coming off as strong fan favorites with their depictions in Luke Cage, Iron Fist, and The Defenders, Simone Missick and Jessica Henwick can easily reprise their roles as Misty Knight and Colleen Wing in Daughters of the Dragon if they so choose.
More: Spider-Man 4: Why Kingpin Must Be The Trilogy's Main Villain
Doctor Strange in the Multiverse of Madness (2022)Release date: May 06, 2022
Thor: Love and Thunder (2022)Release date: Jul 08, 2022
Black Panther: Wakanda Forever/Black Panther 2 (2022)Release date: Nov 11, 2022
The Marvels/Captain Marvel 2 (2023)Release date: Feb 17, 2023
Ant-Man and the Wasp: Quantumania (2023)Release date: Jul 28, 2023
Guardians of the Galaxy Vol. 3 (2023)Release date: May 05, 2023
Pixar's Next Movie Turning Red Skipping Theaters, Will Stream On Disney+ For Free
About The Author
Share this news on your Fb,Twitter and Whatsapp