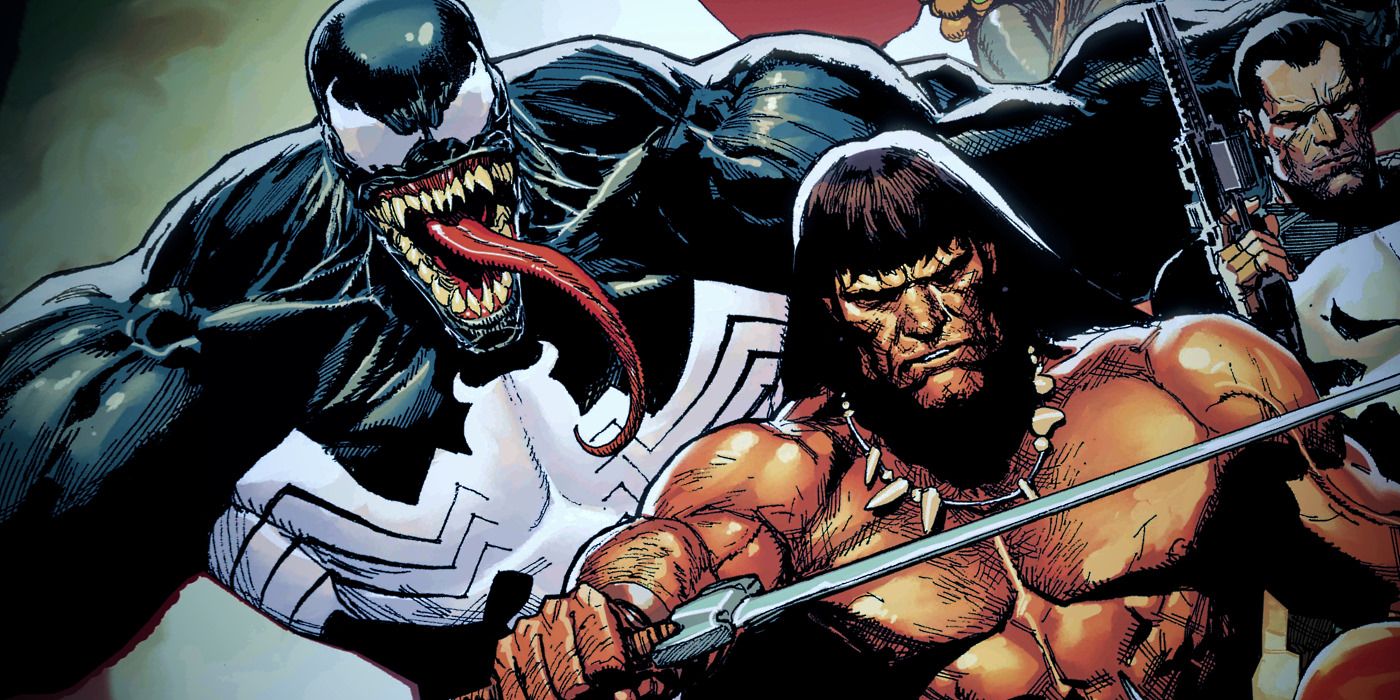 Reports have confirmed that a significant Marvel Comics character is leaving the publisher, as the rights expired to a Savage Avengers hero.
Recent reports that Marvel Comics are losing the rights to Conan the Barbarian have been confirmed, as the Savage Avenger will cease appearing in future stories for the publisher. It was confirmed with ComicBook.com that Marvel Comics no longer had the rights to Conan the Barbarian. For those worried Conan's comic book adventures are coming to an end, rights-holder Heroic Signatures stated they will continue publishing the hero next year, just not under Marvel.
Conan the Barbarian is one of Robert E. Howard's most notable creations, as the Cimmerian hero debuted in the fantasy genre more than 85 years ago. Conan has since been published in his own comic book adventures, including the 1970s with Marvel, Dark Horse in the early 2000s to the late 2010s, and back to Marvel Comics in 2018. The sword-wielding hero has played a major part in recent Marvel Comics stories, in his own solo books and team books, including the new Savage Avengers, which released its first issue today.
Related: Avengers' Celestial Base Rises from the Dead to Judge X-Men & Eternals
Last week, Bleeding Cool reported Marvel Comics was about to lose the rights to Conan the Barbarian, as the current U.S rightsholder wasn't extending its license with the publisher. ComicBook.com officially confirmed that Heroic Signatures hasn't renewed its agreement with Marvel Comics, as CEO Fred Malmberg told the website that while they cherish their relationship with the publisher, they are "picking up the baton" themselves and intend on publishing Conan the Barbarian stories as well as other IPs they own. While further details weren't revealed about their publishing initiative, Malmberg said things will commence next year.
The confirmation comes on the heels of Conan the Barbarian leading a new Savage Avengers series from Marvel Comics, where the hero and his original timeline play a key role in the comic. Marvel also recently announced new Epic Collections that will collect classic Conan stories from some of its most iconic creators, as well as an omnibus in December titled "Conan the Barbarian: The Original Marvel Years Omnibus Vol. 10." Malmberg mentioned he hopes that Conan could still appear in Savage Avengers-like books, but no deal has reportedly been reached as of yet to share the character in a much small capacity than before.
There are still a lot of details to be ironed out, but don't expect Conan to appear in any more stories than he's already scheduled to be in. Jason Aaron and Mahmud Asrar's King Conan will be ending in July with issue six, while Conan's fate in the Savage Avengers is to be revealed at a later date. A new era of Conan the Barbarian in the comics will come next year, without Marvel Comics' involvement.
Next: Marvel Called Out DC Using the One MCU Team Everyone Forgets
Source: ComicBook.com
90 Day Fiancé: Aladin Jallali & Maria Talebi Get Married
About The Author
Share this news on your Fb,Twitter and Whatsapp