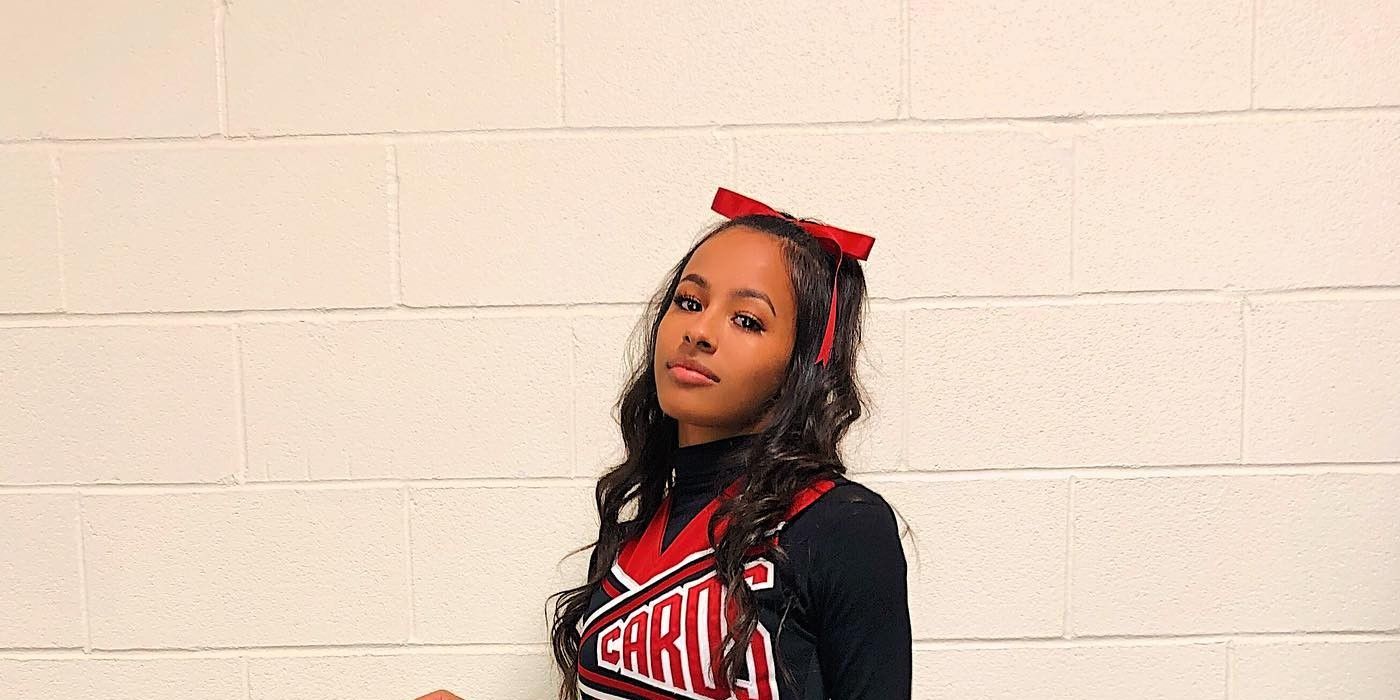 Shortly after Cheer season 2 filming concluded, powerhouse tumbler and flyer Jada Wooten left TVCC. Find out what the talented athlete is up to now.
Netflix's Cheer season 2 introduced audiences to some new favorites, including Trinity Valley Community College's Jada Wooten, and it's time to talk about what she's been up to since the show. Self-disciplined Cheer alum Jada was a second-year flyer for the Cardinals, and arguably one of the most powerful tumblers in the sport. Along with Jeron Hazelwood, Jada served as a squad captain during the 2020-2021 season, which was featured as a major storyline in the docuseries' sophomore installment.
Production for Cheer season 2 concluded in April of 2021, just after TVCC and Navarro College went head to head at the annual NCA Cheer Championships in Daytona, FL. When filming ended, so did Jada's time at Trinity Valley. She completed her academic program that spring and opted to not take advantage of the third year of competitive cheer eligibility at the junior college level. This has many fans wondering what the former Cardinal Jada Wooten is up to now.
Related: Cheer 2: What Happens To The Cheerleaders Who Don't 'Make Mat'
After transferring from TVCC, Jada went on to Sam Houston State University in Huntsville, Texas, where she is believed to be majoring in chemistry. She may have left her black and red uniform behind, but it seems like she's isn't done with cheer just yet. She is a member of the SHSU cheer squad and will be heading back to Daytona this April, this time in orange and white, to compete with the Kats.
This past weekend, Jada and Kats teammate Lou Will competed at the UCA College Nationals at the Walt Disney World Resort in Orlando, Fl. The pair placed 6th in the coed partner stunt category, beating out a former rival, Navarro College, as well as Jada's alma mater, Trinity Valley. The duo were the only competitors of the dozen in the division to have zero deductions from their final score.
While cheerleading is still a huge part of her life, it's not the only thing on breakout star Jada Wooten's plate these days. She has found a way to use her newfound fame as a social media influencer. Jada is now a collaborator with Naturally Fit, an agency that partners real athletes with professional brands that need inspiring content creators. Right now, there are no posts on Jada's Instagram that promote specific brands. However, according to the Naturally Fit Agency's website, the company's objective is "building long term mutually rewarding partnerships with amazing individuals and companies."
Fans enjoyed getting to know Cheer's season 2 star, Jada Wooten, during its run. Many were disappointed to learn she had moved on from TVCC and would not be returning for a possible season 3. They are excited, however, to see her still doing what she loves. They wish her all the best.
Next: Cheer 2: Learn About Some Other Squads Competing At Daytona
Source: NaturallyFitAgency
The Rings of Power Trailer: New Galadriel Reads Classic LOTR Speech
About The Author
Share this news on your Fb,Twitter and Whatsapp