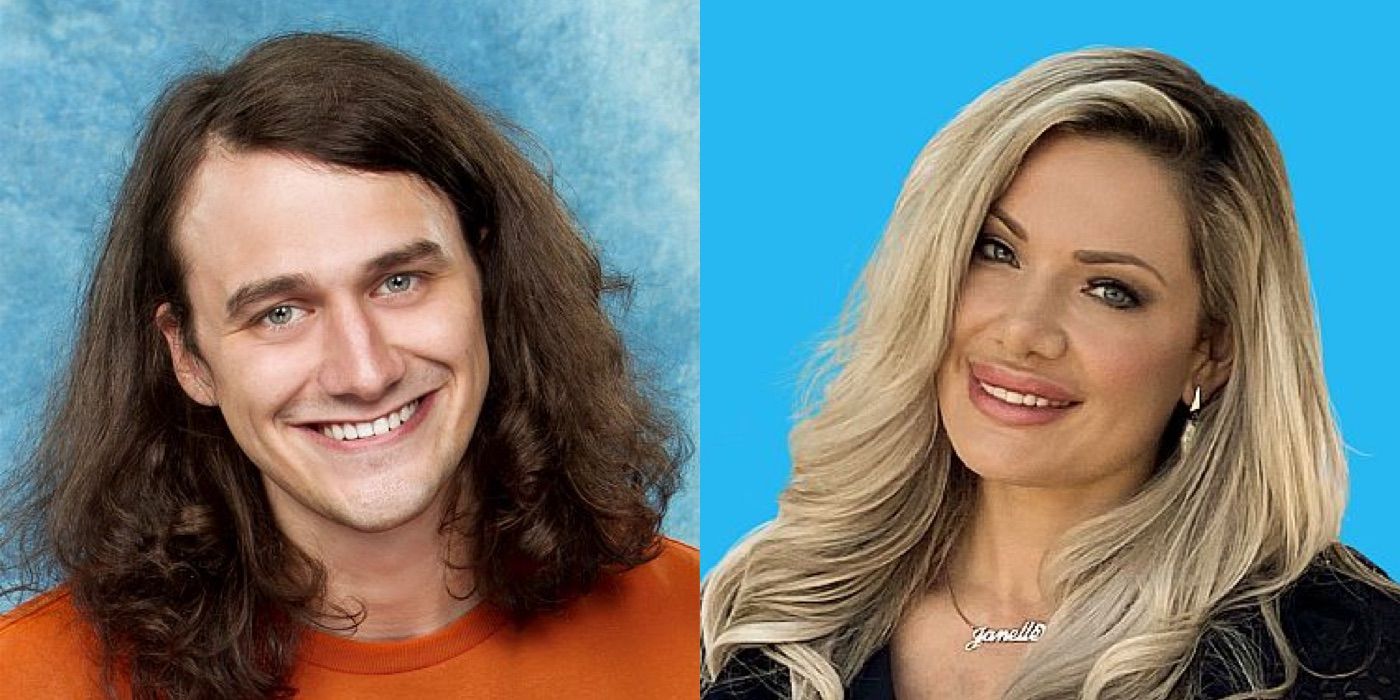 Big Brother stars Janelle Pierzina and McCrae Olson launched a podcast on which they will discuss Celebrity Big Brother and other topics.
Big Brother stars Janelle Pierzina and McCrae Olson launched a new podcast called Diary Room Open Mic, on which they will discuss Celebrity Big Brother 3 and other topics. In 2013, then 23-year-old pizza boy McCrae placed 4th on Big Brother 15, a season that was marred by the racist, homophobic, antisemitic, and misogynistic comments made by some of the houseguests. Although McCrae did not directly participate in this behavior, he did have a showmance with controversial contestant Amanda Zuckerman. While Amanda was in the house, McCrae stayed under the radar, allowing her to take the reins. However, after her eviction, he won some competitions that kept him in the game. Before the show began, Janelle had tweeted that she was rooting for McCrae because he was from her home state of Minnesota.
Janelle is a Big Brother legend who many regard as one of the greatest contestants ever to play the game due to her physical, social, and strategic game play. She earned the nickname "Queen of Big Brother" after her iconic appearances on several different seasons. Janelle first took the house by storm in 2005 when she placed third on Big Brother 6. She returned the next season for Big Brother 7, an all-stars season, during which she again placed third, and set the record for the most individual competitions won in a single season. Janelle won four Head of Household and five veto competitions for a total of nine wins, and became known as the "Veto Queen." She also was the first houseguest to ever win the America's Favorite Houseguest award. In 2012, Janelle joined Big Brother 14 as a coach and later joined the game, placing 12th. Her most recent return to the game was during the 2020 Big Brother 22 season, another all-stars season during which she placed 14th after the other houseguests made her a target because she was such a strong player. Janelle currently works as a real estate agent in Minnesota.
Related: Celebrity Big Brother 3 Cast: Full List Of Contestants Revealed
Janelle and McCrae have now teamed up to create a new podcast called Diary Room Open Mic filmed at Janelle's home. During the first episode, McCrae introduced himself as the producer and Janelle as the host of the podcast. Janelle said that she was so excited to do the podcast because they have been talking about it "forever." She explained that the podcast is primarily about Big Brother, but will also discuss business and entrepreneurial topics, women empowerment, and real estate. Janelle said that she wants to have some great guests on the show. McCrae said that fans can submit artwork or music to the show because they need some intro music. Janelle and McCrae's first topic was a discussion about how people should check the sources for any Big Brother spoilers because they are not always reliable. This was a reaction to the fake cast lists that were released for Celebrity Big Brother 3.
Janelle and McCrae then went through the Celebrity Big Brother 3 cast members, explaining who they are and revealing their thoughts about who they think might win the competition. They agreed that they prefer contestants who are familiar with the game. Janelle said that "there's definitely finesse to playing Big Brother, and if you understand the show and how the dynamics work, I think you can do a lot better than someone that's just going into it super green." Janelle predicted that Todrick Hall will place Top 5 or higher because his friendships with the Big Brother season 23 cast members would give him insights into the game, and he is obviously a huge fan of the show. She said that she is "one hundred percent rooting for Todrick Hall. I want to see him do very well on the show." McCrae's favorite contestant is former Saturday Night Live cast member Chris Kattan. Janelle predicted that Lamar Odom and Shanna Moakler might make a "tight alliance" because of the "common denominator" of having "beef with the Kardashians." McCrae's pick to win the competition was Todd Bridges and Janelle chose Todrick Hall or Shanna Moakler.
Janelle and McCrae's first podcast episode was a great success as their friendship made their conversation fun and easy to listen to. Their experience with the game will allow them to give an authentic analysis of Celebrity Big Brother. After four seasons on the show, Janelle is an expert whose opinions can be trusted. Diary Room Open Mic is sure to be a great success.
Next: Celebrity Big Brother 3: Former Winners & Players React To CBB3 Cast
Celebrity Big Brother premieres Wednesday at 8 p.m. EST on CBS.
Source: Diary Room Open Mic Podcast
90 Day Fiancé: Reasons Why Gino Isn't As Innocent As He Seems
Share this news on your Fb,Twitter and Whatsapp