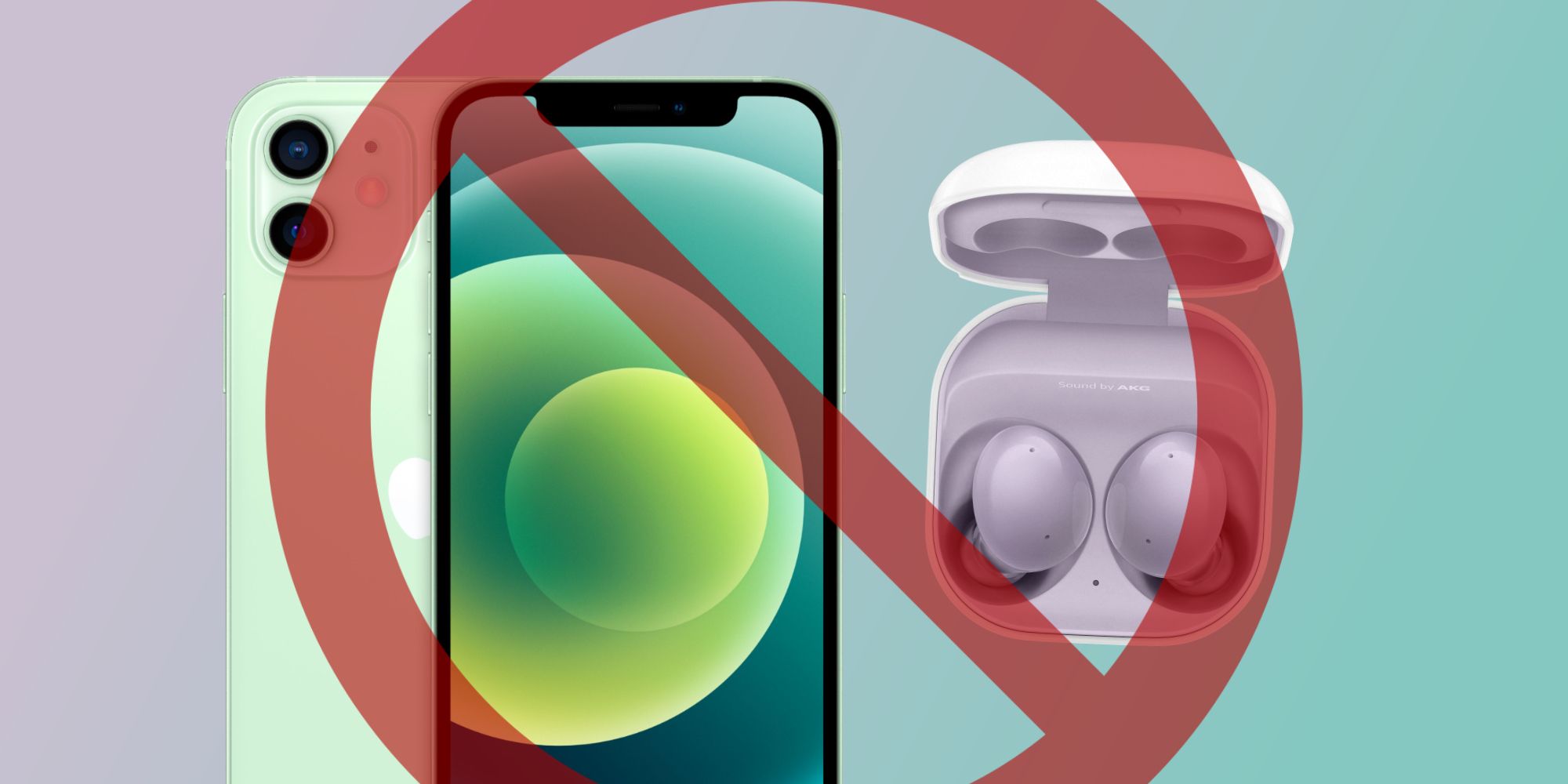 The Galaxy Buds 2 are an incredible value at just $150. For iPhone users, however, they'll want to look elsewhere for their next earbud purchase.
The Galaxy Buds 2 are some of Samsung's most well-rounded earbuds, but are they a good fit for the iPhone? While that may seem like a silly question to ask for Bluetooth earbuds, that's where things stand right now. AirPods are technically compatible with any device that has Bluetooth, but they need to be used with an Apple gadget to access all of their features/settings. The same goes for Google's Pixel Buds. They'll work with an iPhone, but the experience is scaled back considerably compared to when they're paired with an Android device. Ecosystem lock-in is always annoying, but that's the reality of many wireless earbuds these days.
In the case of the Galaxy Buds 2, Samsung created its most compelling pair of cheap earbuds yet. They're super small and lightweight, are available in a few fun colors, come with active noise canceling + transparency mode, feature an IPX2 water resistance rating, and last for up to 7.5 hours of continuous playback. All of that's available for just $150, making the Galaxy Buds 2 fierce competition for the likes of Apple AirPods and Beats Studio Buds.
Related: Samsung Galaxy Buds 2 Vs. Buds Pro
Before iPhone owners get too excited, though, there is a catch to the Buds 2 experience. Looking at the specs page for the Galaxy Buds, it's important to note the 'Compatible Specification of Smartphone' section. Here, Samsung lists that someone needs an Android phone with Android 7.0 or newer and at least 1.5GB of RAM. Missing from that is any mention of iOS compatibility. This is something Samsung also confirmed to Screen Rant during a briefing for the Galaxy Buds 2, confirming that the company's earbuds are not officially supported on the iPhone. No matter if someone has the latest iPhone 13 Pro Max or an iPhone SE, the Galaxy Buds 2 aren't a good fit.
Why The Galaxy Buds 2 Aren't A Good Choice For iPhone Users
This is a situation similar to AirPods or Pixel Buds. If someone buys the Galaxy Buds 2 and has an iPhone, the earbuds will show up in the Bluetooth menu and connect without a problem. Unfortunately, they'll be limited to very basic functionality. iPhone users will be able to listen to music and use the default touch controls, but there's no iOS companion app to adjust ANC settings, change the equalizer, customize touch controls, etc. There is a Samsung Galaxy Buds application in the App Store, but it only works with the Galaxy Buds Plus and Galaxy Buds Live.
Because of all this, the Galaxy Buds 2 are only a good choice for someone with an Android phone. If iPhone users need a pair of $150 earbuds but aren't impressed with AirPods, something like the Beats Studio Buds are a much better choice. They have a comfortable design, ANC, transparency mode, long battery life, and integrate seamlessly with iOS. An ideal world would see all earbuds working the same regardless of operating system, but alas, that's the way the market is — and will likely remain for years to come. It also wouldn't be surprising if future Galaxy Buds follow a similar pattern. Older models like the Buds Plus and Buds Live worked surprisingly great with the iPhone, but from the Buds 2 and onward, that iOS compatibility may be coming to an end.
Next: Beats Studio Buds Review
Source: Samsung
A TV Character Had A Heart Attack On A Peloton, And Now The Company Is Mad
About The Author
Share this news on your Fb,Twitter and Whatsapp