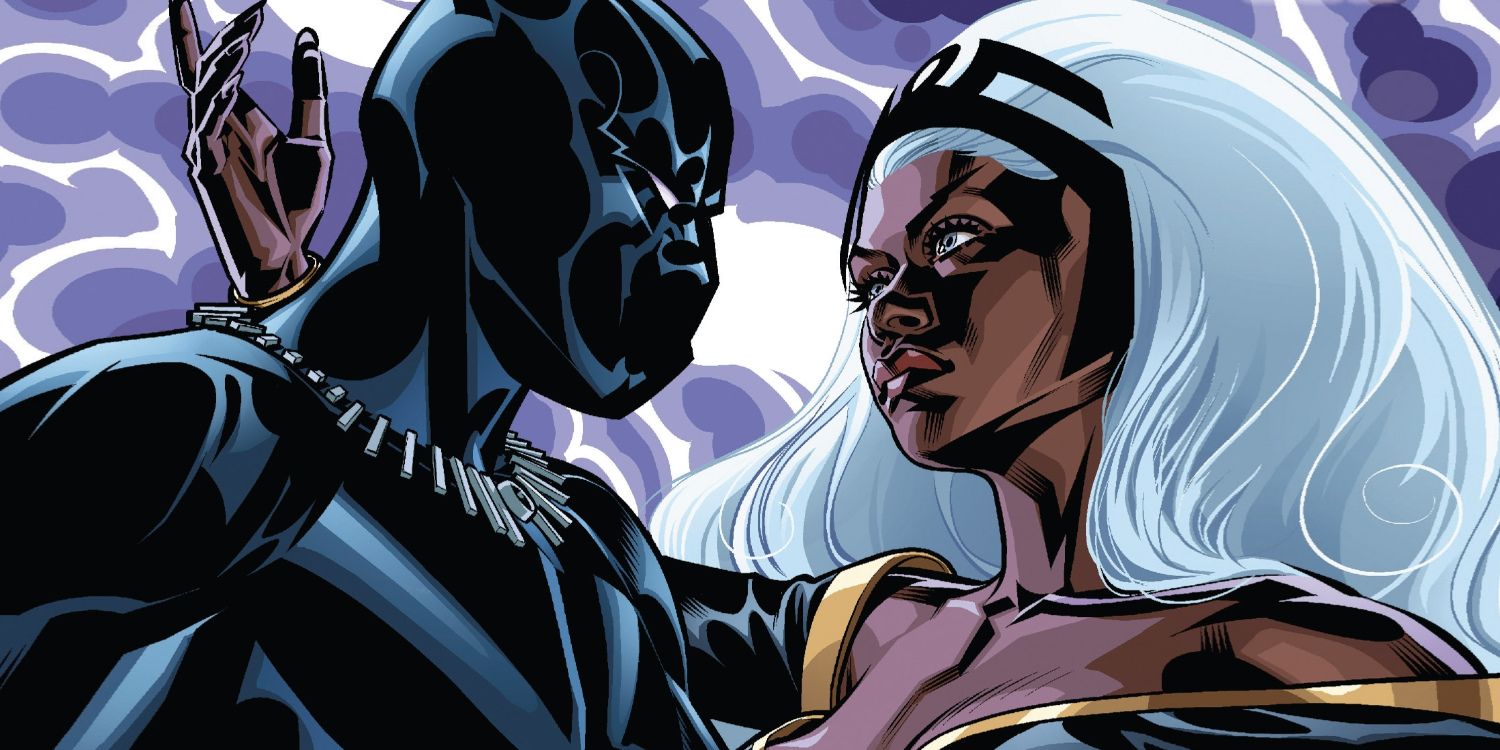 In a world ravaged by tragedy, Black Panther and Storm proved they're Marvel's ultimate heroes, opening up Wakanda for all refugees in need.
Warning! Spoilers for Dark Ages #4 by Marvel Comics
In Marvel's Dark Ages, Black Panther and Storm just proved they're Marvel's ultimate heroes as their latest selfless actions highlight each's true heroism. In a world where the power went out for good, the two heroes decided to open up Wakanda and welcome more than one hundred thousand displaced refugees following the near-destruction of the Marvel Universe. The moment shows how Black Panther and Storm represent what truly makes superheroes great.
The Marvel Universe was thrown into darkness after a villain named Unmaker awakened and tried to destroy the planet. In response, several heroes sacrificed themselves in the ensuing battle, releasing an EMP wave that stopped the Unmaker but turned off all power across Earth in the process. In a world without electricity, heroes eventually banded together after wars and countless deaths to survive and continue living in the all-new powerless world. Meanwhile, the villain Apocalypse is kidnapping heroes and villains and mind-controlling them to create a Faraday Cage, turning Magneto into the ultimate weapon to generate electricity for his own nefarious reasons.
Related: Marvel Comics Is Officially Copying The MCU's Multiverse
In a brand new preview for Dark Ages #4 by Tom Taylor, Iban Coello, Brian Reber, and VC's Joe Sabino, Nightcrawler and a group of heroes complete a dangerous journey alongside a massive ship that used to be a S.H.I.E.L.D. helicarrier. Once the ship docks, Storm welcomes the hundreds of thousands of refugees, telling them, "Europe is behind" them, and that they are safe now.
The Queen of Wakanda arrives in her homeland and is greeted by King T'Challa. Black Panther asks Storm how many refugees have been brought to Wakanda and is told more than one hundred thousand. However, the heroes aren't stopping there. Despite Storm telling Black Panther that there are "too many" refugees still in Portugal, T'Challa says they will find a place for all of them in Wakanda. He refuses to close his border to Europeans who Apocalypse has displaced.
Despite Wakanda being hidden from the rest of the world for most of its existence, Black Panther and Storm immediately opened it up after the world went dark and refugees needed a home. With Apocalypse gaining more control of the world, T'Challa and Ororo saw no choice but to make Wakanda a spot where refugees could feel safe. In doing so, Black Panther and Storm proved why they're Marvel's ultimate heroes, as their selfless action in the face of global crisis shows their heroism is largely unrivaled. Dark Ages #4 by Marvel Comics is in comic book stores on Wednesday.
Next: Kingpin Could Use the Avengers' Biggest Secret To Destroy Them
Full House Cast React To Bob Saget's Shocking Death
About The Author
Share this news on your Fb,Twitter and Whatsapp