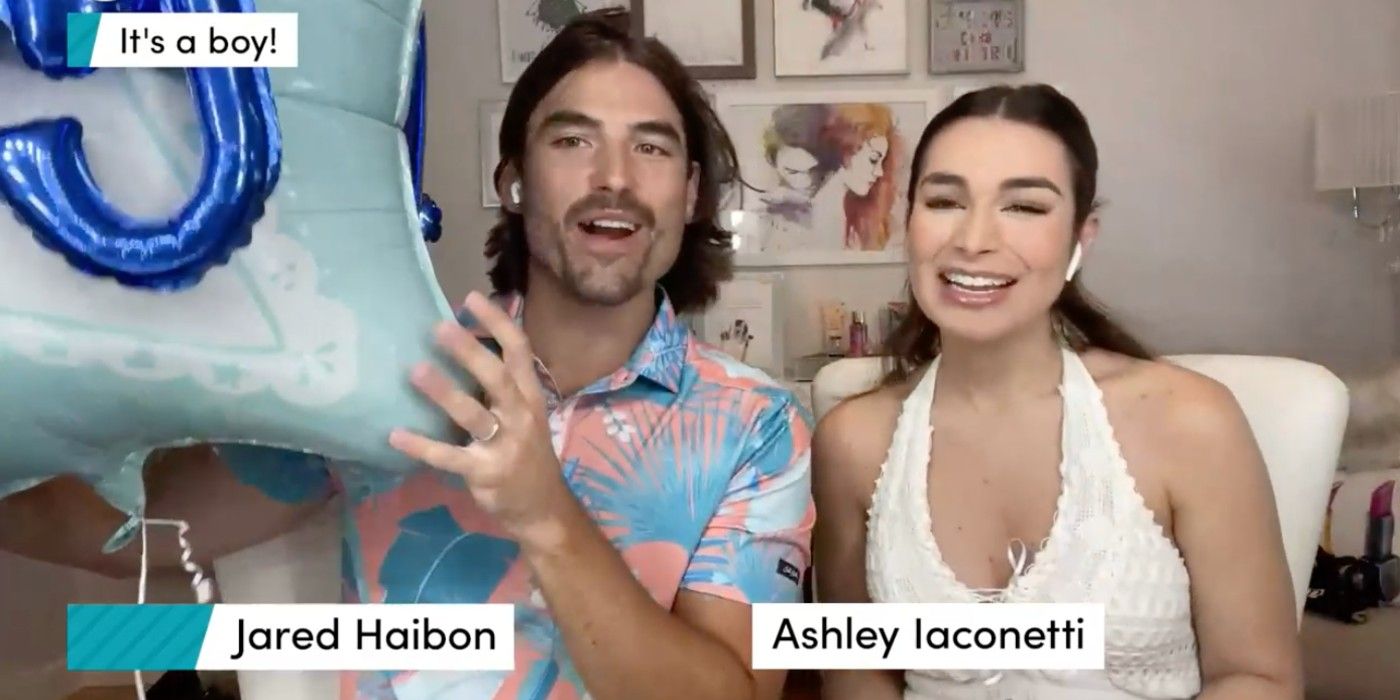 BIP contestant Ashley Iaconetti revealed her strange pregnancy craving. She is expecting her first child in February with husband Jared Haibon.
Bachelor In Paradise star, Ashley Iaconetti, revealed her "crazy" and "weird" pregnancy craving. Ashley is expecting a baby boy due on February 10, 2022. She is married to her Paradise co-star, Jared Haibon. They met on the beach in Mexico in 2015 during season 2. Ashley instantly felt that she and Jared were soulmates, but it took Jared a little longer to realize that Ashley was his true love. After dating in 2016, they returned for Bachelor In Paradise season 3, during which Jared wanted to date other people. Ashley did not want to lose Jared as a friend, so she maintained their relationship and documented it on social media.
On a trip to St. Lucia in 2018, Jared finally realized that he was in love with Ashley. In June 2018, Jared proposed, and the engagement aired on Bachelor In Paradise season 5. On August 11, 2019, Ashley and Jared got married. In July 2021, they announced that they were expecting a baby, and a month later they revealed that the baby will be a boy. Throughout her pregnancy, Ashley has documented how difficult it has been for her, sharing very real descriptions of her bouts with morning sickness and other ailments. She has said that she is "petrified of delivery," but she knows that she is so blessed that she is about to become a mom.
Related: Bachelor In Paradise: Ashley Iaconetti Shares Details Of Her Baby Shower
On The Ben & Ashley I Almost Famous Podcast that Ashley hosts with Ben Higgins, Ashley revealed that she has been having a "crazy" and "weird" pregnancy craving to eat cleaning products. She said that she hadn't shared it anywhere and admitted to Ben, "It's so wrong. It's so bad. We're gonna get so weird, but apparently it's not weird because I looked it up. I have pica, and I want to eat cleaning products. Like I have a strong desire to eat cleaning products." Pica is defined as an eating disorder in which a person eats things that are not usually considered food. Ben replied with "please don't" when Ashley confessed her urge to eat the products, and Ashley said, "Of course I'm not going to." When Ben asked why she had this craving, Ashley explained that it could be an iron deficiency, and that it is very common for pregnant women to want to eat cleaning products and other inedible things. She said that she is going bring it up with her doctor and ask about testing her blood for an iron deficiency.
Ashley confessed that this is not the first time that she has had this craving. She said, "I know this is super weird. You know how like on My Strange Addiction people, like, wanna eat detergent and stuff? I've always wanted to eat powder laundry detergent. And I always wanted to eat chlorine tablets for the pool." Ashley said that right now she also wants to eat her facial exfoliant that has the texture of baking soda. She said that she tells herself, "'Don't do it. Don't put it in your mouth.' And I want to so bad." She said that Comet for the bathroom is also a part of her craving, admitting, "That kind of texture and smell? Oh, it's just overwhelmingly delicious to me right now. How weird is that?!" Ben said that at any other time in her life, he would have told Ashley that he loved her and she should get checked out because she was crazy. They laughed about it, so it doesn't appear to be too serious of a problem.
Bachelor In Paradise star Ashley's confession of her strange craving for cleaning products is something that she and Ben could joke about, but it goes without saying that cleaning products should never be eaten. Hopefully, the feeling will subside as Ashley gets closer to her due date. While many pregnant women crave ice cream or pickles or even a combination of the two, Ashley can some day tell her son about her weird craving to consume cleaning products right before he was born.
Next: BIP: Ashley Iaconetti And Jared Haibon Celebrate Grand Opening Of New Café
Source: The Ben & Ashley I Almost Famous Podcast
90 Day Fiancé: Jasmine Reveals If Her Scenes With Gino Are Scripted
Share this news on your Fb,Twitter and Whatsapp