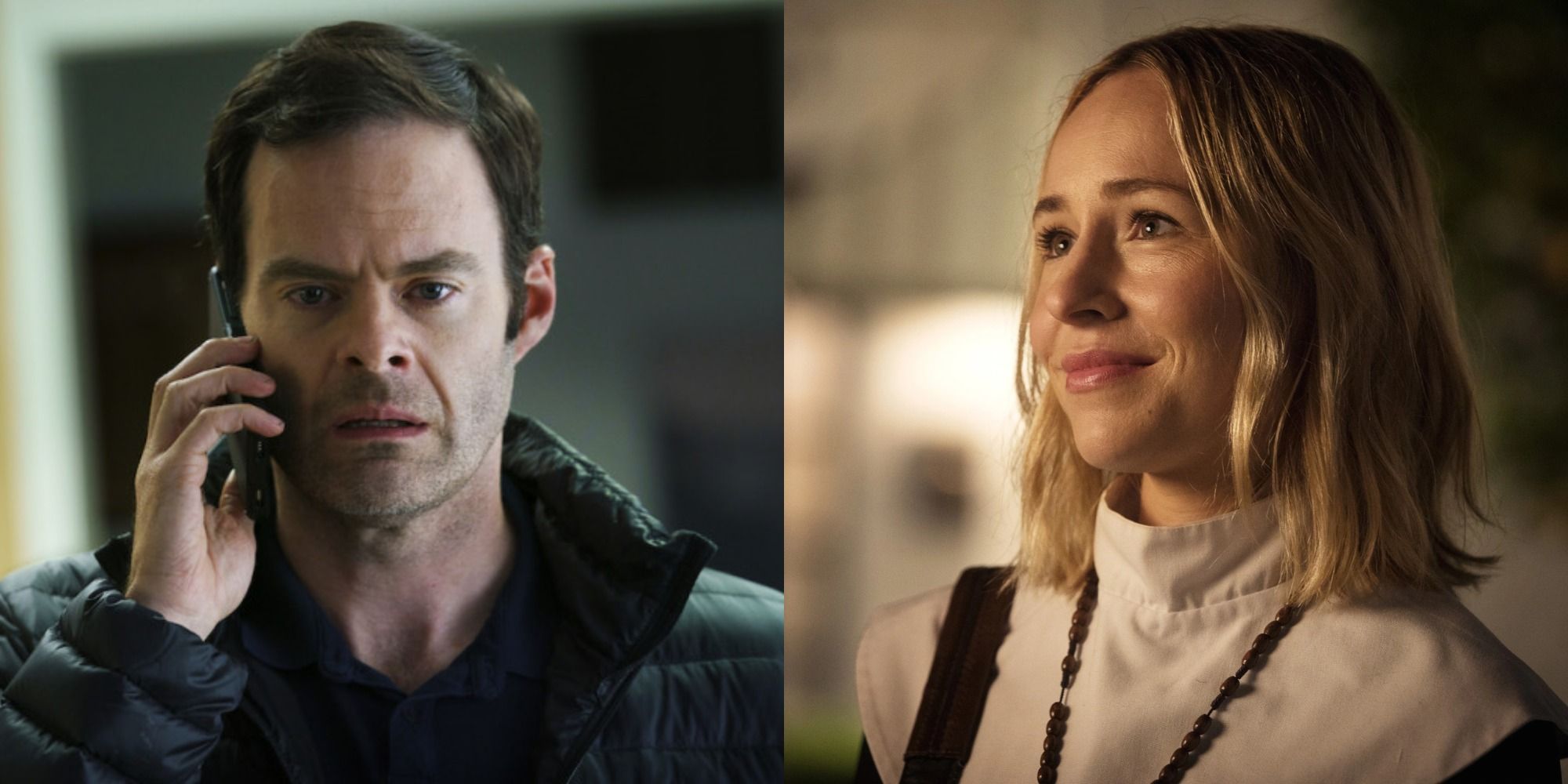 With the new, third season of Barry now airing on HBO, remembering the storylines over the past two seasons is more important than ever. The third season was supposed to come out in 2020, but the Covid-19 pandemic halted production and the show has not been on screens since 2019, meaning that a lot of fans may have forgotten the details of seasons 1 and 2.
Related: 10 Behind-The-Scenes Facts About Barry
There were a lot of storylines left open in the explosive, cliffhanger season 2 finale. With Barry's character development heading in an increasingly darker direction, it is worth reviewing the tangled web Barry Berkman has made for himself throughout the story thus far.
"Barry Berkman Did This"
Perhaps the most important thing to remember going into Barry season 3 is its big reveal in the final words of last season's finale. In the season 1 finale, acting teacher Gene Cousineau (played by Henry Winkler) loses his girlfriend, Detective Janice Moss, in a brutal yet mysterious murder while on vacation with his students Barry and his girlfriend Sally Reed. What Cousineau doesn't know, however, is that Barry is the one who murdered Moss. After a slip during their dinner on the vacation from Barry where he mentions his monologue about being a hitman, Moss realizes he is likely the one who murdered Ryan, a former member of the acting class.
At the end of season 2, Gene is led to Moss' body by Barry's former mentor, Monroe Fuches, posing as a private detective. Fuches whispers something to a stunned Gene while he sees the body of his former lover. In the last seconds of the finale, Gene remembers that Fuches whispered "Barry Berkman did this", revealing that his student Barry was the murderer. In the new season, for the first time, Barry's secret double life will be known to someone in his life as an aspiring actor.
Barry and Fuches' Feud
Barry's rocky relationship with his long-time mentor Fuches is one of the central conflicts across the series and Barry's personal character arc. Their relationship has always been tumultuous throughout the series, especially as Fuches brings out Barry's worst character traits. As Barry tries to establish himself as an actor in Los Angeles, Fuches drags Barry into his dark past as a hitman-for-hire. Fuches' presence in his life continuously brings out his violent, uncaring side as he commits brutal murders.
Towards the end of season 2, Barry begins to break off his relationship with Fuches as he makes more of a name for himself in the acting world and his hitman jobs become increasingly dangerous. A recent job negotiated by Fuches, where Barry went against a martial arts master named Ronny and his equally skilled daughter Lily who almost kills Barry and exposed him to the police. After Barry starts isolating himself from him, Fuches informs Gene and the police of where Moss' body is hidden, before getting associate gangs to protect him from Barry. In the final episode, Barry goes on an unsuccessful rampage looking for Fuches, killing many gang members, but Fuches had already escaped. The damage done to both the gangs and Barry's relationship with Fuches puts Barry in more danger than he's ever been before, meaning season 3 will have even higher stakes.
The Three Gangs Are At War Once More
The dark humor of the gangs storyline is one of the main reasons why HBO's Barry is one of the best comedies on television. NoHo Hank, one of Barry's main allies and member of the Chechen gang, is the show's funniest character, with many humorous one-liners and an unusually upbeat attitude for a mafia member. In season 2, NoHo Hank, the new leader of the Chechen gang, grows close with the Bolivian gang and its leader Cristobal, before The Burmese mob, led by the threatening Esther, hijacks their cooperations.
Fuches briefly negotiates a truce between all three parties in a deal that guarantees his safety from a furious Barry. Fuches is hidden inside the Burmese monastery surrounded by members of all three gangs. However, things go wrong at the end of the season 2 finale, when Barry's rampage brings down many prominent gang members, including many of the Bolivians and the Burmese leader Esther. In season 3, the repercussions for the deaths of so many Bolivian and Burmese mafia members spells big trouble for NoHo Hank and the Chechen gang. In doing this, Barry has cut off the only friends he had left in the hitman world, leaving Barry more vulnerable than ever.
Sally's Past and Hopes for The Future
Sally is probably the Barry character with the most likable personality. Although she can be difficult and self-centered in her pursuit of acting stardom, she is one of few characters that isn't caught up in the web of murders and violence in the show's plot. She remains blissfully aware of her boyfriend Barry's double agency as a hitman or any of the horrific crimes she's committed. Sally sees him as a welcome change from her abusive ex-husband, Sam, who she left when she went to LA.
At the end of season 2, Sally convinces Barry to perform a scene she wrote based on her abusive relationship with Sam when their acting class performs for a large theater. Mid-performance, Sally goes off-script, where her character leaves her husband before Barry is meant to violently choke her, a change from her script that was based on a real incident. Sally regrets this decision after her performance, but is met with acclaim from audience members and talent agents, leaving her feeling empowered and hopeful about her acting career. Sally's newfound confidence could come into play when Barry struggles to conceal his identity from her in the new season.
Barry's Blossoming Acting Career
Just like Sally, Barry's pursuit into the world of acting is going from strength to strength. Since the beginning of the series, Barry's acting coach Gene Cousineau has been impressed with Barry's ability to open up about his once violent past. To Cousineau, Barry is showing great emotional vulnerability when talking about his past in the military and having to kill others, delivering great performances. What Cousineau and the rest of the class, however, are unaware of, is that Barry is mostly talking about his experiences doing murder-for-hire as a hitman.
At the end of season 2, Barry has a big audition for a lead role in a movie, supported by Cousineau before his discovery of Moss' body. In addition, Barry's performance with Sally is met with critical acclaim during the class showcase. With Barry becoming a more recognized name in show business, along with the success of his partner Sally, Barry's secret is more vulnerable to being exposed than ever. With Cousineau now aware of Barry's secret life, the acting world could be what ultimately brings Barry down in the third season.
Next: 10 NoHo Hank Quotes That Prove He's a Good Guy
Attack Of The Clones Has The Best Ending In Star Wars
Share this news on your Fb,Twitter and Whatsapp