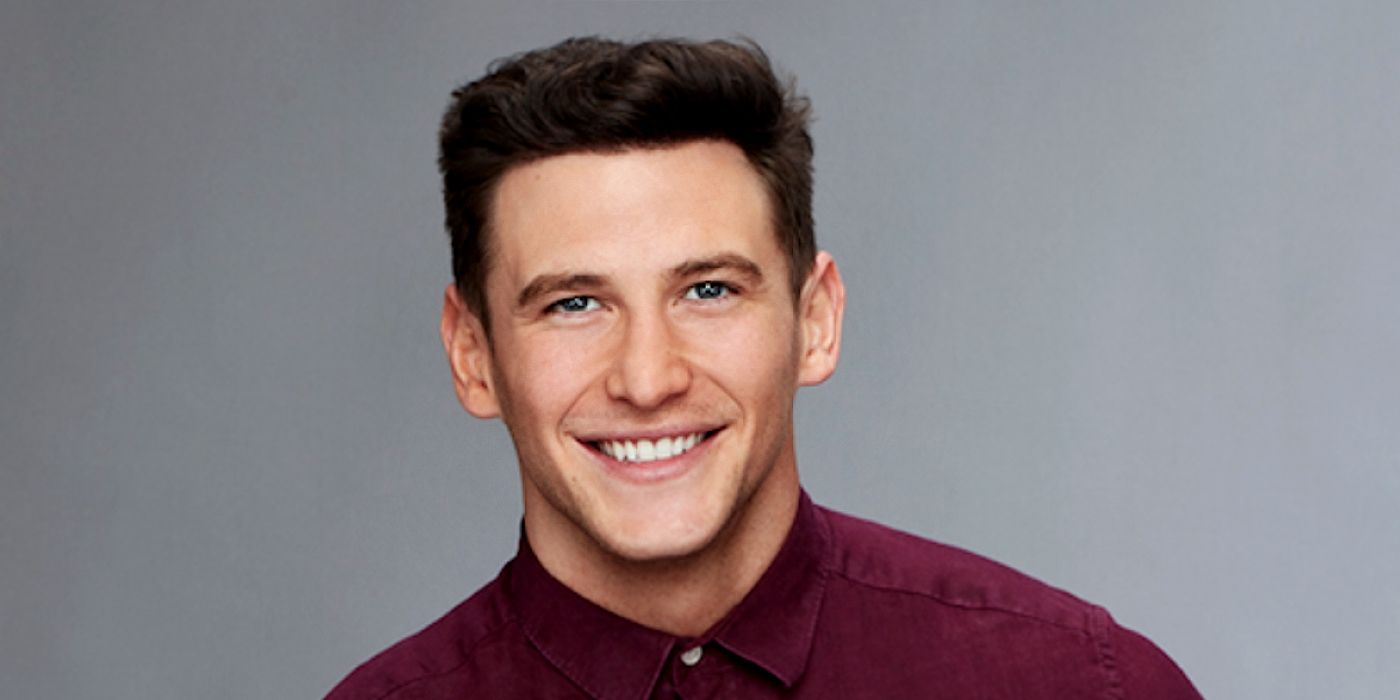 The Bachelor alum Blake Horstmann attended a Chris Lane concert with Love Is Blind star Giannina Gibelli amid rumors the two are dating.
The Bachelor alum Blake Horstmann is stoking rumors that he's dating Love Is Blind star Giannina Gibelli after attending a Chris Lane concert with her. Blake was the runner-up on Becca Kufrin's season of The Bachelorette before gaining a questionable reputation on Bachelor in Paradise after two women he was intimate with showed up on the beach. Blake and Giannina are reportedly still together and taking it slow. Through Instagram, fans have been able to track their possible budding relationship. They both posted photos dressed similarly in a white-walled room on New Year's Eve, and both posed in front of the same barrels. While this could be a coincidence, their recent outing seems to point in the direction of a romantic relationship.
Giannina has had her own share of on-screen romance with Damian Powers. The ex-couple met and got engaged without ever seeing each other, due to the nature of Love Is Blind. Their wedding, unfortunately, didn't go as smoothly, with Damian telling Giannina he couldn't go through with it at the altar. The two continued to have a rocky relationship after their failed wedding and ultimately split up. Damian inviting Too Hot To Handle star Francesca Farago to the show's follow-up special most likely contributed to the demise of his and Giannina's relationship.
Related: BIP: Why Fans Think Blake Horstmann Is Dating Giannina Gibelli 
According to People, Blake and Giannina both shared snaps from their night on their Instagram Stories. Giannina posted a photo from backstage as well as a few videos of Chris performing. "found myself backstage," Giannina wrote over one of her Stories. She also shared her outfit for the night, which included an all-black bodysuit from Zara, high-waisted pants from BCBG Max Azria and an oversized pinstripe coat. Blake also posted some clips from the concert and a video of Bachelor alum Elyse Dehlbom doing his hair before the event. "What are roommates for?" Blake joked in the clip of Elyse combing his hair. The concert took place at Summit Music Hall in Denver. Both Blake and Giannina shared that they're headed to Nashville on their own Stories the next day.
Chris, whose concert they attended, is also tied to Bachelor Nation through his wife, Lauren Lane. Lauren got engaged to Ben Higgins at the end of his season, but they didn't work out long term. She later met Chris on a trip to the Bahamas, got engaged to him in 2019 and married him in a garden wedding in October of that year. They announced that they were expecting a baby in December 2020 and Lauren gave birth in June 2021. They named their son Dutton Walker Lane and shared him with the world on Instagram. Even though Lauren's journey on The Bachelor didn't pan out, she's now happy with her husband and son. Plus, it looks like Chris is friendly with other members of Bachelor Nation since Blake was at his concert.
Blake and Giannina have both had their fair share of public heartbreaks. If they are really dating, hopefully, this relationship will work out for them. Even if Blake has a rocky reputation among fans of The Bachelor. As long as he doesn't repeat the events from BIP, he should be in the clear.
Next: Love Is Blind After The Altar: Are Giannina & Damian Still Together?
Sources: People, Giannina Gibelli/Instagram, Blake Horstmann/Instagram
Masters Of The Universe Live-Action Movie Casts He-Man, Moves To Netflix
Share this news on your Fb,Twitter and Whatsapp