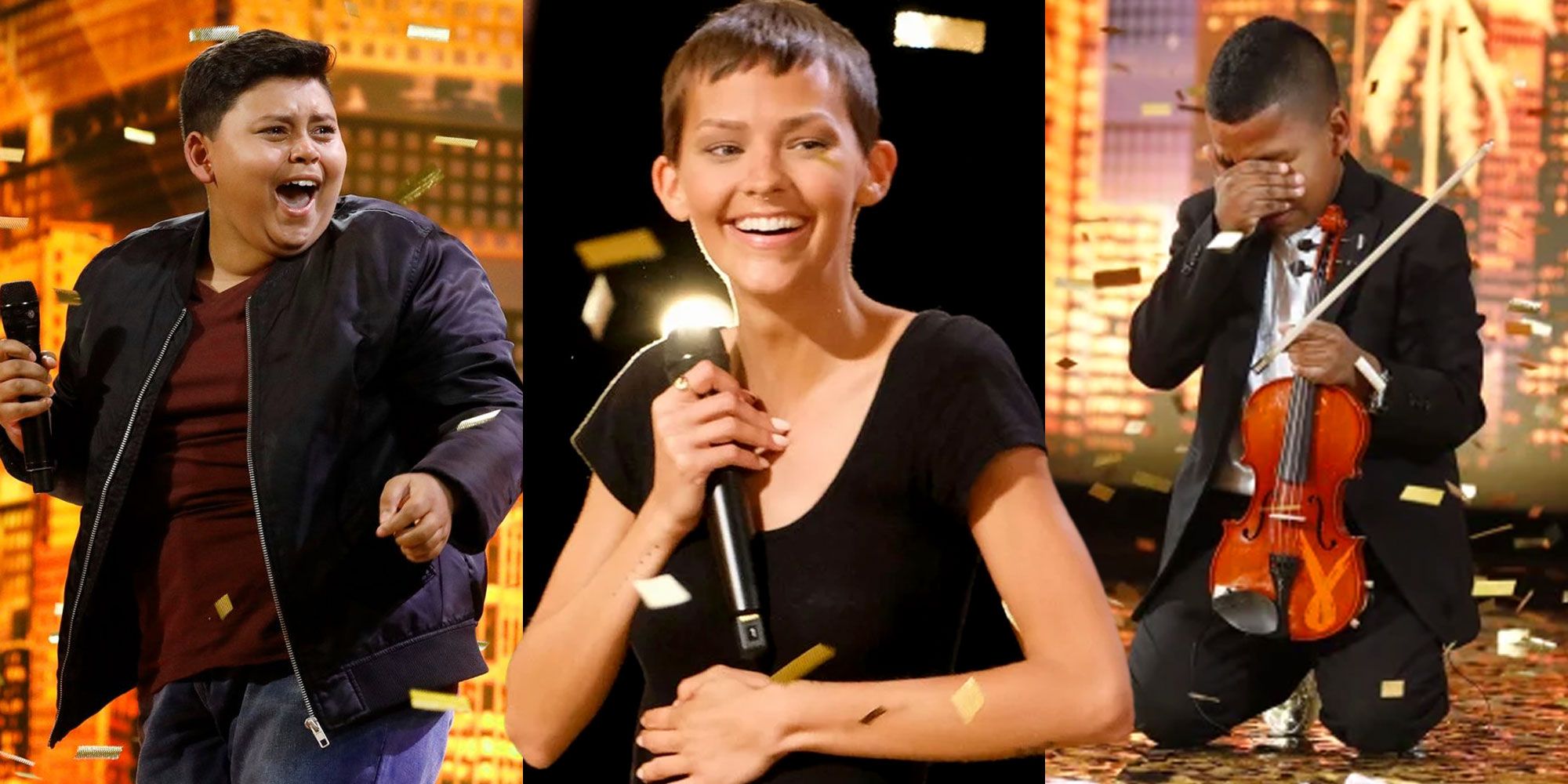 Some things are just better in gold. That includes the coveted America's Got Talent Golden Buzzer, which has already claimed six more contestants in the show's currently airing season. Since first being introduced to AGT in season 9, the Golden Buzzer has changed the lives of over 50 contestants and now in season 17, Golden Buzzer moments are what every viewer and contestant looks forward to.
When the stage lights up in gold and confetti rains down over the contestants, everyone's heartstrings feel a little tug. Add in the perfect mood music and the beaming faces of the contestants and there is rarely a dry eye in the house. It's the times when those foggy eyes turn into happy sobs that truly cement themselves into Golden Buzzer history.
Kodi Lee – Season 14
Kodi Lee walked onto the stage with his mom, Tina, for his first audition in season 14. When Tina explained that Kodi was blind and had autism but had exhibited a strong love for music that made it clear he was destined to be an entertainer, the audience was eager to hear what he could deliver. The 22-year-old singer and pianist only paused for a second before belting out an incredible rendition of Leon Russell's "A Song For You," bringing tears to viewers' eyes and earning him Gabrielle Union's Golden Buzzer.
Related: The 10 Best AGT Winners According To Ranker
For the month or so after, there wasn't a corner of the internet that didn't feature a clip of his incredibly moving audition. Kodi continued to impress everyone with his talent and was a favorite for his entire season run before winning the million-dollar prize and a headlining show in Las Vegas.
Cristina Rae – Season 15
Season 15 contestant, Cristina Rae, had a voice that carried so much power and emotion that it made it easy for audiences to fall in love with her, which is why everyone was shocked when Simon asked her to perform her second song. She didn't let that affect her performance and went right on to deliver another song that only helped to further showcase her talent and granted her a standing ovation from the audience and all four judges.
Cristina voiced that she came on AGT for the opportunity to build a home for her and her son, and when Heidi Klum awarded her a Golden Buzzer, it was clear that Cristina could feel herself getting one step closer to providing that. Viewers can try not to get emotional watching her young son walk on stage to congratulate his mom.
Nightbirde – Season 16
There were quite a few memorable first auditions in season 16 of AGT, but none quite like Nightbirde, who was an especially bright presence on the audition stage. When she explained that she would be singing an original song called "It's Okay," which was about her then-year-long battle with cancer, there was an immediate shift in the audience and judges. But she shined on, saying that she wanted to show that she was "more than just the bad things that happened to her" (via YouTube).
Related: 10 Best AGT Contestants Who Lost According To Reddit
Nightbirde received a standing ovation for her uplifting song that had even Simon Cowell choking up. It was only right that she received the most obvious Golden Buzzer (from Simon). Her performance pulled on the heartstrings then, but after she sadly passed away earlier this year, it would be almost impossible to not feel moved watching her performance again today.
Mandy Harvey – Season 12
Mandy Harvey auditioned for AGT season 12 by singing an original song called "Try." When she took to the stage with her interpreter and no shoes on (so she could feel the beat of the music), the viewers and judges learned that she had lost her hearing at 18 and while she had been singing before then, it took a lot for her to find that love again.
It took Simon less than 20 seconds to grant her his Golden Buzzer. Mandy received a signed standing ovation and walked off the stage barefoot and teary-eyed.
Christian Guardino – Season 12
Another contestant who received a Golden Buzzer in season 12 was Christian Guardino, a Long Island singer who auditioned with "Who's Loving You" by The Jackson 5. Judges were immediately taken aback when Christian let out a strong first note that led to an unforgettable performance of the classic hit.
When Christian told Howie Mandel that his one wish would be to receive the Golden Buzzer, the judge was happy to make that come true. It was hard to not get misty-eyed as he soaked up the moment with his loved ones as the confetti fell. While he did not win AGT, he was later seen on season 20 of American Idol, where he had the opportunity to perform with Michael Bublé.
Michael Ketterer – Season 13
Pediatric nurse, Michael Ketterer, arrived at his audition for AGT with his wife and six children. He told the judges that he was there to show his children, who were previously in the foster care system before they found a home with him and his wife, that nothing is impossible for them. His performance did that and so much more, moving audiences to their feet before it was even over.
Related: The Top 10 AGT Golden Buzzers
Not only was the audience impressed, but so were the judges, which led to Michael receiving a Golden Buzzer surprisingly from Simon Cowell. There's only one way to describe the look on his and his family's faces: pure joy.
Amanda Mena – Season 13
Amanda Mena was only 15 when she auditioned for AGT in 2018, but her choice to sing Aretha Franklin's "(You Make Me Feel Like) A Natural Woman," a song that many feel should be retired from singing competition shows, showed that her vocal talent was not limited by her age.
While Amanda expressed that she was bullied after moving to the U.S. from the Dominican Republic, she said it was music that got her through. In response, Mel B said she had something to say to those bullies and enthusiastically pushed the Golden Buzzer. It was a beautiful moment for a beautiful talent. After her time on AGT, Amanda auditioned for American Idol in 2021, where she once again impressed the celebrity judges panel.
Tyler Butler-Figueroa – Season 14
Audiences were rooting for the 11-year-old violinist of season 14, Tyler Butler-Figueroa, after hearing how he found his way to the violin when being bullied in school while battling leukemia. What they got was a performance that brought a smile to everyone's faces.
Tyler was obviously holding back his emotions after his performance and so was his mom, backstage. Those emotions quickly spilled over when Simon Cowell made the right choice to push the Golden Buzzer. Tyler tearfully turning to hug his equally as emotional mom will always be a tearjerker for fans.
Luke Islam – Season 14
Broadway hopeful, Luke Islam, shared his passion for musical theater on the AGT stage in season 14. His goal was to pursue his dream of being a Broadway star, so when he revealed he would be singing a song from the musical Waitress, it was fitting. He then delivered his stage-ready rendition and received a standing ovation.
Luke felt a special connection to judge Julianne Hough after he and his sister had been following her and her brother's (Derek Hough's) dancing careers, and that connection was clear when he couldn't hold back his tears during her feedback. Both Julianne and Luke were a mess of emotions, so it's okay if the tears started flowing when Julianne rewarded him with the Golden Buzzer.
Detroit Youth Choir – Season 14
Part of AGT season 14's impressive contestant lineup was the Detroit Youth Choir. The choir was made up of inner city youth from the city of Detroit and was under the direction of Anthony White. Their performance was aimed at demonstrating how talented and hardworking the youth of Detroit are and how they could succeed if given the chance.
Their strong performance had all the judges on their feet, but it was fellow Michigan native and host, Terry Crews, that was most moved by the group's mission and performance. Crews held back his tears while commending the group, and when it was clear they would be getting his Golden Buzzer, there wasn't a dry eye in the building.
Next: 10 Best Shows Like America's Got Talent According To Ranker
Share this news on your Fb,Twitter and Whatsapp