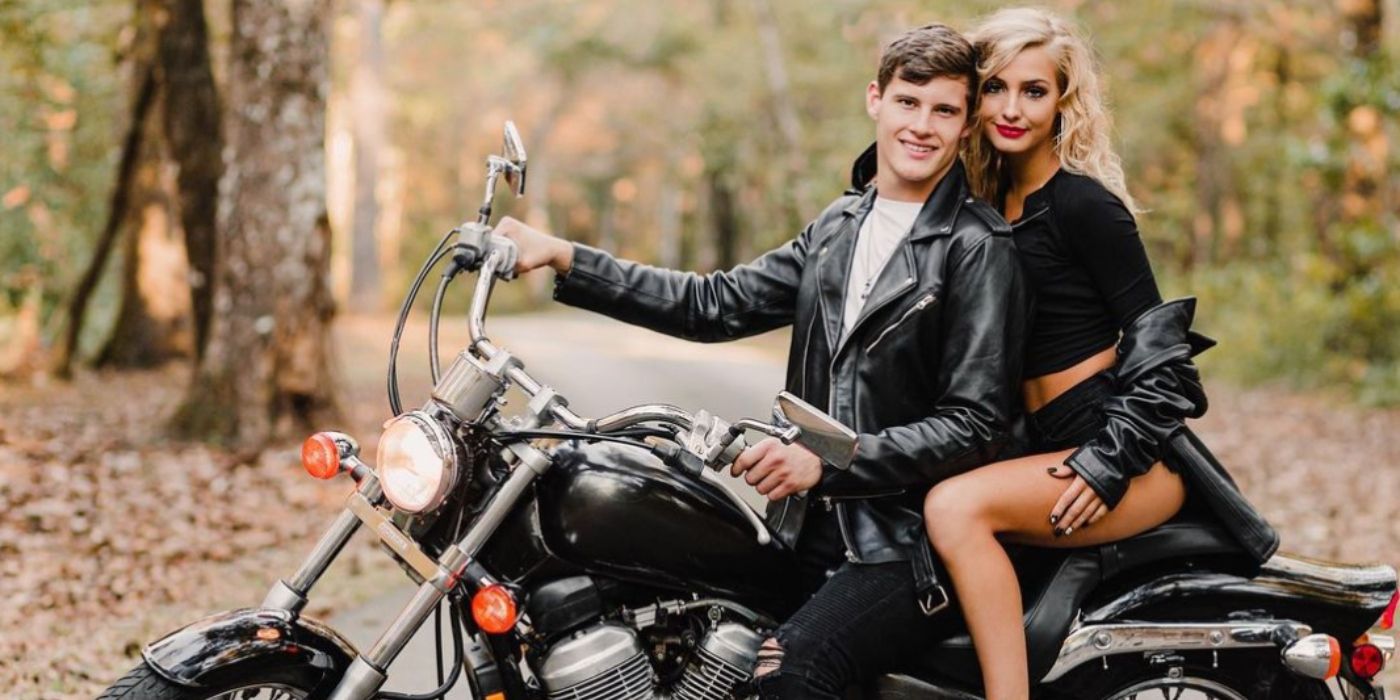 After Welcome to Plathville season 3, Max and Moriah confirmed their breakup, but there have been several rumors surrounding the couple.
Moriah Plath and Max Kallschmidt were going strong on Welcome to Plathville season 3, but the pair have since broken up, and rumors have surrounded their breakup ever since. From friends to becoming Moriah's first long-term relationship, fans have watched their connection grow, and many were heartbroken to learn about the split. Rumors about whether or not Max cheated, how long the pair have been officially broken up, and what their relationship looks like now will be answered in the new season.
Moriah has had a drastic transformation on Welcome to Plathville, and she is finally able to express herself through her music and her fashion sense. She and Max have been through a lot together, and he supported her when she was having problems with her strict parents, Kim and Barry Plath. The pair were solid in season 3, and Max even gave Moriah a promise ring with the intention of marrying her one day.
Related: Welcome To Plathville: How Kim Was Involved In Max & Moriah's Split
Though they had some arguments about the way she dressed, which Max apologized for, Max fit well with her family. Max and Moriah were even given a pass when they kissed at the dinner table in front of the entire Plath family, which is usually not allowed. Despite her family and the fans supporting the relationship, Moriah and Max couldn't make it work.
When They Broke Up
Welcome to Plathville fans started noticing that Max and Moriah had stopped posting pictures with each other and stopped commenting on one another's posts. Rumors of their breakup started as early as November 2021 but were not confirmed by Max until February 2022. As Max shared on his YouTube channel, Moriah broke up with him in November, but they kept trying to make the relationship work for two months. Then they went over a month without any communication as they worked on themselves before making the breakup official. Moriah has never publicly made a statement about the breakup, but she will likely share it with fans on Welcome to Plathville season 4.
Cause Of Breakup
At the end of Welcome to Plathville season 3, Moriah moved out to Tampa with Olivia and Ethan Plath, and Max said he felt pressured to move in with them. He said the pair were constantly arguing about everything and even expressed that he did not feel comfortable around Ethan and Olivia. There were also rumors that Max cheated on Moriah, to which he said, "I didn't have s*x with anyone," then added that he did "cross some boundaries" with someone at a bar.
Where They Stand Now
After advice from Moriah's mom, Kim, Max sought professional help and says that he is in a much better place now, mentally. Max also said that he and Moriah are happier even though they are no longer together. Max said that "as much as we wanted the romance, we just both mutually agreed that we're best as friends." It will be interesting to see how much Moriah's side of things on Welcome to Plathville matches with what Max said of their breakup and how they are doing now. Many fans are hoping they will have some screen time together on season 4 since Max was featured in the trailer.
Next: Welcome To Plathville Season 4: All News & Updates
Source: Max Kallschmidt/YouTube
90 Day Fiancé: Nicole Nafziger's Weight Loss Journey In Pictures
About The Author
Share this news on your Fb,Twitter and Whatsapp