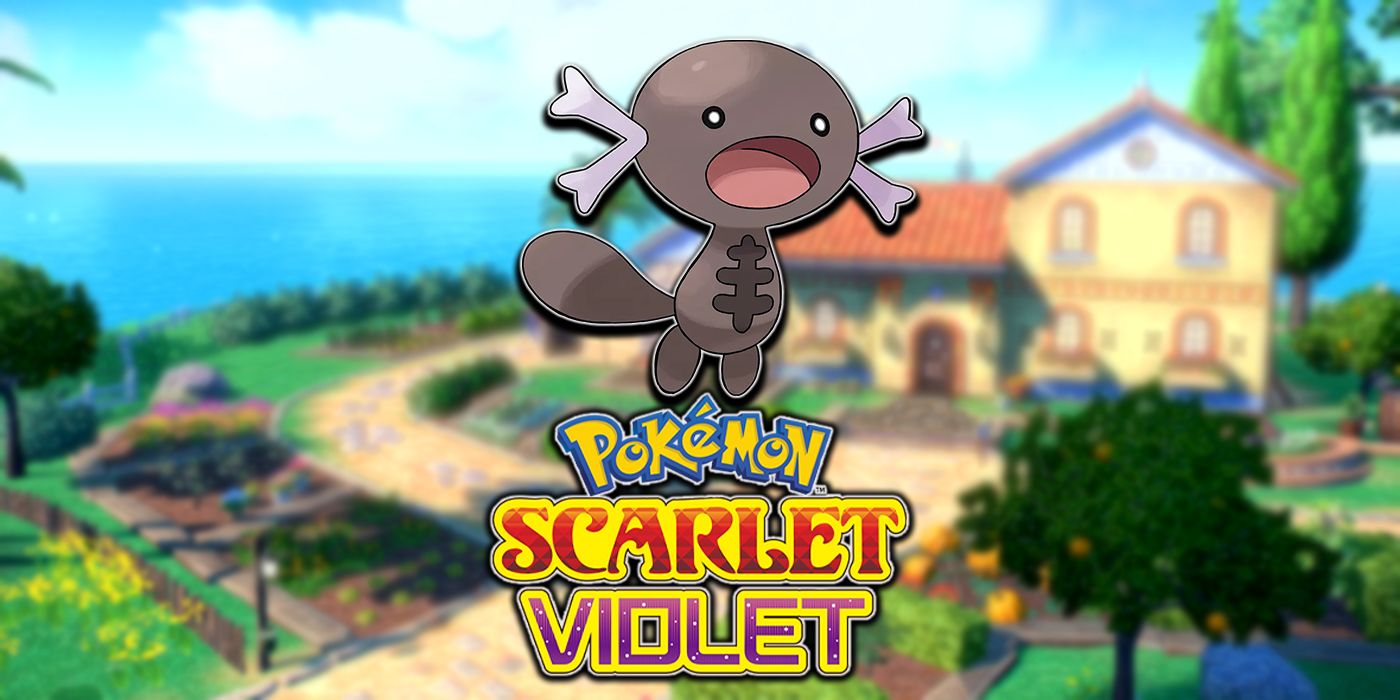 Game Freak has released a Pokémon Presents update for Scarlet & Violet. Here's every Paldean Gen 9 regional form that has been confirmed so far.
Game Freak has finally revealed the first Generation 9 regional forms in Pokémon Scarlet and Violet during an August Pokémon Presents update. In February, fans around the world were surprised when Nintendo announced that Gen 9 would be launching in Fall 2022. Following the Pokémon Scarlet and Violet gameplay trailer in June, little information was known about the upcoming RPGs. All of that changed in August when a special Pokémon Presents revealed Gen 9's new region, as well as gave players a look at Pokémon Scarlet and Violet's first Gen 9 regional variants.
The regional form mechanic first made its debut in Pokémon Sun and Moon in 2016 and quickly became one of the series' most popular features next to Shiny Pokémon. The Gen 7 variant introduced the concept of classic Pokémon taking on new designs and Pokémon typing based on their region's environment. After months of anticipation and speculation, Game Freak confirmed that regional variants would make their return in Pokémon Scarlet & Violet as the August trailer showed off Pokémon Legends: Arceus' Hisuian Growlithe & Arcanine roaming the new region's map.
Related: Pokémon Scarlet & Violet Reveal First Mystery Gift
The Gen 9 Pokémon Presents also revealed that Pokémon Scarlet and Violet will include new regional forms called Paldean Pokémon. While Game Freak has yet to unveil every single regional variant in the Gen 9 Pokédex, fans got their first look at the classic Pokémon that will get a new look in the Paldea region. Below is a list of all Pokémon Scarlet and Violet Paldean regional forms confirmed so far to be catchable when the game releases in November 2022.
Pokémon Scarlet & Violet Paldean Regional Forms
The first Gen 9 regional form to be revealed, is Paldean Wooper. Originally making its debut in Gen 2 Pokémon Gold and Silver's Johto region, the Water Pokémon has been changed into a Poison-type in the Paldea region. The new Wooper has been transformed into a brown color for Gen 9, and its antennas are now cleverly shaped like bones to mirror Poison-type's skull symbol. According to its official description on the Pokémon Scarlet and Violet website, Paldean Wooper became Poison-centric after failing to adapt to Paldea's water terrain.
The Paldean regional variant now lives in swamps and has filled up its body with Poison in order to protect itself from predators. The new version of the classic Gen 2 Pokémon will come equipped with the Poison Point and Water Absorb abilities. Although Paldean Wooper was the only Gen 9 regional form officially announced during the August update, the rest of the game's new variants have reportedly been leaked early online.
Pokémon Scarlet & Violet Leaked Gen 9 Regional Forms
In July, a major Pokémon Scarlet and Violet leak claimed to have posted early screenshots of all of Gen 9's Gym Leaders. With most of the leak eventually being confirmed in the August Pokémon Presents update, it appears that the mysterious leaker was actually legitimate. Interestingly, the leak even predicted that the new region would be called Paldea and that Wooper would be made into a Poison-type regional form.
Related: Latest Pokémon Scarlet & Violet Trailer Confirms Rideable Legendaries
The Gen 9 leak also contained an additional list of what appears to be the remaining Pokémon Scarlet and Violet regional forms. Pokémon outlet CentroLeaks reposted the leak on its Twitter account in a chart image. If true, Gen 9 will only feature two regional forms in the entire game. Bizarrely, the leaker claimed that Paldean Tauros will have three variants scattered throughout the map, and each form will have a different Pokémon typing. Below is a list of the rumored Pokémon Scarlet and Violet regional forms.
Paldean Wooper (Posion-type)
Paldean Tauros (Fighting-type)
Here's the list of all currently leaked Regional Forms, Cross-Gen Evolutions, Paradox Pokémon, and Convergent Species for Pokémon #ScarletViolet [Update #5]

The ones marked in red haven't been explicitly confirmed yet but have been strongly hinted at by leakers. pic.twitter.com/xLcmhBMc2O

— Centro LEAKS (@CentroLeaks) July 26, 2022
While two regional forms may seem awfully low, the leaker stated that Pokémon Scarlet and Violet are actually set to introduce an additional new regional concept altogether. Similar to Pokémon Sun and Moon's Ultra Beasts, Gen 9 will reportedly have "Paradox Pokémon" or "Regional Fakes" that are past and future versions of classic Pokémon.
The new variants are rumored to be exclusive to each version of the game, so Pokémon Scarlet players will get past versions, while Pokémon Violet users will be able to catch future forms. While there is little known about the mysterious new variant, they allegedly get are really powerful and also get their own separate Pokédex number. Below is a list of Pokémon Scarlet and Violet's Paradox Pokémon which will act as a secondary regional form in Gen 9.
Jigglypuff (Past Form)
Amoonguss (Past Form)
Volcarona (Past Form/Future Forms)
Misdreavus (Past Form)
Delibird (Future Form)
Gallade (Future Form)
Hariyama (Future Form)
Salamence (Past Form rumored)
Tyranitar (Future Form rumored)
Paradox Pokémon have not been officially confirmed by Game Freak and is currently just a rumor. However, with most of July's Gen 9 leak being confirmed as true through the August Pokémon Presents trailer, many fans believe it to be accurate. Regardless, some players are likely to be a little let down if the game ends up only having just two regional forms. Like Pokémon Legends: Arceus' Kleavor, Gen 9 is also rumored to feature a handful of new cross-gen evolutions as well such as Primeape, Paldean Wooper, Girafarig, Bisharp, and Dunsparce.
Related: How Pokémon Scarlet & Violet's Regional Fakes Rumor May Change The Game
Pokémon Scarlet and Violet are set to release on the Nintendo Switch on Friday, November 18th, 2022. According to Game Freak, Gen 9's Paldea region is the series' first true open-world map and will feature seamless borders. Similar to the natural habitats featured in Pokémon Legends: Arceus, players will now be able to find every Pokémon in Gen 9's massive overworld. With Game Freak revealing the debut of Paldean regional forms and 100 returning Pokémon, Pokémon Scarlet and Violet could end up having one of the series' biggest Pokédexes since Gen 5 Pokémon Black and White's Unova region.
Want more Pokémon Scarlet & Violet articles? Check out our essential content below…
Next: Every Pokémon Confirmed For Pokémon Scarlet & Violet (So Far)
Source: CentroLeaks/Twitter
90 Day Fiancé: How Jenny's Style Has Changed Since Marrying Sumit
About The Author
Share this news on your Fb,Twitter and Whatsapp