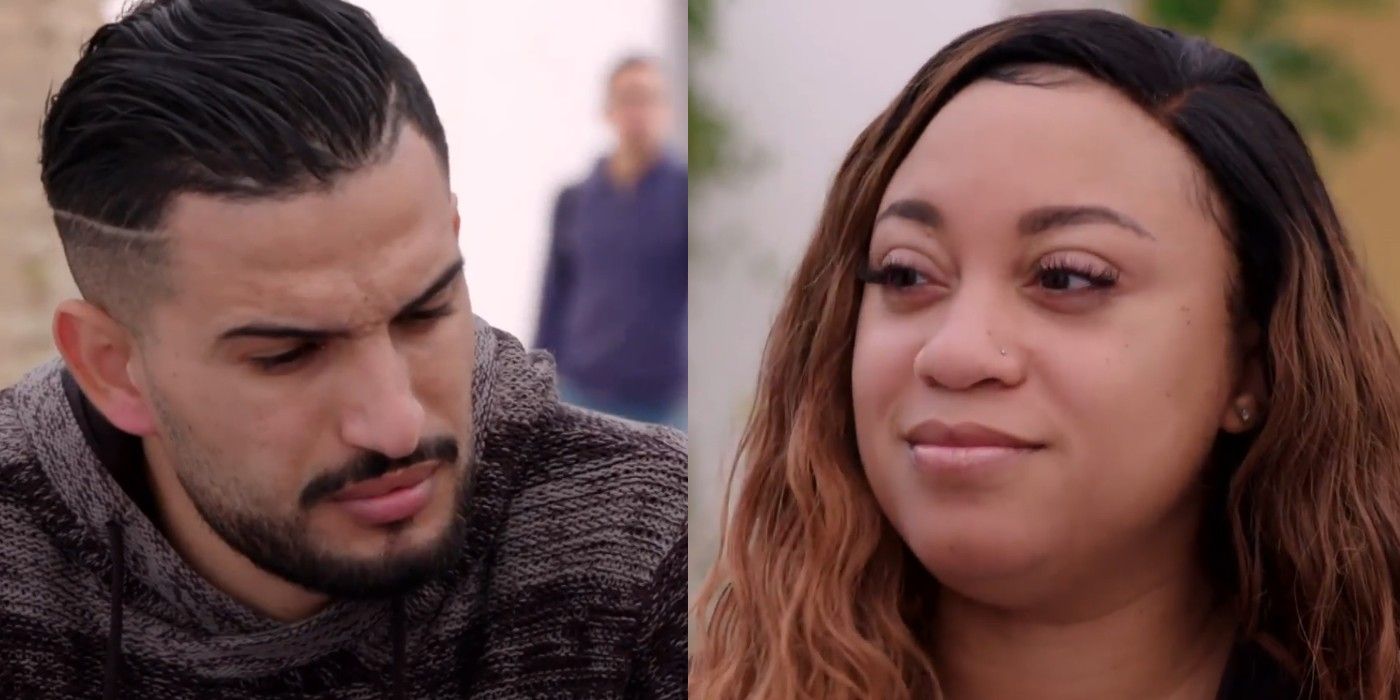 Memphis Smith and Hamza Moknii surprise fans with their dramatically different looks at 90 Day Fiancé: Before the 90 Days season 5 Tell-All.
Memphis Smith and Hamza Moknii have impressed fans with their amazing makeovers during 90 Day Fiancé: Before the 90 Days season 5 Tell-All. The couple found each other on an international dating site, and Memphis then decided to meet Hamza in Tunisia. After working through their prenup problem and cultural differences, the couple finally got married by the end of the season. Although fans saw many red flags in Memphis and Hamza's relationship, they were touched to see their wedding ceremony. Shortly after the wedding, the couple revealed that they were pregnant.
In the last episode of 90 Day Fiancé spin-off, Memphis bid farewell to her in-laws and prepared to return to the United States. Hamza moved fans when he cried out loud after dropping his new wife at the airport. Initially, fans were convinced that the Tunisian native probably married Memphis for a green card, but the couple's emotional goodbye made them extremely likable. In fact, the 34-year-old reality star Memphis is receiving rare praise for becoming a nurse practitioner, despite her troubled childhood.
Related: 90 Day Fiancé: How Memphis' Recent Behavior is Hypocritical
90 Day Fiancé viewers are now super excited to watch the couple on the Tell-All. In fact, the preview of the reunion episode has already surfaced online, which leaked Memphis and Hamza's new transformation. A fan page (via @truecrime_jankie), posted three pictures of the couple. While Memphis wore a black off-shoulder dress, Hamza sported a black vest and white shirt. The couple appeared extremely happy next to each other and looked more chic compared to their time on the show.
In one of the leaked pictures, 90 Day Fiancé fans can see the two sharing an adorable kiss as they hold each other's hands tightly. A few weeks ago, Memphis and Hamza fueled their break-up rumors, but they have now shocked fans with their major glow-up. An Instagram user wrote, "She looked like a stable functioning adult who makes decent choices in part one. Good work girl." Another chimed in, "Now that my favourite couple sitting all pretty and classy." Someone else praised Memphis's hairstyle and wrote, "Finally a good hair for her! He looks veeery handsome too." Apart from the praises, many fans still seemed interested in knowing more about the couple's relationship status and their baby.
Hamza and Memphis will answer many questions during their Tell-All. For now, it is great to know that these two made their relationship work despite the cultural differences and language barrier. Memphis and Hamza seem to be in love and must be looking forward to living their lives as exceptional parents to their baby. 90 Day Fiancé: Before the 90 Days viewers hope Hamza and Memphis will have an unbreakable healthy relationship forever.
Next: 90 Day Fiancé: Why Memphis Will Be Financially Responsible For Hamza
Source: @truecrime_jankie/Instagram
Moon Knight: How Ethan Hawke's Daughter Reacted to Seeing MCU Show's Trailer
About The Author
Share this news on your Fb,Twitter and Whatsapp