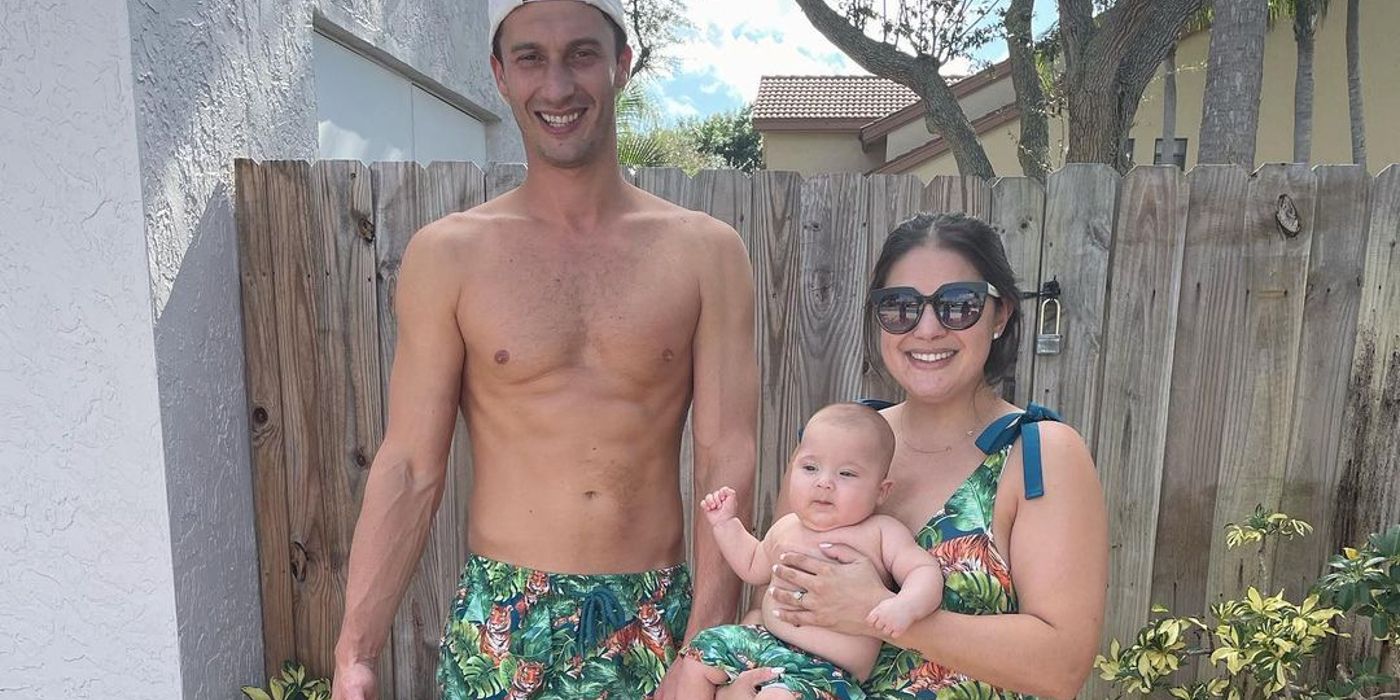 90 Day Fiancé's Loren and Alexei are growing their family. With a newborn and a toddler, the couple admits that their relationship has been tested.
90 Day Fiancé staples Loren and Alexei Brovarnik recently welcomed their second child and admitted that their relationship hasn't been all smooth sailing. The couple, who are parents to Shai Josef (20 months) and Asher Noah (almost 5 months) first appeared on the franchise during season 3. Loren, who lived in New York at the time, brought Alexei to the United States on a K-1 visa. They have now been married for several years. Currently living in Florida, they are now the focus of their own reality series on TLC called Loren and Alexi: After the 90 Days.
Loren was in charge of staffing Birthright trips to Israel when she met Alexei, who was serving as her group's medic. Birthright trips are offered free of charge to young Jewish people with the intention of educating them about their heritage and strengthening their bonds with Jewish history and culture. Loren and Alexei, who had an initial attraction, continued to hit it off during the 10-day excursion and began a romance that eventually led to marriage. Now parenting two children under the age of 2, the couple is determined to grow their family even more, though there is some disagreement about just how much more.
Related: 90 Day Fiancé:  Why Fans Are Divided Over Alexei And Loren's New TLC Spin-Off
Loren and Alexei confirmed to People that their relationship has been tested recently. They insisted, however, that their struggles are normal and that they are excited to continue sharing their family's story with viewers. On the topic of these challenges, Alexei said that having kids "was difficult. It put a strain on our relationship, for sure, but now we're better." In a video clip, Loren stated that "having kids can make or break a couple. It's really stressful." Added into the mix are Loren's parents, who (according to Alexei) "are always giving me a hard time." During the video clip, they floated the idea of moving away from her parents.
One of the things that Loren worried about prior to having children was passing down her diagnosis of Tourette syndrome to them. This is a disorder of the nervous system that causes a person to engage in uncontrollable or repetitive movements or sounds. It can be passed down but, because there is no known cure, Loren fretted about her future children inheriting the condition. This fear, according to the couple, is given less consideration these days because its emergence cannot be predicted. Alexei is very pragmatic about it, stating, "We decided not to really stress about it because there's nothing we can do about it." He added, "We're having kids, we're having a big family, and if any of them have it then we'll deal with it."
The 90 Day Fiancé fan-favorites appear to have a sweet, loving relationship and are committed to getting over the hurdles that marriage and parenthood present. Loren, who admitted to generally being stressed out and neurotic, claims to have become calmer after her first child's birth. She also said that being forced to stay home during the pandemic was great because they were able to spend so much time together. Loren and Alexei: After the 90 Days follows the couple as they chase toddler Shai and welcome newborn Asher, who started life off in the NICU after an early arrival. Fans are sure to be rooting for the young family as they embark on this busy and exciting new chapter.
Next: 90 Day Fiancé:  Loren Reveals The Push Present She Got From Alexei
Source:  People
Sony Has No Excuse Not To Give Andrew Garfield Another Spider-Man Movie Now
Share this news on your Fb,Twitter and Whatsapp