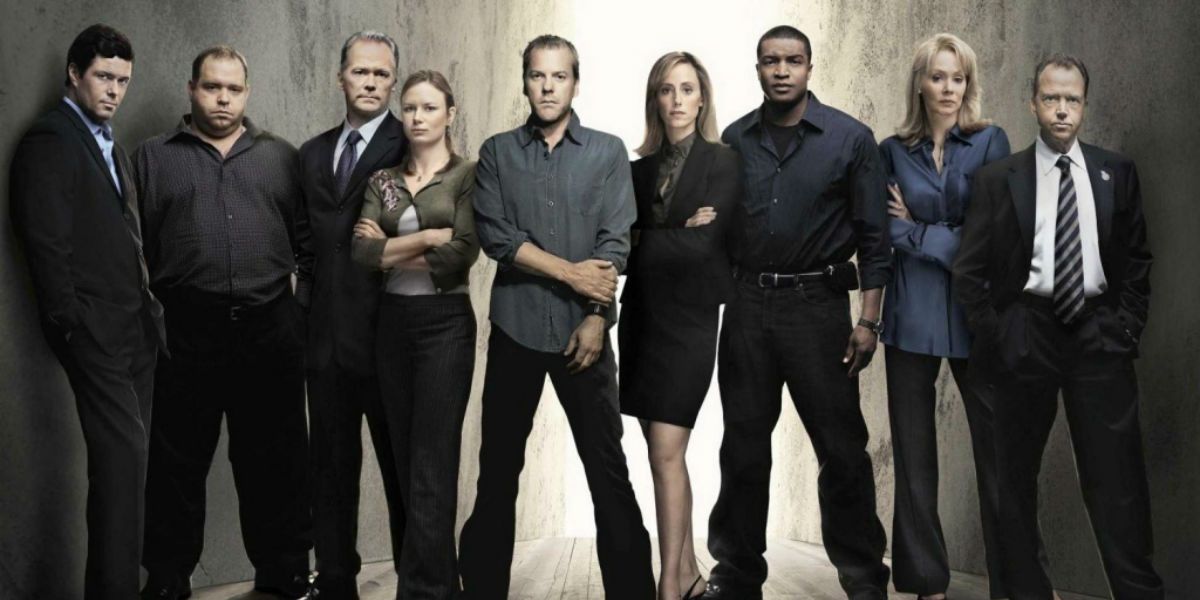 24 season 5 sees Jack Bauer uncover President Charles Logan as the mole, a twist so good that future seasons struggled to sustain audiences' interest.
With Jack Bauer at the helm of terrorist takedowns and all things righteous and patriotic, 24 had been a hot show for years, but after its critical and commercial peak in season 5, the show struggled to keep momentum. Most viewers would agree that 24 season 5 was by far the show's finest hour, and it was largely thanks to a heart-stopping plot twist near the end which saw President Charles Logan revealed as the mole and at the heart of the terrorist activity plaguing yet another day in the life of CTU agent Jack Bauer. 24 boasted four more official seasons, which included Kiefer Sutherland's return in 24: Live Another Day, but it was impossible for the show to ever regain similar heights.
Spanning from 2001 to 2017, 24 saw nine official seasons, one film, and one spin-off season full of many plot twists and turns, along with dramatic action sequences, relationship struggles, and moral dilemmas. However, 24 season 5 really perfected the show's unique formula, introducing a fresh and modern score, dazzling set designs, and captivating acting. In the very first episode alone, Michelle Dessler, Tony Almeida, and their unborn son were all killed with a car bomb (although Tony survived the blast, of course), and President 24's David Palmer was killed off by a sniper.
Related: 24: Why Killing President David Palmer Hurt The Show
One of the most defining features that made 24 unique was its tendency to shock the audience with a great plot twist or cliffhanger. However, season 5's major reveal that the American President himself was coordinating acts of terrorism, the fate of the show was destined for a downward turn thereafter, as it was perhaps the biggest plot twist imaginable up to this point. One of 24's most celebrated and defining features was its unpredictability, and, unfortunately, this prized strength of the show diminished post-season 5, with repetitive plots, reveals, and situations. This was shown in the quality of its successor, season 6, which most fans consider to be the worst season with its tired dullness and lack of fresh ideas. Jack Bauer is a 24 character who returned, of course, but he was overly emotional throughout. The season had overuse of torture scenes, and the introduction of Jack's brother, Graem Bauer, and his father, Phillip Bauer, played by James Cromwell, who both are revealed as terrorists, was much more contrived than inspired.
One way this dullness and predictability manifested in 24 after season 5, particularly in season 6, was in some of the deaths, acting as shocks for the audience, but which held little to no significance to the plot, including Milo Pressman's death. Though Zhou and his men had infiltrated CTU, Milo didn't try to be a hero, he simply posed as acting director to prevent anything happening to the real acting director, Nadia, for whom he had romantic feelings. There was no good reason to have him killed off, and never did that whole shock factor feel more forced than at that moment.
Even James Cromwell himself, in an interview with Metro, spoke about his feelings regarding his character's motivations in 24 season 6, and the excessive use of torture his character implemented:
"I've taken my son captive and I'm torturing him, then I was going to take my grandson captive and threaten him. So I went to the producers and I said, 'Look, are there any redeeming qualities to this character?' They looked at me as though I was nuts, I was asking something bizarre. To me they missed a great opportunity, which they could have done in the last season, to rectify what they had done — where he becomes disillusioned with this and makes every effort to change his techniques. It could've been a great contribution."
24 season 5 was the best and worst thing to happen to the show, and that includes allowing for 24's Tony Almeida's resurrection later on in the show, depending on what side of the fence you sit on for that. Season 5 boasts a certified fresh 100% rating on Rotten Tomatoes, accompanied with a 92% audience score, and no other 24 season reaches this height on Rotten Tomatoes, with season 6 receiving a 74% rating on the Tomatometer, the lowest of any season. Indeed, every season after season 5 had lower ratings than those which came before it. 24 season 5 demonstrated everything the show was about and with great aplomb: meaningful twists to shock and outsmart the audience, heroic and dedicated excellence from protagonist Jack Bauer, thrilling action, and tragic sacrifices made for the greater good.
Next: A 24 Revival Can Only Work With Kiefer Sutherland's Jack Bauer
How The Witcher's Real Meaning Sets Up Season 3's Biggest Villains
About The Author
Share this news on your Fb,Twitter and Whatsapp