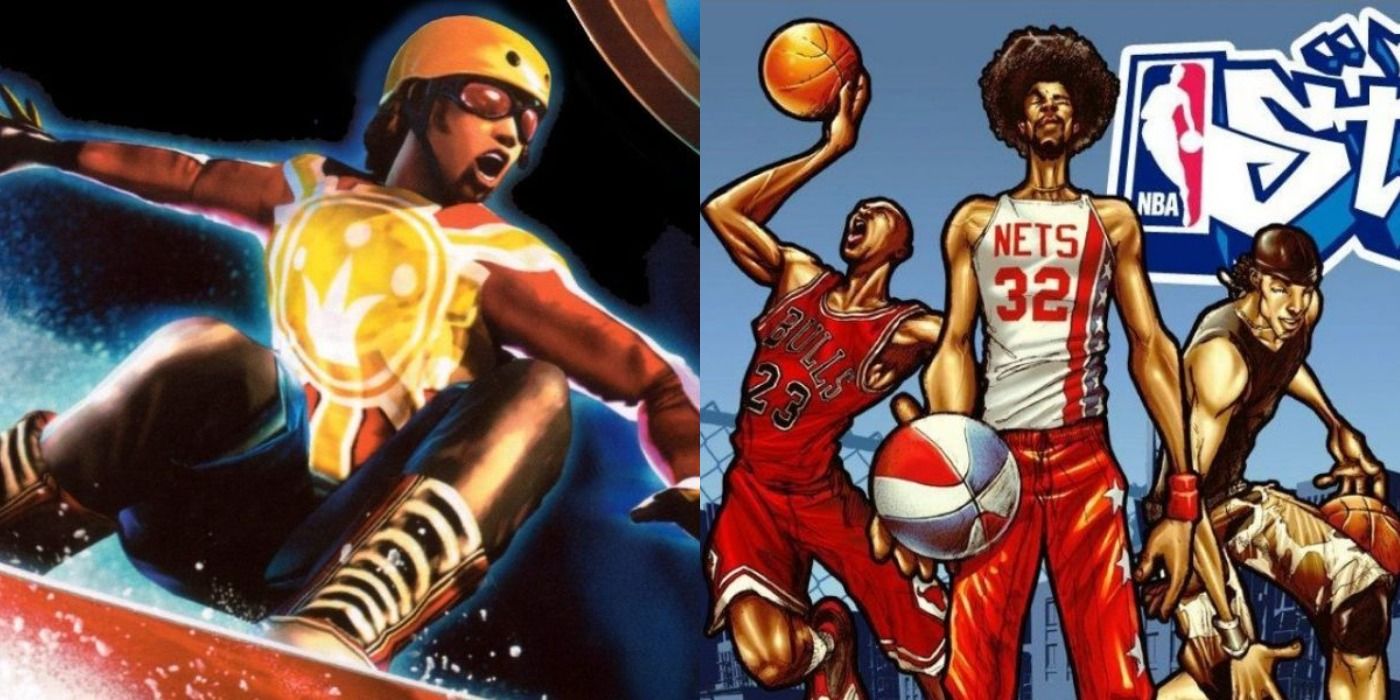 It might be hard to believe, but at one point in time, EA Sports was more than just making games for the Madden or FIFA series. From 2000 to 2008, there was a subsidiary called EA Sports BIG that was focused on developing arcade-style sports games.
RELATED: 10 Best Sports Games On Xbox Game Pass
Even though EA Sports BIG is sadly a thing of the past, many titles released under the banner have been hailed as classics to this day. Their game catalog is vast, which of these many arcade games are most revered by gaming critics on Metacritic?
11

NFL Street 2 (78)
NFL Street 2 is a step-up from the original installment, featuring fancy moves such as end zone dives, juke moves, and even catches off the wall. A few game modes are included, as well as the ability to create a player and hone skills.
Critics see NFL Street 2 as a worthy sequel, appreciating its over-the-top nature and easy accessibility for newcomers. For some, however, it felt like the same game, but only with more game modes. And speaking of the game modes, a few critics saw them as dull.
10

Shox (78)
Shox was released on the PlayStation in 2002, and it features vehicles from brands such as Toyota, Audi, BMW, and many others. Players race around through courses in three different environments – a desert, jungle, and snow landscape – crossing through "Shox Zones" where they will be rewarded for their driving skills.
RELATED: The 10 Best Racing Video Games Of All Time, According To Ranker
The simple premise of Shox has allured critics, although some are mixed on the controls. Regardless of the flaws within the game itself, it obviously stands above many other titles from EA Sports BIG.
9

Def Jam Vendetta (81)
As it turns out, not every game under the EA Sports BIG umbrella has to be a sports title.
Def Jam Vendetta is a wrestling game that essentially intertwines pro wrestling with hip hop. Rappers such as Ludacris, DMX, and Joe Budden are all playable characters, as the player has to fight their way through the New York fight circuit to bail out their best friend, Manny.
With a Def Jam soundtrack, a roster of over 40 street fighters, and a wide variety of special moves, many critics fell in love with Def Jam Vendetta. The story mode and overall flash have made this wrestling title a pretty memorable one.
8

NFL Street (81)
At the time, the original NFL Street was a far cry from the iconic Madden NFL 2004, being a 7-on-7 arcade game that was played on the streets. The action is fast-paced and hard-hitting, and players are free to showboat, juke, and make bone-crushing tackles as they please. The game's roster boasts 300 players, including many NFL legends.
Critics enjoy the flashiness and intensity of NFL Street, insisting that it's a much more fun game when played with friends. The only knock on the game is the underwhelming single-player mode, which one publication considers "frustrating and time-consuming".
7

NBA Street Homecourt (81)
The fourth installment of NBA Street, NBA Street Homecourt is arguably the most realistic-looking game in the series. It takes place in a streetball city, with a collection of legendary courts and hometown courts that NBA stars used to play on to hone their basketball craft.
RELATED: 10 Great Basketball Games That Aren't 2K
While NBA Street Homecourt is still a flashy arcade basketball game at heart, critics have noticed how realistic the game looks. (The seventh-generation graphics might have something to do with that.) The high-flying dunks, funky crossovers, and over-the-top passes are still there, and enough to keep anyone hooked.
6

NBA Street (89)
The first NBA Street game is more-or-less an answer to NBA Jam, featuring basketball in an arcade style. Taking all the big names from the NBA and putting them in a streetball setting, NBA Street takes its cues from SSX with a trick-style system and mixes it with dunks, dribbles, and plenty of showboating.
NBA Street holds up as a favorite for critics, who enjoy the game's addictive gameplay and stylish moves. Much of the praise has gone to the shot-blocking system, which makes blocking shots as impactful as making slam dunks.
5

NBA Street V3 (89)
NBA Street V3 amps up the ante, coming with more customization options and gameplay features than the previous two installments. Players can pull off fantastic dribble moves to build their street cred, or even show out with high-flying dunks in the new dunk contest mode.
Critics have noted the expansive nature of NBA Street V3, bringing light to the upgraded trick system, an enthralling career mode, and even the online play. The soundtrack, which features artists such as Beastie Boys, De La Soul, and House of Pain, has also received a bit of praise.
4

NBA Street Vol. 2 (90)
When it comes to the best basketball video game ever, NBA Street Vol. 2 typically enters the conversation. It features a larger roster than the previous NBA Street iteration, as players can take it to the streets with legendary names such as Julius Erving, Larry Bird, and Magic Johnson with newly added moves.
NBA Street Vol 2. is considered a classic by critics, with some even calling it the perfect arcade basketball game. The career mode, golden-age hip hop soundtrack, and play-by-play commentary have all made this streetball title a memorable one.
3

SSX (90)
Among the first launch titles of the Playstation 2, the first SSX game is lauded as one of the best. The game is fast and frenetic, with each course having enough rails and ramps to pull off cool snowboarding moves. Some of which may or may not be realistic.
RELATED: Metacritic's 10 Best Extreme Sports Video Games (That Aren't Tony Hawk Or SSX)
SSX was highly successful when it was first released in late 2000, as it sold well and won numerous awards. Several folks have declared SSX to be a perfect game, heaping praise on the graphics, level design, soundtrack, and overall fast gameplay.
2

SSX Tricky (92)
Named after Run-DMC's 1987 single "It's Tricky", SSX Tricky is a fun sequel that features plenty of tricks to execute. Players can perform super exaggerated Uber Tricks as they skate their way down a mountain. There is even a World Circuit that players can compete in.
SSX Tricky is seen as an improvement of the first SSX game, with some even calling it a more superior snowboarding game. Critics love the new features, and many have received a kick out of the new trick system, thanks to the introduction of Uber tricks.
1

SSX 3 (93)
With the first two SSX games doing exceedingly well, it wouldn't have been much of a surprise to see SSX 3 carry on the tradition. SSX 3 has an open-world setting, set on a large mountain ripe with racecourses and freestyle events. New customization options are available, and the courses come with new hazards to raise the stakes.
The openness of SSX 3 is a huge positive from critics, who also enjoy the trick-heavy, addictive gameplay as well as the improved graphics. Many were less than enamored with the customization options and control scheme, however.
NEXT: 10 Great Football Games That Aren't Madden

Next
Which Arkham Games Villain Are You Based On Your Zodiac Sign?

Share this news on your Fb,Twitter and Whatsapp