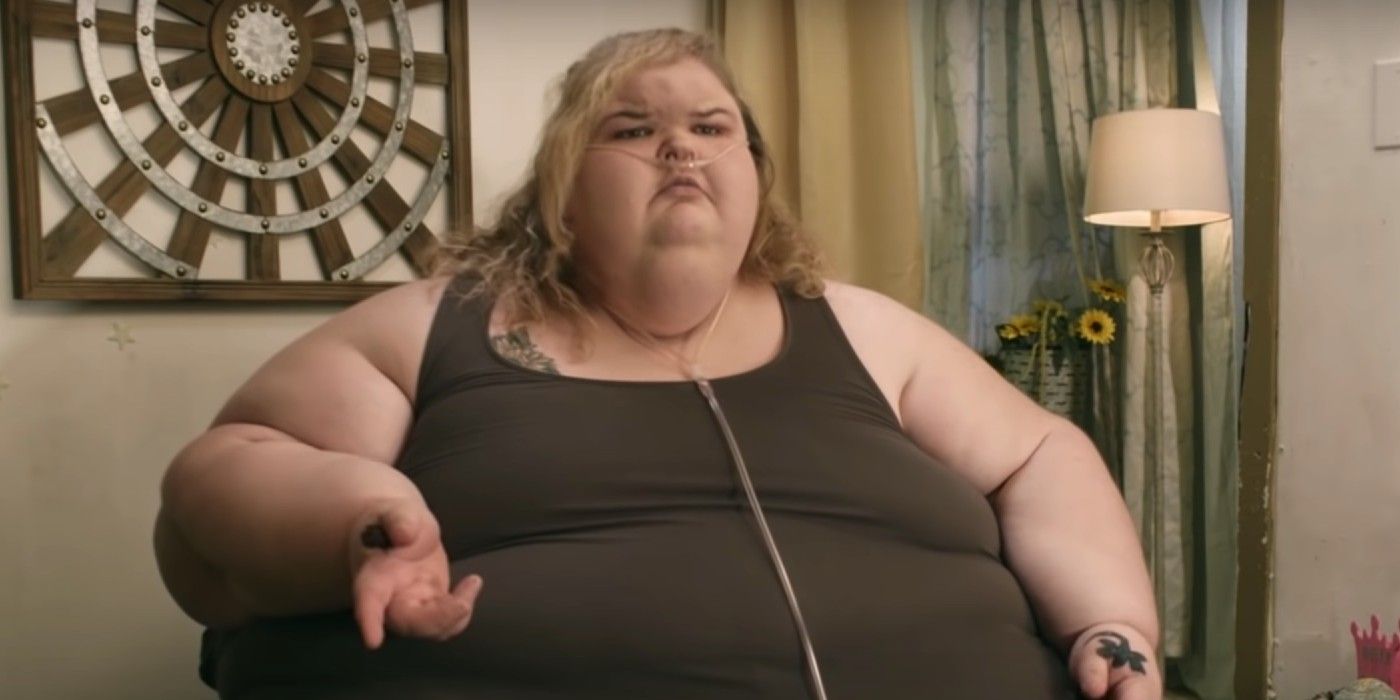 Tammy Slaton shared that she had to take legal action against her ex, Phil. 1000-lb Sisters fans think Tammy lied about filing a restraining order.
Tammy Slaton went through a dramatic breakup with TikTok user The BBWKing in 1000-lb Sisters, but some fans think the entertainer fabricated just how chaotic their split was. In recent season 3 episodes, Tammy shared that her relationship with The BBWKing, AKA Phillip Redmond, has grown malicious as the reality star's ex has harassed her and forced her to call the police on him. From Tammy's untrustworthy character to claims made by Phil's baby mama, here's why 1000-Lb Sisters fans think Tammy lied about filing a restraining order against her ex-boyfriend.
When Tammy first announced that her relationship with Phil came to an end in season 3, Tammy's siblings and followers were relieved. Unfortunately for Tammy, no one was as supportive of her romance with Phil as she might've hoped. Throughout her run in 1000-lb Sisters, Tammy's demonstrated that she has a questionable taste in boyfriends. In season 2, Tammy dated Jerry Sykes, a married man that encouraged Tammy's unhealthy diet. Tammy's siblings, Amy Slaton and Chris Combs, were against the television personality's relationship with Phil in season 3 because they feared The BBWKing would be another enabler. Amy and Chris' concerns were validated by Phil's TikTok content, which highlighted his affinity for women that weighed 350 pounds or more.
Related: 1000-Lb Sisters: About Amy & Tammy's Sister Amanda's Weight Loss Journey
Fortunately for Amy and Chris, Tammy shared that her relationship with Phil came to an end only a few episodes after he was first introduced. Amy was relieved that the reality star would finally be able to focus on her dire weight loss journey. Sadly, Tammy's relationship with Phil continued to preoccupy the entertainer even after their split. Tammy shared that after their breakup, Phil called her about 20 times within an hour. Tammy explained that she was forced to get the police involved after Phil threatened to come to her home. Tammy asserted that she even filed a restraining order against her ex to ensure her safety. While this might be Tammy's truth, the reality star's story has been disputed by fans and Phil's family. The BBWKing's baby mama alleged that Tammy never filed a restraining order or called the police.
Phil's baby mama's claims aside, the 1000-lb Sisters fanbase found it hard to believe Tammy was telling the truth about filing a restraining order in the first place. A Reddit user established, "I don't believe she went through the process of getting [a restraining order] on BBWKing." One reason why viewers don't think Tammy actually took legal action against Phil is her aversion to leaving her home. A fan jokingly asserted, "[Tammy] couldn't take her a** to the police station/courthouse to file a restraining order." Viewers were also convinced that Tammy file a restraining order against Phil because they believe the 1000-lb Sisters star was the aggressor in the relationship. One commenter hypothesized, "I think it was her harassing him." Another viewer argued that if Tammy had filed a restraining order, Phil wouldn't have agreed to appear on the show, adding, "TLC would've had to blur [Phil's] face out."
Tammy and Phil's relationship was doomed from the start, but 1000-lb Sisters fans don't think Tammy was entirely straightforward about her controversial breakup. From Phil's baby mama alleging that Tammy was harassing Phil to the Slaton sisters' followers believing Tammy doesn't have the gumption to file a restraining order, the reality star's story isn't landing as Tammy might've hoped. Whether her pants are on fire or not, 1000-lb Sisters fans can rest assured knowing Tammy and Phil are never getting back together.
Next: 1000-Lb Sisters: Why Tammy Thinks Her Weight Problem Is The Fans' Fault
Sources: kforbs126/Reddit, gribble29/Reddit, SmokieOki/Reddit, luvduvbunny/Reddit
TASM Writer Reacts To Andrew Garfield's Spider-Man Finally Getting Praise
About The Author
Share this news on your Fb,Twitter and Whatsapp