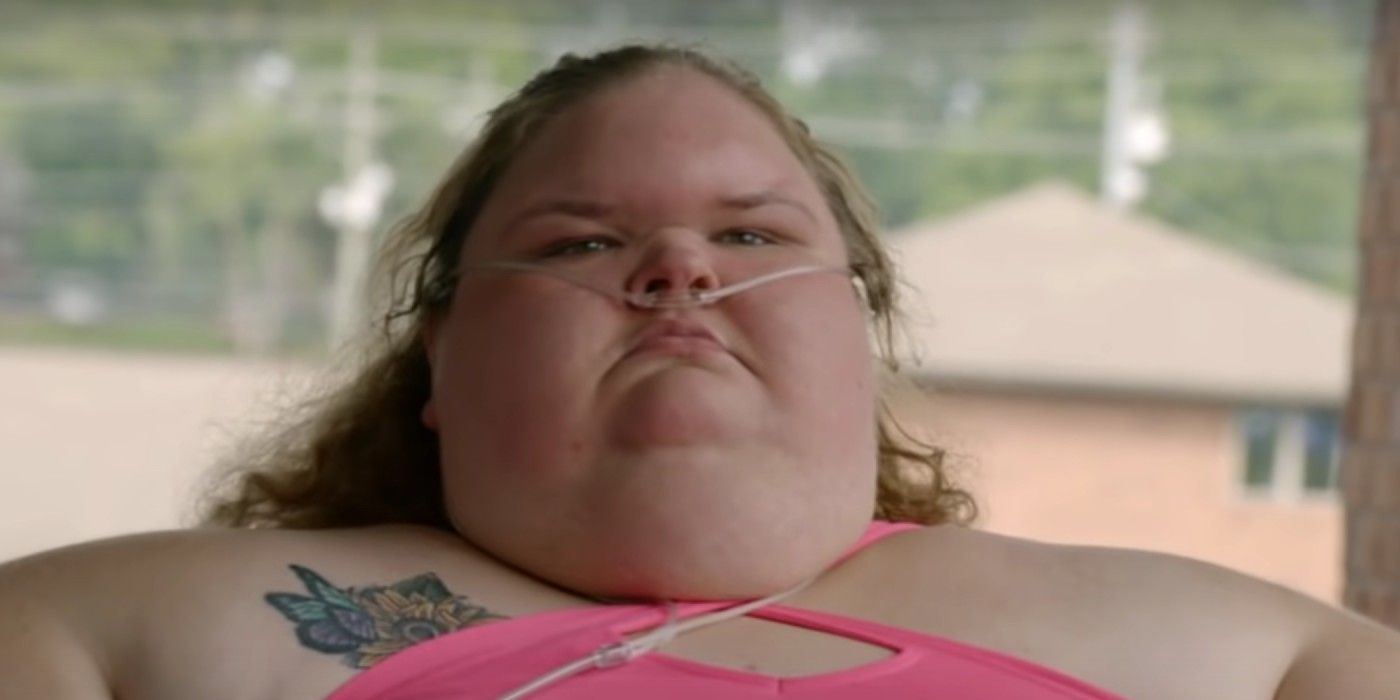 Tammy Slaton, star of 1000-LB Sisters, hasn't always been the nicest reality star. Now viewers feel that season three is showing an even meaner side.
There is no doubt that Tammy Slaton, star of 1000-LB Sisters, has been getting meaner throughout the seasons. TLC viewers have watched as the star has self-sabotaged herself but felt the need to blame everyone else but herself. Queen Tammy's bad attitude is not helping her achieve her weight goal and is leaving fans to think she just may be mean-spirited.
Tammy has never lived an easy life. She has had to fend for herself from a young age, but fans don't believe her lack of upbringing is an excuse to be mean to others. Tammy has often been viewed as untrustworthy since she has a hard time keeping her word. Time and time again, Tammy has been caught in lies that show she is not willing to commit to a healthier lifestyle. Tammy's version of reality differs from her siblings and what viewers have seen. When she is cornered, Tammy wastes no time in lashing out, making sure to hurt them before she is hurt.
Related: 1000-Lb Sisters: Why Tammy Slaton Agreed To Try Water Aerobics Workout
1000-LB Sisters' viewers have watched the third season in shock as most agree Tammy has gotten meaner. As the newest season wrapped up, fans watched Tammy throw the biggest fit of all time during a scheduled family vacation. Due to being too afraid of walking up the stairs to the cabin, Tammy alienated her entire family out of frustration. Her sister Amy pointed out that she has gotten meaner through the years, noting she doesn't talk to the rest of the family like she talks to her. Fans were taken aback about how cruel Tammy acted as she told each of her family members to leave her alone, saying, "I don't care what I f—ing do tonight. I don't give a f—."
While Tammy often claims she just doesn't feel good, viewers have grown tired of the reality stars' tantrums. Tammy has become so self-centered that she doesn't seem to care how rudely she treats those around her. While she claims she is tired of her family "hollering" at her, most would argue that Tammy is the main issue as she does nothing but complain and yell. Like most TLC fans, Amy has lost her patience with her sister's anger and is now ready to let Tammy figure out her own life as a mean woman instead of lending a helping hand.
The fact that Tammy is quick to react to anyone offering help has stunned fans for some time. It has become evident that Tammy doesn't value her health as her doctors and family do. No amount of pushing or prompting seems to be changing her mind, and her utter frustration has only made her angrier as each season aired. While 1000-LB Sisters fans hope Tammy can turn her personality around, the odds do not seem to be in her favor.
Next: 1000-Lb Sisters: Why Tammy Slaton's Tantrums Don't Do Her Any Good
Gabrielle Union Says Bring It On Trailer Fooled Audiences With Fake Scenes
About The Author
Share this news on your Fb,Twitter and Whatsapp