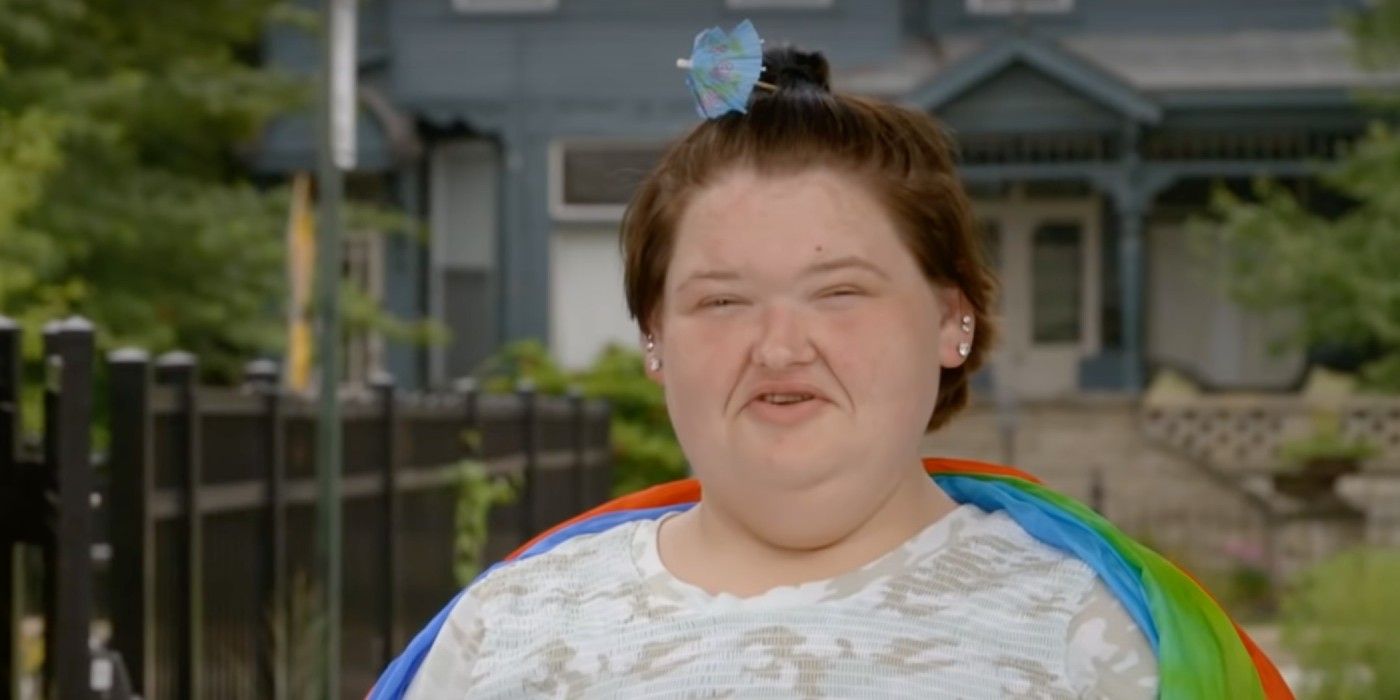 Amy Slaton's pregnant once again. 1000-lb Sisters fans think Amy should've dealt with some of her emotional obstacles before getting pregnant again.
Amy Slaton thrilled the 1000-lb Sisters fanbase with the news of her second pregnancy, but her followers think that the reality star would've been better off if she waited before adding another member to their unconventional family. While some viewers think that it's a bad idea for Amy to have another child altogether, others think Amy and her husband, Michael Halterman, just need more time to prepare for the work that comes with a second baby. From Amy's ongoing cleanliness crisis to the emotional trauma she and Tammy are still working through, here's why 1000-lb Sisters fans think Amy and Michael should've waited before getting pregnant again.
Although they embarked on their weight loss journeys at the same time, Amy and Tammy have different reasons for changing their lifestyles in 1000-lb Sisters season 1. While Tammy was motivated by her hazardous health condition, Amy's chief incentive for sticking to her diet and exercise routine was to have a baby. This turned out to be an effective catalyst for Amy as she successfully qualified for bariatric surgery by the end of season 1. Amy and Michael were instructed to wait a few years before trying to have a baby, but after working hard to lose weight, the reality star didn't have the patience to follow her surgeon's recommendation.
Related: 1000-lb Sisters: Why Amy Slaton Was Accused Of Biting A Man
Amy welcomed her first child, Gage, in November 2020. While 1000-lb Sisters fans love watching Gage grow in season 3, Amy's followers have also noted many ways that the Slaton family could make a more nurturing space for the baby boy. One reason why viewers think Amy should have taken more time before making plans for baby number two is her precarious living situation. Recently, Amy took a deep dive into her hoarding problem, leaving fans feeling concerned for Amy and Gage's wellbeing. While cleaning, Amy found dirty dishes, bugs, and even a dead mouse. Amy confessed that she felt like a bad mom for letting Gage grow up in the unsanitary space. Viewers agree that Amy needs to work on her hoarding habit before welcoming another kid to her family. A Reddit user wrote that they hope "[Amy's] moved and [has] a much bigger (and hopefully cleaner) space."
It's clear that Amy is a loving mother, but 1000-lb Sisters fans think that she could be more attentive to Gage's needs. Instead of rushing to have another child, Amy's followers think she could take a couple of years to work on her parenting expertise. A fan asserted, "[Amy and Michael] need to take some parenting classes and learn how to parent Gage properly before having a second kid." Other viewers think Amy should put a pause on having more kids because she's still working through her intense emotional issues with her sister. An especially harsh commenter responded, "Neither [Amy nor Tammy] strike me as emotionally mature and financially stable enough to effectively raise another human." Amy and Tammy grew up in an emotionally and economically unstable household, and the pair have demonstrated they're still working to confront their childhood trauma.
Amy has shown that she's a loving mother in 1000-lb Sisters, but fans think the entire Slaton family would've benefitted from the reality star waiting a few more years before getting pregnant again. From her ongoing hoarding struggles to the emotional drama that's only escalating between herself and Tammy, Amy has a lot on her plate at the moment. Hopefully, Amy can put 1000-lb Sisters fans at ease and get her act together before her second baby arrives.
Next: 1000-lb Sisters: Fans Are Discouraged By Tammy's Current Rehab Stay
Sources: DreamOfMaxine/Reddit, comefromawayfan2022/Reddit, BeaverMartin/Reddit
Flash Proved Green Lanterns Are Using Their Rings All Wrong
About The Author
Share this news on your Fb,Twitter and Whatsapp