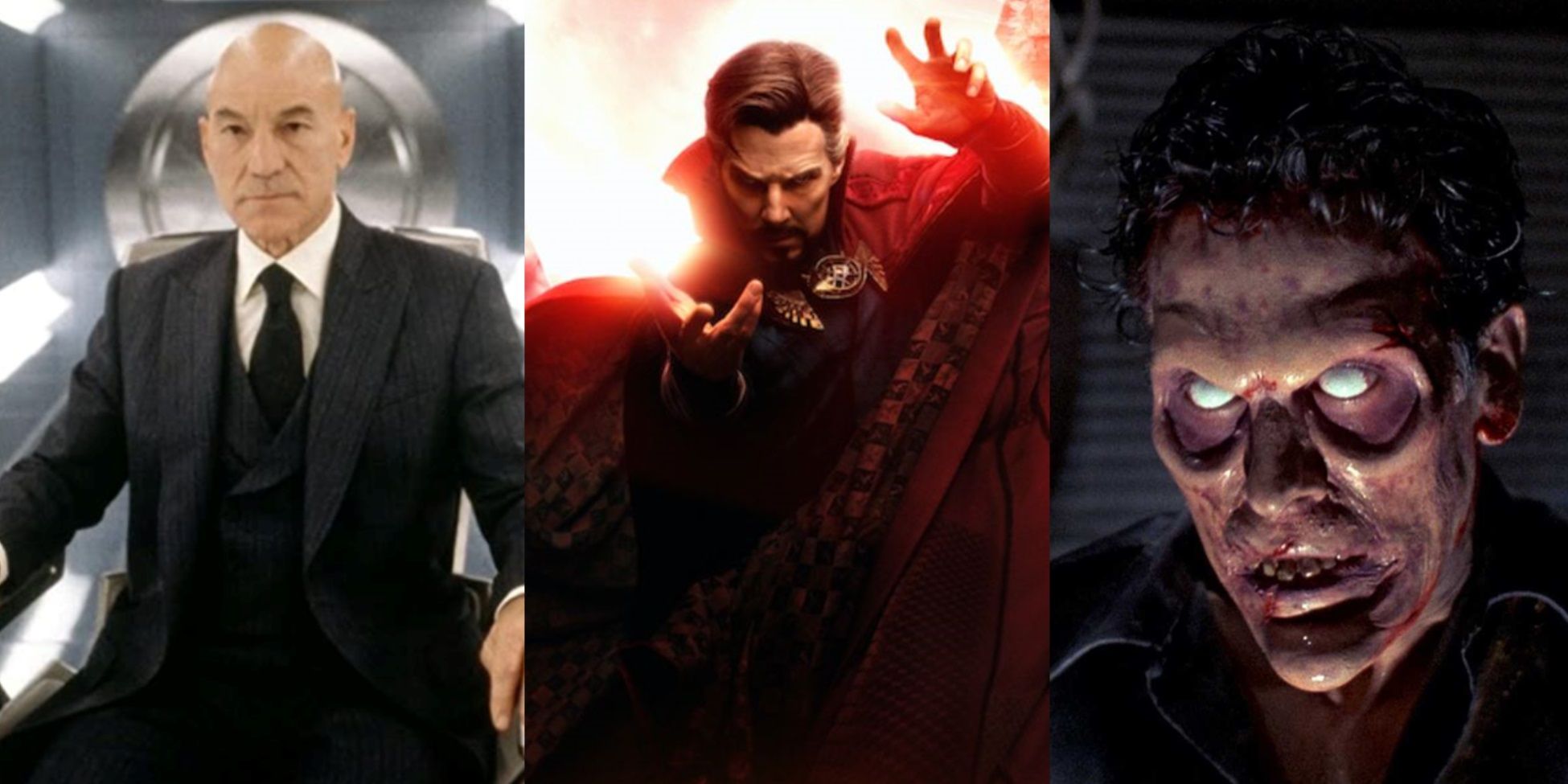 Marvel Studios' next tentpole blockbuster, Doctor Strange in the Multiverse of Madness, is just a couple of weeks away. The Doctor Strange sequel promises to be a Marvel movie like no other, with director Sam Raimi bringing his signature horror style to the Lovecraftian story of the Sorcerer Supreme shattering the space-time continuum and jumping between alternate realities.
RELATED: 10 Ways Doctor Strange In The Multiverse Of Madness Could Drastically Change The MCU
While waiting for Multiverse of Madness to arrive in theaters, there are plenty of similar movies to tide fans over, from other comic book blockbusters to Raimi-helmed horror films.
10

Doctor Strange (2016)
The most obvious movie to watch to get excited for Doctor Strange in the Multiverse of Madness is the movie it's a sequel to. 2016's Doctor Strange introduced moviegoers to Benedict Cumberbatch's Stephen Strange, an arrogant surgeon who's humbled by a debilitating car crash and eventually becomes a Master of the Mystic Arts.
The movie follows all the familiar, perfunctory beats of a superhero origin story, but the dazzling visual effects more than make up for these narrative missteps – and the climactic confrontation with Dormammu is a perfect subversion of Marvel's usual final battles.
9

Spider-Man (2002)
When Scott Derrickson stepped down from the Doctor Strange sequel, Marvel found the perfect replacement in Sam Raimi. Like Derrickson, Raimi's background is in the horror genre, but he also has a proven track record making comic book movies.
RELATED: 5 Things Sam Raimi's Spider-Man (2002) Got Right (& 5 It Got Wrong)
Raimi's original Spider-Man trilogy, starring Tobey Maguire as the definitive take on Peter Parker, broke new ground for superhero films and essentially made the MCU possible.
8

Color Out Of Space (2019)
The Doctor Strange sequel's story of an interdimensional monster traveling across the multiverse to torment humanity has parallels with the works of H.P. Lovecraft. There are a bunch of other great Lovecraftian movies, including Richard Stanley's Lovecraft adaptation Color Out of Space.
Nicolas Cage brings his particular brand of gonzo nuance to Color Out of Space, which nails the balance between B-movie fun and Lovecraft's signature existential dread.
7

The Power Of The Dog (2021)
At the height of the last awards season, Jane Campion's thought-provoking western drama The Power of the Dog arrived as a reminder of what a great actor Benedict Cumberbatch is.
The VFX in the Doctor Strange movies is visually stunning, but the real M.V.P. of these stories is Cumberbatch's compelling turn as the magical Avenger.
6

X-Men (2000)
The trailers for Multiverse of Madness have carefully hidden possible Marvel connections like the Illuminati, but they've also spoiled a handful of key moments – like Patrick Stewart reprising his role as Charles Xavier from the X-Men films.
Before watching Stewart's glorious return to the role of Professor X in Multiverse of Madness, it's worth going back to his fan-favorite debut in the original X-Men movie.
5

The Butterfly Effect (2004)
Multiverse of Madness is setting itself apart from other superhero movies by diving headfirst into a series of parallel universes, including a couple of universes where Strange and his new sidekick Wanda Maximoff are villains.
Like the Doctor Strange sequel promises to, The Butterfly Effect explores the dire consequences of meddling in the space-time continuum. Ashton Kutcher stars as a man who's able to go back in time and alter his past, which has a horrifying unintended impact on his present.
4

Drag Me To Hell (2009)
When Multiverse of Madness was touted as Marvel Studios' first full-blown horror film, some fans were skeptical, because it'll be limited by the MCU's standard PG-13 rating. But Raimi has already proven his ability to helm a fiercely effective horror movie rated PG-13.
Within the confines of a PG-13 rating, Drag Me to Hell has all the jump scares, pitch-black humor, and disturbing imagery that Raimi's fans have come to expect.
3

Martha Marcy May Marlene (2011)
Elizabeth Olsen is set to reprise her Marvel role as Wanda Maximoff in Multiverse of Madness, following up on the dark turn her character took in WandaVision.
Before the Doctor Strange sequel arrives in multiplexes, it's worth checking out Olsen's debut movie role in Martha Marcy May Marlene. She plays a young woman who escapes from a cult and suffers psychological aftereffects. This movie explores the kind of darker territory that Multiverse of Madness promises to dive into.
2

Spider-Man: No Way Home (2021)
While the first Doctor Strange solo movie was released over half a decade ago, Cumberbatch has reprised the role in a bunch of other Marvel films in the interim, from Thor: Ragnarok to two Avengers movies to his most recent MCU appearance, Spider-Man: No Way Home.
RELATED: Spider-Man: No Way Home – 3 Ways It Honors Each Version Of Peter Parker
In the wildly ambitious, delightfully self-aware Spidey threequel, Strange unwittingly invites heroes and villains from other universes (in other words, other franchises) into the MCU. This movie offered a taste of the multiversal shenanigans to come.
1

Evil Dead II (1987)
Kevin Feige told Empire, "We want [Multiverse of Madness] to be a Sam Raimi movie. We would give notes like, 'This action is cool – you're competing with Avengers and Spider-Man, no problem – but don't forget the Sam Raimi parts.' You will see just how Sam Raimi it is, in ways that will make fans of Evil Dead II very happy."
This is an extremely tantalizing prospect for Raimi's fans. Evil Dead II is a comedic remake of its predecessor and one of the most bonkers horror movies ever made. No idea is too out there for the world of Evil Dead II. Hopefully, Multiverse of Madness can deliver on this promise.
NEXT: 10 Ways The Evil Dead Trilogy Still Holds Up Today

Next
The Lion King: 9 Unpopular Opinions, According To Reddit

About The Author
Share this news on your Fb,Twitter and Whatsapp