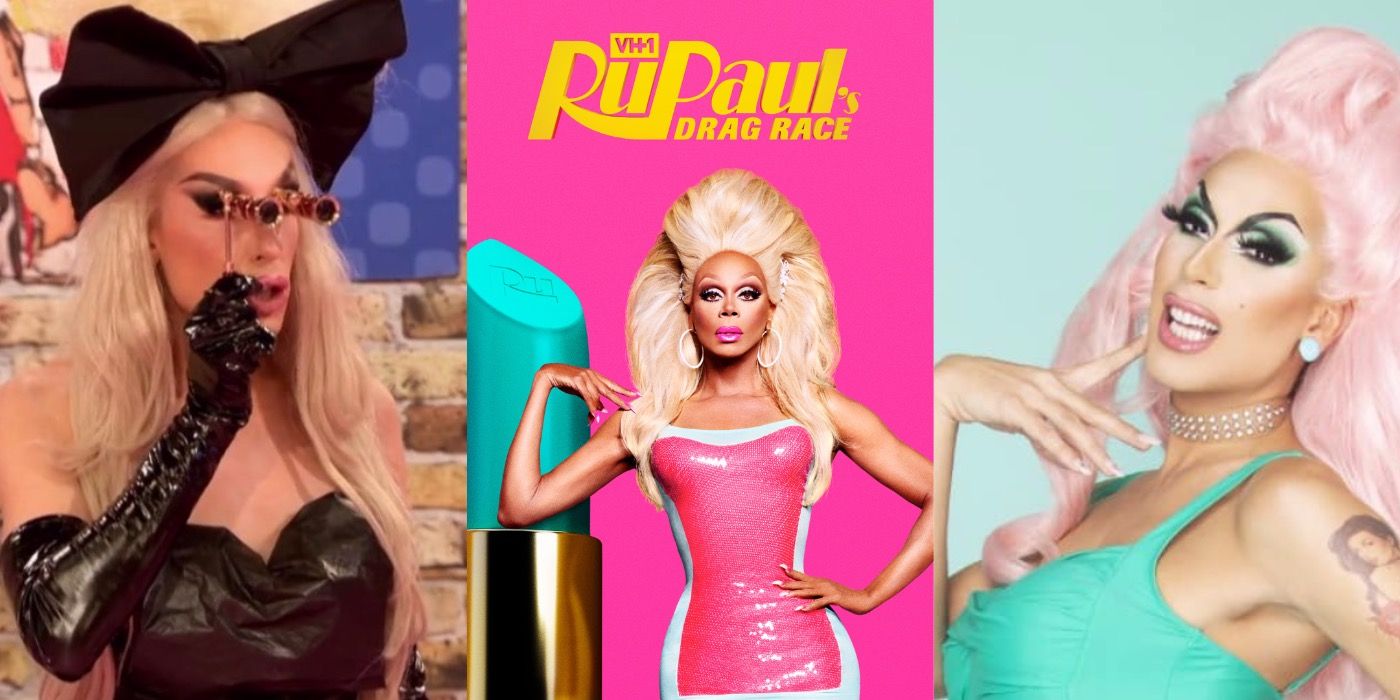 RuPaul's Drag Race is the Mecca of drag competitions, and only the best of the best can thrive on the cutthroat show. Few queens have had as lasting an impact on the Drag Race community as Alaska, and she has had great success in her appearances in the series and its spinoffs.
RELATED: RuPaul's Drag Race Season 10 Queens: Where Are They Now?
Alaska is known for her bubbly personality and biting wit. Though she can be very friendly, she is also a fierce competitor who can throw shade as well as anyone. She is one of the show's most quotable queens and can be counted on to say something hilarious every time she is on the screen.
When Alaska Explained The Difficulties Of Drag
"Drag F—ing Hurts, OK?!"
Though most of her funniest moments came when she was verbally dressing another queen down during the competition, Alaska could also be wise with her humor. Alaska is always one to keep it real and her quote about the realities of drag hit home.
The quote is particularly funny because she comes to the aid of someone who is being picked on and yet she is able to be witty at the same time. Though queens are often over-the-top, Alaska also showed that she was real underneath all of the character work.
When Alaska Roasted RuPaul
"RuPaul Is So Old Her Colostomy Bag Is Made Of Wood."
Few were spared the wrath of Alaska's shady wit, even the host of the show, RuPaul. Alaska's barb was perfectly in character for her and she manages to be funny and ditzy at the same time while insulting someone. A big part of drag is humor and Alaska showed that she contained all of the necessary pieces to be a drag superstar.
Though the quote makes little sense, it shows that Alaska isn't afraid to take down anyone, even someone as revered as RuPaul. The barb was well received and it was just another illustration of her illustrious sense of humor.
When Alaska Threw Shade At Alyssa Edwards
"You'd Better Get It, Hannibal Lecter. You Look Great."
During her time on the show, Alyssa Edwards managed to rub a lot of people the wrong way and she's had feuds with several competitors. However, few could cut her down to size quite as simply as Alaska. While Alyssa applied a face mask Alaska delivered a perfectly timed remark.
RELATED: All 13 Seasons of RuPaul's Drag Race Ranked Worst To Best 
The simplicity of the insult is what makes it so hilarious and the delivery was spot on. Alyssa's self-serious attitude always adds to the humor of the situation as she can always be counted on to be stung by every barb thrown at her.
When Alaska Roasted Detox's Cosmetic Surgery
"Detox, You're So Seductive. Unfortunately, It's Illegal To Do It With You Because Most Of Your Parts Are Under 18 Years Of Age."
One of the most anticipated parts of any season of the show is the stand-up roast sessions that happen between contestants. Competitors are able to show off their senses of humor on RuPaul's Drag Race as well as throw shade at others under the guise of a friendly jest.
Alaska excelled in those situations and she was particularly pointed with certain competitors. Though she has expressed interest in plastic surgery herself on several occasions, she isn't afraid to wield it as a weapon to take down Detox.
When Alaska Offered To Buy Votes On All Stars
"I'll Give You $10,000 Via PayPal, Because I Need To Stay In This Competition."
Sometimes, Alaska manages to be very genuine when she says something funny. She is clever enough that even her compliments can come off as humorous and her imploring Detox is one such moment. Though she threw barbs at her all season, it is clear that she has a respect for Detox and saw her as fierce competition.
Alaska is so funny because she is a queen for all occasions and she never runs out of funny things to say. Even when giving a tremendous compliment to a serious competitor, she makes a memorable joke out of the moment. Though she didn't win her orginal season, she became a fan favorite and went on to win All Stars 2 (without paying any bribes).
When Alaska Celebrated Gay Icons
"I Live For Chaz Bono. Chaz Bono Came Out Of Cher's Vagina."
One of the funniest things about Alaska is that sometimes it is difficult to tell if she is being genuine or not. Though shadiness is a trademark feature of Drag Race competitors, Alaska seemed specifically suited for the job.
It's obvious that Cher is an icon within the drag community but Alaska couldn't help but make a seemingly sarcastic remark about Cher's son. Though she did seem to have reverence for Chaz, it is obvious that she would have preferred Cher herself.
When Alaska Owned The Snatch Game
"When I'm Good, I'm Good. But When I'm Bad, I Get A Serious Venereal Disease."
Though all drag is essentially character work, the Snatch Game segment of the show gives the queens a chance to show off their acting skill. Alaska chose to portray legendary screen star Mae West and she exquisitely lampooned the actresses personality to hilarious result.
RELATED: The 10 Youngest RuPaul's Drag Race Queens 
By adding bits of her own character to the part, Alaska showed that she understood what she was doing when playing West. Most of the show's best competitors excel at the Snatch Game and Alaska's memorable contributions are no exception.
When Alaska Opened And Closed The Library
"I Don't Want To Read These Girls. I Love Them. …OK, Let's Go."
In comedy, timing is everything and Alaska frequently proved that she was the queen of a perfectly timed joke. The incorporation of a physical element to the joke only helped to elevate it beyond just a simple chuckle to a full on belly laugh. So much of drag is visual and Alaska understood that with her joke.
Whether or not she was genuine with her sentiment is not at all important for her joke. She shows her comedic power by staying in character and delivering a classic burn. By having a prop on hand showed that she was prepared for the moment.
When Alaska Made RuPaul's Catchphrase Her Own
"You're Born Naked. The Rest Is Drag."
Though few queens showed any propensity for the rap challenges that they competed in, a few had the wherewithal to write hilarious lyrics. Alaska's rap was memorable not only because it was funny but because it was filled with philosophical witticisms as well.
By expanding drag to encompass all of life, she not only delivers a funny lyric but makes a statement about life in general. Despite her ditzy character, Alaska frequently shows that she is one of the smartest queens on the show.
When Alaska Threw Shade At Alyssa Edwards Again
"If Drag Doesn't Work Out, You Will Always Have Something To Fall Back On: Your Back Rolls."
When given the choice to roast their competition, many of the queens took shots at Alyssa Edwards. This was mostly her own fault as she made herself easily unlikable to her fellow competitors. While others kept their insults in general, Alaska wasn't afraid to get to the heart of the matter and deliver a stinging blow.
By targeting Edwards' insecurities, Alaska showed that she could really be fierce when given the chance. It was obvious to viewers that Alaska saved her harshest blows for those who she really didn't like.
NEXT: 10 Things About RuPaul's Drag Race That Have Aged Poorly
90 Day Fiancé: Karine Explains Why She Can't Return To Brazil With Sons
About The Author
Share this news on your Fb,Twitter and Whatsapp