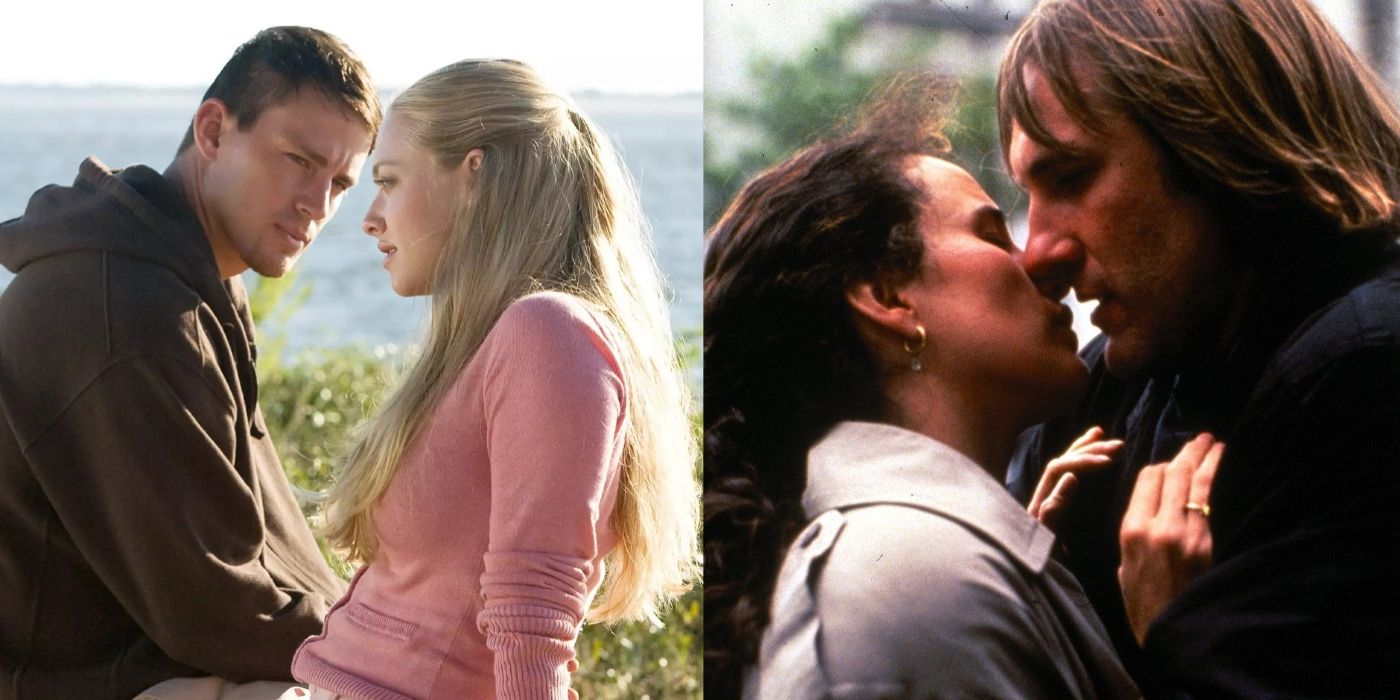 After its premiere on July 29, 2022, the Netflix original romantic drama Purple Hearts instantly shot to the top of the charts. Despite drawing poor reviews for being a mawkish Netflix rom-com full of predictable platitudes, the story follows the sham marriage of convenience between aspiring singer Cassie (Sofia Carson) and U.S. Marine Luke (Nicholas Galitzine) and the legal consequences they face when their ruse is discovered.
Purple Hearts joins a far superior crop of international movie dramedies that explore the notion of a marriage of convenience, arranged weddings, military nuptials, and the profound ramifications that transpire when two opposites follow their heart.
An Officer & A Gentleman (1982)
Stream On Hoopla
Hailed as one of the best movies of 1982, Taylor Hackford's An Officer and a Gentleman beautifully toes the line between rousing romance and tear-jerking melodrama in ways starkly redolent of Purple Hearts. In one of his best movies, Richard Gere plays Zeke, a U.S. Naval officer in training who must decide if his career is more important than his first true love and potential bride-to-be, Paula (Debra Winger).
The critical and commercial hit film was lauded for its salient exploration of matters of the heart as they specifically relate to career, family, and military order, and most of all for the cheerfully uplifting happy ending that Zeke and Paula experience together just when it looks like their love will be forever unrequited.
Green Card (1990)
Rent On Apple TV
In Purple Hearts, Cassie agrees to marry Luke so she can enjoy his U.S. health benefits as a Marine and treat her diabetes. In Peter Weir's Green Card, Frenchman Georges (Gerard Depardieu) desperately wants to remain in the United States and agrees to engage in a marriage of convenience with the American Bronte (Andie MacDowell). In both instances, the couples slowly realize they were right for each other all along.
Those who enjoyed the chemistry between Cassie and Luke will fall head over heels for the effervescent romantic rapport between Depardieu and MacDowell and the cute culture clashes that the two help each other navigate. Breezy, lighthearted, and uplifting, Green Card is worth applying for indeed.
The Piano (1992)
Rent On Apple TV
In Purple Hearts, Cassie's budding musical career plays a huge role in the plot. When thinking of the most memorable movies about marriages of convenience that also feature music, Jane Campion's movie The Piano instantly leaps to mind. The story follows Ada (Holly Hunter), a mute woman sold into marriage by her father to an explorer in New Zealand, where she takes her young daughter and prized piano.
While tonally much more gravid, the use of the musical expression to help Ada cope with her arranged marriage is similar to how Cassie uses music as therapy to deal with her similar situation in Purple Hearts. Aside from the breathtaking Oscar-winning turns by Hunter and Anna Paquin, The Piano's poignant exploration of a woman finding their voice has rarely been so disquieting.
The Wedding Banquet (1993)
Stream On Hoopla
Directed by two-time Oscar-winning movie director Ang Lee, The Wedding Banquet tracks the sham marriage between gay man Wai-Tung (Winston Chao) and straight woman We-Wei (May Chin) in order to appease the former's pressuring parents. Heartfelt hilarity and pathos ensue when Wai-Tung's parents attend the couple's phony wedding ceremony, forcing the two to keep up the charade as long as Cassie and Luke do in Purple Hearts.
The way Lee shifts from the comedic conceit to a deeply felt and authentic dramatic glimpse into the intimate cultural differences is what elevates the material beyond sheer farce. Devoid of melodramatic schmaltz, the keenly-observed characterizations will resonate far longer than those in Purple Hearts.
Muriel's Wedding (1994)
Stream On Starz
P.J. Hogan's Muriel's Wedding is a delightful and well-esteemed Australian movie that traces Muriel (Toni Collette), a bored and socially awkward young woman who wants nothing more than to get married. As such, she steals money from her parents, runs away to a tropical island, and engages in a wild scheme to marry an Olympic swimmer in a lavish wedding ceremony.
Halted by one hilarious hiccup after another, Muriel's Wedding ultimately becomes an enchanting coming-of-age tale about female independence, growth, and maturation, all told against the backdrop of ABBA music playing throughout. Brimming with edginess, heart, and unpredictable story beats, Muriel's Wedding is a much more satisfying cinematic look at arranged nuptials.
Monsoon Wedding (2001)
Rent On Apple TV
Mira Nair's Monsoon Wedding is one of the most joyously uplifting tales of arranged marriages on record, making it a must-see for those who enjoy the cultural coalescence between Cassie and Luke in Purple Hearts. The story finds Aditi (Vasundhara Das) set to marry Indian groom Hermant (Parvin Dabas), who must travel to India from Texas where he lives to meet his bride-to-be and attend the ultra-lavish ceremony.
A beautiful, bubbly, and transcendent Bollywood affirmation of the human spirit, Monsoon Wedding does a splendid job of eroding the barriers and boundaries of its international characters to become a rousing celebration of romantic human connections found in places least expected. Like Purple Hearts, Monsoon Wedding proves that not all sham marriages are doomed to fail.
The Proposal (2009)
Stream On DirecTV
Thanks to the blistering onscreen rapport between stars Sandra Bullock and Ryan Reynolds, the silliness of The Proposal ends up resonating far longer than anyone might expect. The plot concerns Margaret (Bullock), an aggressive corporate boss who forces her personal assistant Andrew (Reynolds) to marry her so she can retain her legal status in the U.S. and avoid deportation back to Canada.
Of course, like Purple Hearts, the sham marriage inevitably leads to genuine feelings among the two leads, although The Proposal leans heavily into its comedic premise to mine the inherent humorous charms of its two leading movie stars. While Carson and Galitzine don't sizzle with the same amount of heat, both movies manage to overcome their formulaic predictability through their magnetic actors.
Lorna's Silence (2008)
Stream On Tubi
For those interested in the sham marriage plotline in Purple Hearts but dislike the overly saccharine tone, tune into the Dardenne brother's achingly memorable arthouse affair, Lorna's Silence. The highly-acclaimed drama concerns Lorna (Arta Dobroshi), an Albanian immigrant in Belgium who navigates multiple sham marriages so she can be with her true lover, Sokol (Alban Ukaj), and open their dream snack bar together.
A gritty and unflinchingly realistic look at the desperate measures one woman takes to escape her dire situation to forge a better life, Lorna's Silence is both a deeply touching love story and a thought-stirring morality play about what it takes to find happiness in spite of, not because of, marriages of convenience.
Dear John (2010)
Rent On Prime Video
Many Purple Hearts fans have noted how the movie exudes a similar tenor and temperament to a Nicholas Sparks novel. Those looking for more of the same ought to check out Dear John, another weepy romantic drama that follows a U.S. soldier on leave for the summer, John Tyree (Channing Tatum), and Savannah (Amanda Seyfried), a teenager with a complicated family.
Aside from the basic conceit that is very similar to Purple Hearts, it's Lasse Halstrom's sentimental mastery that will keep viewers as invested in the conclusion of its lovelorn characters. Moreover, both movies hinge on a mysterious third-act plot twist that forces everyone to reassess the entire story.
The Big Sick (2017)
Stream On Prime Video
Written with trenchant insight by real-life married couple Emily V. Gordon and Kumail Nanjiani, The Big Sick is one of the most honest, tender, and deeply affecting movies about lovers from different cultures reconciling over a sham marriage. Nanjiani plays a version of himself who pretends to be Emily's (Zoe Kazan) husband when she falls ill so she can be legally placed into a medical coma to recover.
A poignant story about following one's heart, breaking from old traditions that do not necessarily equate with happiness, and the profound cultural melding of Kumail, his parents, Emily's family, and their friends, The Big Sick and Purple Hearts credibly reinforce how true love knows no geographic boundaries or language barriers.
NEXT: The 10 Best New Movies To Watch On Netflix This Month
90 Day Fiancé's Molly's Most Shocking Skintight Outfits After Weight Loss
About The Author
Share this news on your Fb,Twitter and Whatsapp