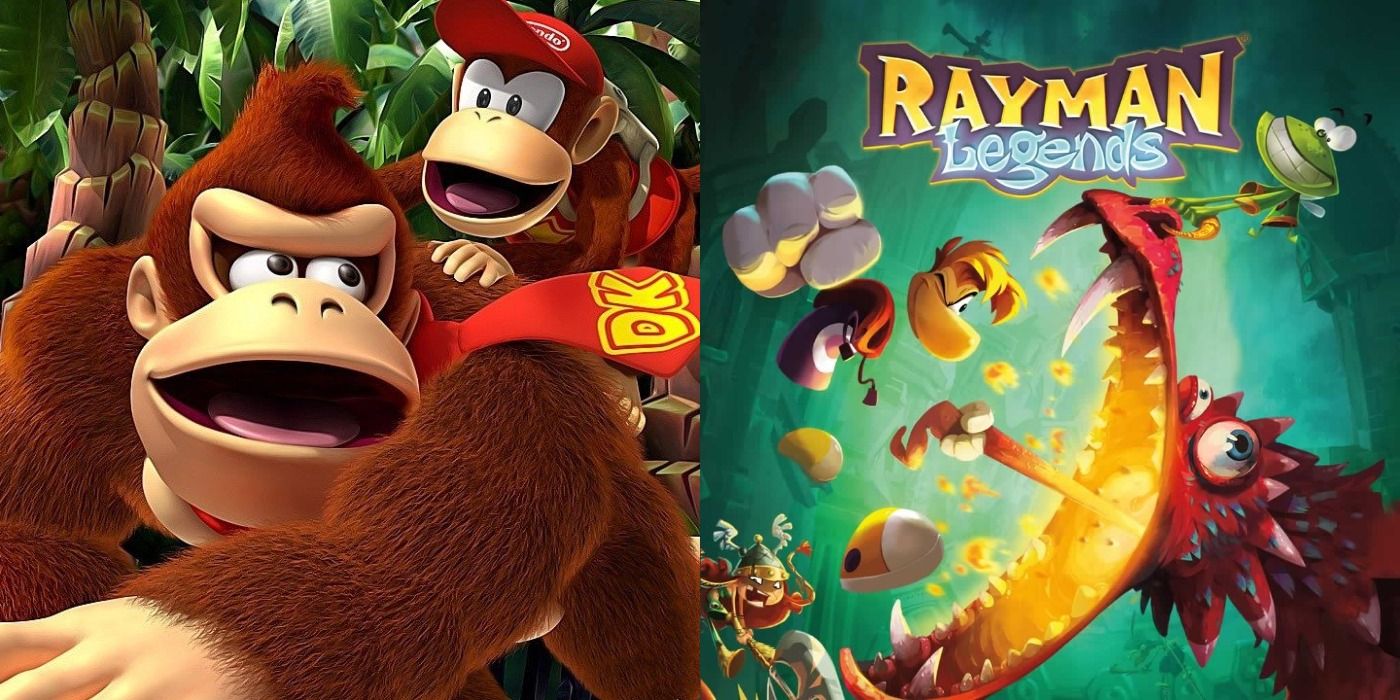 Though the likes of Mario have a sort of monopoly when it comes to popular platformer mascots, Donkey Kong is another respectable classic. The character has had several iconic — and famously difficult — games over the decades of Nintendo's history in the gaming industry, like publisher/developer Rare's Donkey Kong Country on the Super Nintendo.
RELATED: 10 Best Games To Play This Month (Updated April 2022)
Likewise, the beloved gorilla made a comeback in the form of Donkey Kong Country Returns. However, even with that classic reputation, there are several other mascot-focused platforming games worth checking out. Many of these games also venture out of the strictly Nintendo gaming ecosystem as well.
New Super Mario Bros. U Deluxe
While it may not be the absolute best of the vast catalog of Mario games, New Super Mario Bros. U Deluxe is a solid entry in the famous plumber's backlog. It's hard not to look to at least one of the Mario games when looking for similar games to the Donkey Kong entries, and U Deluxe is a good way to get a modern 2D-platforming experience with this character.
Equally as important, New Super Mario Bros. U Deluxe is one of the most accessible ways to play this game, too. The game is a port of the original Nintendo Wii U version, and should still hold up as a fun and nostalgic romp for one or more players at a time.
Rayman Origins
Rayman is one of the more unfortunately forgotten — at least comparatively — mascots of the original PlayStation days. Nonetheless, Ubisoft's 2011 Rayman Origins proved to be a triumphant return for the titular character after an 8-year-long absence. The game received strong critical reception, with its highest marks going to the inventive and stunning art style in a 2D setting, as well as its charmingly upbeat tone and engaging level designs.
Even with the likes of Donkey Kong and Mario games, Rayman Origins stands at least on par with those franchises' best 2D entries. In terms of modern systems, Rayman Origins is available on PC.
Crash Bandicoot N. Sane Trilogy
Crash Bandicoot was a prominent PlayStation mascot from the '90s, with the zany character providing Sony's debut home gaming console with some acclaimed classics. And similar to Rayman, Crash was dealt a lengthy hiatus from the gaming scene until 2017's Crash Bandicoot: N. Sane Trilogy.
RELATED: 10 Best Nintendo Games Ever, According To Ranker
This collection contains remasters of the first three games, and the reception to this revival was strong. On top of the massive graphical overhaul, reviews praised the modernization of gameplay mechanics while staying true to the original games. Crash Bandicoot: N. Sane Trilogy is available on PS4, XBO, Switch, and PC.
Super Mario Maker 2
Diving one more time into the Mario franchise, fans coming off the likes of Donkey Kong Country: Tropical Freeze should be in for a delightfully unique experience with Super Mario Maker 2. This platformer allows players to build their own Mario levels, play them, share them online, and play through other players' levels.
This Nintendo Switch sequel to the original Wii U game was lauded for its even more extensive and user-friendly tools at players' disposal. It's a creative and addictive approach to platforming games, and also has a single-player mode where players go through 100 Nintendo-created levels.
Crash Bandicoot 4: It's About Time
Should players latch onto the modernized trilogy of Crash Bandicoot games, the fairly recent Crash Bandicoot 4: It's About Time should feel like a seamless transition. Similar to previous games, It's About Time uses a gameplay perspective where players platform through levels in a side-scrolling fashion or toward the camera.
The game tastefully retained the strong foundation of the original games' formula while introducing new mechanics, namely the Quantum Masks, which can be used to alter levels to navigate them. Crash Bandicoot 4: It's About Time is available on PS4, PS5, XBO, Xbox Series X|S, Switch, and PC.
Rayman Legends
The aforementioned Rayman Origins was an emphatic comeback for the character after nearly a decade away from the mainstream, but the 2013 sequel managed to be even more acclaimed. The game cements the titular character as having some of the most imaginative 2D platformers in gaming, as Rayman Legends adds on to what worked so well in Origins.
RELATED: 10 Saddest Video Game Deaths, According To Reddit
Legends' acclaim largely went toward the game design smoothly getting players accustomed to the basics before fleshing out into a colorful and high-octane platforming gauntlet. For modern systems, Rayman Legends is available on Switch, PS4, XBO, and PC.
Kirby Star Allies
After Mario, the lovable pink puffball Kirby is arguably the most recognizable Nintendo-exclusive platforming mascot. This is surely due to the impressive catalog of games the character has amassed, becoming a respectable 2nd-place icon in his own right.
The Nintendo Switch's Kirby Star Allies wasn't initially one of the best Kirby games available, with criticisms leveled at its brief content and disappointingly easy difficulty. However, free post-launch DLC turned it around in a notable way. The 2D platformer received the Heroes in Another Dimension mode that retroactively improved the game, with praises going to the entertaining new level design and a new layer of challenge.
Sonic Mania
The Sonic the Hedgehog franchise has seen better days, but there have been some more solid entries in recent years. In particular, 2017's Sonic Mania — spearheaded by a team of developers known for ROM hacking — has been a successful return to form that honors the legacy of the golden years on the Sega Genesis.
It's a faster pace than what fans playing Donkey Kong games would be used to, but this game's strengths lie in its exhilarating speed, graphical presentation, and tasteful remixes of classic Sega Genesis-era level designs. Sonic Mania stands as one of the best Sonic games to date, serving as a great jumping-on point for newer fans. is available on Switch, PS4, XBO, and PC.
DuckTales: Remastered
The original DuckTales game for the NES and Game Boy was a cult-classic platformer and 2013's Remastered version held up that status for the modern age. It pays homage to the beloved '80s cartoon of the same name while giving it a flavor of Metroidvania-style gameplay. The backtracking that's signature to that genre would be a change of pace, but it should be just friendly enough here.
RELATED: The Witcher – What Reddit Fans Want From The Upcoming Game
DuckTales: Remastered holds plenty of charm for those looking for an entertaining mascot-themed platformer, all while bringing back the difficulty of such classic games. However, in terms of modern hardware, DuckTales: Remastered is only available on PC and mobile.
Shovel Knight
On top of being another one of the best indie games in recent memory, publisher/developer Yacht Club Games' Shovel Knight is still one of the best 2D platforming games on Nintendo Switch. The game is a charming love letter to the vintage era of 8-bit platformer games on the NES, with players taking on the role of the titular Shovel Knight across a wealth of sidescrolling content.
Shovel Knight earns its critical acclaim, with it being one of the best-supported games post-launch. It has a total of four campaigns and one additional story mode and is incredibly accessible even today. For modern systems, Shovel Knight is available on Switch, PS4, XBO, and PC.
NEXT: Mass Effect Legendary Edition – 10 Things Only Die-Hard Fans Know About The Games
LEGO Star Wars: The Skywalker Saga – Every Minikit in Return of the Jedi
About The Author
Share this news on your Fb,Twitter and Whatsapp